Investing is all about returns, and returns typically flow to companies that deliver better mousetraps to their customers. While companies large and small can invent or improve products and services, institutional investors are increasingly looking to smaller-cap names as a source of significant equity return. Furthermore, the current environment favours smaller-caps – the best predictor of small-cap relative performance is financial conditions; small-caps have strong balance sheets, and typically outperform when rates are rising.
Despite the 39% gain in the widely-followed Russell 2000 index of US smaller companies in 2013, there may well be room to run. In fact, the current bull market in US small-caps lags the 1975-83 rally by a wide margin, according to Furey Research Partners, a small-cap strategy boutique. Small-cap bull markets often last two decades, says Furey, and since 1950, on the 12 occasions when small-caps have gained 35% or more over one year, the average return for the following year has been 20%.
The outperformance makes sense, according Deutsche Asset & Wealth Management (DAWM). Small-caps "tend to exhibit higher earnings and cash-flow growth, true drivers of long-term stock performance", according to a new DAWM white paper. DAWM says Institutional Brokers' Estimate System (IBES) forecasts a long-term return from the Russell 2000 of 13.7%, compared with just 11.7% for the large-cap Russell 1000.
DAWM recommends investors adopt a global allocation approach to small-caps, rather than the typical allocation to domestic small-caps. The case for going global in small-caps – better returns and lower risk – is "much less publicised, and perhaps less understood by many investors", says DAWM. From 2003-13, Deutsche notes, domestic small-cap stocks represented by the US Russell 2000 posted a 9.07% return with a standard deviation of 19.7% – global small-cap stocks represented by the S&P Developed SmallCap index achieved a 9.97% return, at just an 18.77% standard deviation.
Institutional investors are taking note of the opportunity, says James Oberweis, president and CIO of Oberweis Asset Management, a Chicago-area firm specialising in global small and mid-cap equities. The firm manages $1.5bn (€1.08bn) and, responding to investor demand, it launched an institutional fund for its international small-cap strategy in March. It had more than $55m in new inflows before the end of April.
While large-cap companies have ample engineering, product development and financial resources to drive innovation, management must concentrate on mature businesses, which can dampen incentives to create and fund products and services that might disrupt an existing industry, says Oberweis. Smaller-cap companies have two significant advantages when it comes to capitalising on new technologies or economic trends – the lack of bureaucracy enables faster decision-making, while the absence of a legacy business frees management teams to focus on new ideas. Smaller-caps "don't have the tendency to think the same way about things", says Oberweis.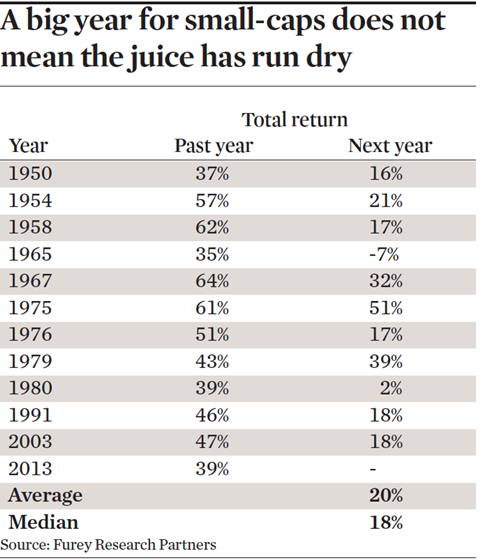 As the second generation of the family to run a smaller-companies investment shop, Oberweis leads a global team seeking strong businesses early in their growth trajectories – and before the major investment firms arrive. The key to success, he says, is finding companies with new ideas and the ability to bring them to market. "Innovation is the key to economic growth and wealth creation," he says.
In financial services, for example, new entrants with a clean slate in online brokerage overtook established players like Fidelity and Schwab by designing business models that tapped the latest technology to deliver a new kind of customer experience.
High-potential ideas are not always based on technology. London-listed International Home Finance (IHF), for example, seeks to bring customers in Central and Eastern Europe and Mexico into the financial mainstream by providing small, unsecured cash loans, repaid over 6-12 months. It is the second-largest position in Oberweis's international fund. While large banks focus on delivering existing services through mobile phones, IHF offers customers the option of working with local agents who deliver loan proceeds and collect payments in person.
Technology remains fertile ground for small-caps. In late April, information technology companies in the Russell 2000 reported 2014 median earnings up by more than 25% over 2013, according to Furey, with energy companies next in line with 20% growth. The strength in IT and energy illustrate how small-cap companies are tapping into long-term trends.
Nancy Lazar, chief economist at Cornerstone Macro, says the most attractive emerging market today is the central US. Driven by the US energy boom, it is the only part of the US where median household income increased between 2007 and 2012.
The boom is driving growth "downstream" from the wellhead, too. Bank of Oklahoma, the main unit of the $4.5bn BOK Financial Corp, for example, has 75% of its loan portfolio in Texas and Oklahoma. Morningstar analyst Timothy Puls has a "positive outlook for these energy-heavy economies", and expects "BOK will be able to take advantage of this environment and generate accelerating loan growth" over the next five years.
For investors considering small-cap equity after a roller-coaster spring, the most important factor is that financial conditions – the single largest influence on small-cap performance – point towards small-cap outperformance. For starters, says Furey, smaller company shares perform well when US Treasury rates are rising. Smaller caps also perform well in slow-growth environments; in years following US GDP growth of less than 3.5%, small-caps posted a median return of more than 18%, compared with 11% for large caps. While large caps outperform small-caps after strong GDP growth, the margin is slim – just 1.5 percentage points.
What is more, Furey says small-cap balance sheets "have seldom looked better". At 14%, the median debt-to-assets for small-caps is near its record low of 2010, compared with more than 24% for S&P 500 companies, near the long-term average for large-caps. And cash levels are actually higher as a percentage of assets than large-caps, at 13% and 9% respectively.
The small companies showing the best ROIC performance remain undervalued, indicating that opportunities exist.