Factor investing seeks to identify and capture broad, persistent drivers of return. It is the formalisation of, for example, the idea of seeking inexpensive companies (value investing) or high quality balance sheets (quality investing) – intuitive investment styles that have long been part of the active management toolkit. Smart beta strategies aim to capture these return drivers through rules-based, transparent strategies. They are benchmark-driven versions of factor strategies, generally long only and usually implemented within an asset class.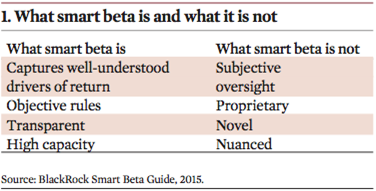 The objectives of smart beta
Smart beta strategies aim to improve returns, reduce risks and enhance diversification. Yet, while exposure to certain factors has been historically rewarded over the long term, factors are not immune to changes throughout the market cycle. The return of any individual factor may be positive or negative in a particular month or year. Over a sufficiently long period of time however, long-term investors can be rewarded for their exposure to factors.
Active, passive or something in between
A common question surrounding smart beta is if these strategies are active or passive. The truth lies somewhere in between. Smart beta strategies are active in that they attempt to enhance risk-adjusted returns through exposures to proven drivers of return. At the same time, these strategies resemble traditional passive strategies in that their implementation is transparent, systematic and rules-based. This means that portfolio construction is based upon a set of rules that are widely disclosed and require little or no discretionary input from portfolio managers. These strategies tend to have lower fees and higher capacity than traditional active strategies (figure 1).
Figure 2 maps smart beta against both traditional capitalisation-weighted indices and actively managed strategies across defining characteristics to explain smart beta's similarities to both.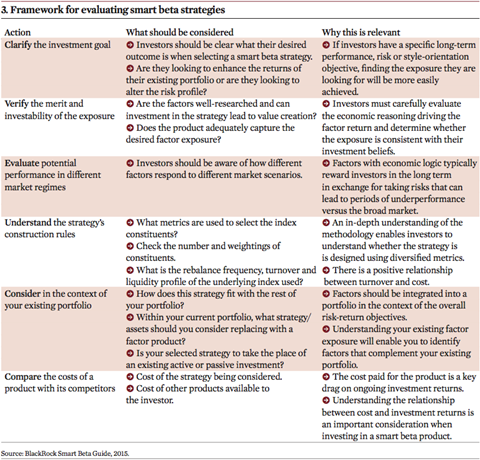 The smart beta landscape is a crowded space with many different strategies available to investors. An individual investment strategy or product may appear attractive in isolation but investments should never be evaluated in a vacuum. Differentiating between the available products can therefore be a challenging exercise. A systematic and logical way to approach smart beta due diligence can help investors efficiently determine a strategy's characteristics and identify potential challenges.
A framework to evaluate smart beta strategies
BlackRock's suggestion is that following a six-step process will enable investors to navigate between and successfully evaluate the different options available to them so that they can achieve their intended outcome.
The steps are:
1. Clarify the investment goal;
2. Verify the merit and investability of the exposure;
3. Evaluate potential performance in different market regimes;
4. Understand the strategy's construction rules;
5. Consider in the context of your existing portfolio;
6. Compare the costs of a product with its competitors.
By following a systematic, logical framework that utilises the evaluation techniques of traditional index and actively managed strategies, we believe investors can understand the potential impact of a chosen smart beta strategy and may be more likely to achieve their investment goals.
Manuela Sperandeo, Director, iShares Head of Specialist Sales EMEA