Gilles Pouzin writes about the creation of a new fund designed to see institutional assets converted into loans for small French enterprises
At a glance
• The government is supporting a new fund designed to funnel institutional assets to small and medium-sized enterprises.
• Until recently lending in France was restricted to banks and credit institutions.
• Institutional investors are increasingly investing in loans.
Some 200 institutional investors and financial executives turned up to hear Emmanuel Macron, the French economy minister, address an event at the ministry of finance. It was not about a new tax, budget or the public finances but the launch of a new fund meant to help funnel institutional investors' money to small and medium-sized enterprises (SME).
PME Emplois Durables (SME Sustainable Jobs) is a €210m fund sponsored by the insurers and social protection groups AG2R La Mondiale and Klesia, with the support of French Employers Movement (MEDEF), and the blessing of the economy minister.
Central to the initiative were Sylvain de Forges, delegated managing director of AG2R La Mondiale, acting as president of the MEDEF financing committee, and Thibault Lanxade, president of MEDEF SME growth and entrepreneurship committee, also a board member of Klesia. Their influence was decisive in getting backing from the chief executives, André Renaudin for AG2R La Mondiale and Christian Schmidt de la Brélie for Klesia.
For Macron, hosting this event demonstrated support for private sector initiatives, entrepreneurship and its underlying employment promise. "Our country has a lot of savings, but unfortunately a lot of savings in real estate and life insurance, which is not optimal for our economy," he said. "Corporate financing, which relied mostly on banks, is not totally appropriate anymore. Our challenge for small and mid-sized companies is to be able to mobilise capital in a more reactive and flexible way, with a mix of debt and capital, better fitting their development stage."
Funds such as PME Emplois Durables address this need for new financing tools, but they did not come so easily to France, and that was Macron's key point. "We've left the economy financing in the hands of regulators, he said. Regulation is important, but our duty is also to have a macroeconomic guidance to reallocate more savings toward companies' equity, and to adapt our regulation to this challenge. That's why we undertook a reform in August 2013 to allow the creation of new funds of loans to the economy".
Indeed, there were two regulatory hurdles to clear before investors could be allowed to finance SMEs directly.
First, until recently, lending was a privilege reserved for banks and credit institutions in France. It is forbidden to offer loan services as a regular activity for "any other person than a credit institutions or a financing company", according to article L511-5 of the French monetary and financial code. Secondly, most institutional investors did not have the right to own such SME loans, as their regulation prohibits investment in unrated bonds or fixed-income securities.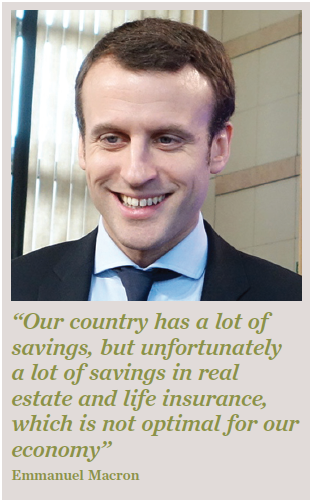 These obstacles were only lowered in the reform mentioned by Macron. A first decree 2013-717, signed in August 2013, loosened this strict regulation to open the way for new SME loan funds, labelled "funds of loans to the economy". This decree changed the French Insurance Code, allowing insurers to lend money to small companies regardless of credit rating, and allocate up to 5% of their assets to such vehicles.
This text was crafted to allow for the CDC-sponsored NOVO fund to go through. It was followed by another decree, in December 2014, to enlarge the universe of these "funds lending to the economy" to more asset types, like holding companies, infrastructure projects, real estate development, or even craft enterprise commercial paper.
Investment rules were also softened so that a range of investors could support these funds, like mutual companies, social protection groups and their satellites, welfare institutions and complementary retirement institutions (such as Agirc-Arrco).
The PME Emplois Durables fund employs this framework. "Since 2015, €14bn have been raised through this provision of funds lending to the economy," said Macron.
Institutional investors in France are looking for better yields and lower risk, like elsewhere, in an environment of reduced interest rates or growing fears over government bond security. Fixed income still accounts for 70% of French insurers, retirement schemes and other large investment pools, but sovereign bonds account for less than half of that (46%), according to the last annual survey by French association of institutional investors, AF2i, in 2015. "Within this segment, non-rated high-yield bonds investments have tripled in four years, from 1% in 2011 to 3% of institutional investors' assets in 2015," comments Jean Eyraud, president of AF2i. Direct loans to private companies are popular, accounting to 1.5% of French institutional investors' assets, or about €30bn in 2015. "Loans are still a marginal phenomenon, but it's growing."
This new breed of funds lending to the economy, using a mix of loans and equity investment, was pioneered by the NOVO and NOVI fund series, and emulated by subsequent funds, although in different ways.
One powerful idea within the NOVO and NOVI fund series (after NOVA fund, which was geared to private equity only), is that they were designed and overseen by a club of institutional investors gathered by Thierry Giami, adviser to CDC's executive committee. Instead of having funds designed by asset managers who then go after investors, NOVO and NOVI were designed by investors who went after asset managers for mandates.
NOVO was launched in November 2013 by CDC and 23 other institutional investors, gathering €1.015bn. As of March 2016, all the money had been lent to 45 small and mid-sized enterprises. "As it is compulsory for such funds to invest all their money within three years, NOVO is still allowed to finance new loans until November 2016," says Giami. "So it opened a last tranche of capital-raising to its investors in the first quarter, collecting €300m of new money, which it will have invested before the end of November."
In the meantime, the NOVI fund was launched in spring 2015 by CDC and 22 other institutional investors, to invest in smaller French enterprises equity and loans. At its close to new assets in July 2015, it had raised up to €580m.

The PME Emplois Durables fund has a lot in common with NOVI, but also subtle differences (see table). Both target small companies financing through a mix of debt and equity, but PME Emplois Durables has a wider risk spectrum. NOVI is focused on mid-sized enterprises, with sales above €20m, through €3m to €20m investments mostly in non-listed and illiquid assets; whereas PME Emplois Durables will target smaller companies (from 15 to 500 employees) through average investments of €2m (in a range of €250,000 to €5m). At the other end of the risk spectrum, PME Emplois Durables will also invest 40% in a fixed income fund of listed bonds, managed by AG2R asset management arm Agicam, to ensure liquidity.
The sponsors also chose different approaches to design and promote their fund. SME Sustainable Jobs was initiated by Klesia and AG2R La Mondiale, which each committed €100m before calling for additional investment partners, like the organisation of pension and provident institutions (Ocirp) which joined with a €10m investment. Others showed interest. "Insurer Groupe Pasteur Mutualité just gave its green light to join, so we'll be four instead of three," says Christian Schmidt de la Brélie, CEO of Klesia.
"It is compulsory for such funds to invest all their money within three years, NOVO is still allowed to finance new loans until November 2016, so it opened a last tranche of capital-raising to its investors in the first quarter, collecting €300m of new money, which it will have invested before the end of November"
Thierry Giami
More institutional investors and asset managers have engaged in the emerging French loans segment. The reinsurer SCOR is one. Its asset management capability was developed to serve its own investments, but opened to third party clients wanting to benefit from its expertise, especially in private debt.
"Our private debt investments went from zero in 2010 to 4% of our invested assets in 2015 and should continue to grow by the end of 2016," says Fabrice Rossary, chief investment officer at SCOR Investment Partners. He sees a bright future for this asset class, especially at the first lien senior secured level as more investors search for yields without the downside of high-yield bonds. "The loan market is less subject to large market movements observed in the traditional fixed-income and credit markets," Rossary said in a presentation to an IPE Seminar in Paris last year. Also, recovery rates for defaulting loans are historically higher, allowing recovery of 70-80% of investments, compared with 30-40% for defaulting high-yield unsecured bonds.
"Now we must go further to reallocate our co-citizens savings in additional retirement schemes, towards more financing to the economy," said Macron. "Until now, these retirement regimes were governed by the Solvency II Directive. We are going to pass a law, which is possible, to bring back the regulation of this money, about €130bn, under Solvency I regulation, which will allow, in respect with investment objectives and risk profiles, to bring back several billion euros towards the risk financing and equity financing many of our enterprises need". An announcement full of promise for the rising SME financing funds segment.