Measuring genuine social impact investing means disentangling it from conventional investing with elements of ESG
Key points
Asset owners are unable to identify authentic impact investment
Eclectic impact investment group seeks to standardise assessments of impact
Refining and standardising assessments of impact could unlock sustainable development finance
The world's largest manufacturer of commercial vehicles had some good news to share in January. Not only would it spend €500m on accelerating autonomous trucking technology but its investment would create 200 new jobs. Some might claim this is an impact investment and it certainly looks as if the project would make a positive social impact through new employment.
But the labour is employed to increase the company's financial returns, which means the jobs created are not the specific purpose of the investment. It is, therefore, not an impact investment in the sense intended by pioneers of the sector.
The example is simplistic, perhaps, but such loose definitions are frequently used by asset managers to define an activity as impact investment. However, a new disclosure initiative seeks to disentangle authentic social impact investment from conventional investments that happen to feature some environmental, social or governance (ESG) benefits.
Known as the Impact Management Project and launched in November 2018, it has been formed mainly to assist the mainstream asset management community. It convenes 2,000 practitioners from a group of large banks, asset managers, government development departments and philanthropic foundations. Through a series of dialogues these have devised a matrix for measuring social impact and social returns (see box) by creating five dimensions along which projects are assessed.
"There's some confusion from people coming more from the institutional investor side who put the impact label on a commercial project. Real social impact investment puts the social impact first," says Karen Wilson, lead on social impact investment, finance for sustainable development team, at the Organisation for Economic Cooperation and Development (OECD), whose research has underpinned some of the project.
Together, the experts seek to pull apart some of the conflated narratives between financial and social impacts in an attempt to extricate "impact washing" from the asset management industry. Confusion in impact investment definitions, they suggest, may obstruct the growth of the authentic social impact investment sector.

That would be a missed opportunity, as the OECD indicated in a study published in January entitled 'Social Impact Investment: the Impact Imperative for Sustainable Development'. Impact investment, it suggests, is one of the finance model that needs further development, especially for lower and middle-income countries where it is currently least common.
"As the paradigm of development co-operation is changing, new models are emerging in sustainable development finance," it said. But it also emphasised that investors, who are increasingly engaged in sustainable finance, must explicitly and consistently monitor, assess and report impact to achieve that objective.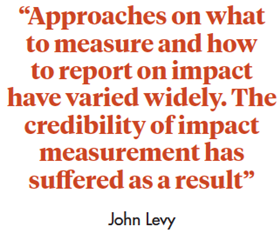 However, flawed definitions will get in its way. Claims of job creation, for example, to define positive impact is not specific enough. They need to be accompanied by greater description o f the impact of the new employment. "Investors reporting on impact need to clarify the degree of impact from creation of jobs. Who is impacted, how many people are affected, and how much difference will it make socially?" says Olivia Prentice of Bridges Impact+, a branch of the specialist fund manager coordinating the Impact Management Project.
Some of the mix-ups arise from blurring two separate aspects of projects – the outputs and the outcomes. Typically, an investor assessing the impact of an educational investment might count the number of schools built as an impact. But Wilson indicates this is a project output. On its own, it does not reveal the project's social impacts, and only acts as a proxy for more significant underlying data.
"It's the outcomes that need to be measured. For instance, how many students went through the schools and were offered better jobs as a result of what they learnt?" Understanding the depth, scale and duration of the outcomes is key to evaluating the social impact of the investment, she suggests.
Omitting such information could stifle the growth of the sector because asset owners find it hard to distinguish between different types of impact investors. This prevents the cultivation of real investment that prioritises impact. If such investment stays concealed owing to poor quality disclosure, impact investors might fail to benefit from synergies with related sectors such as venture philanthropy or socially responsible investment funds. At the same time, public funding channelled to impact investment projects through blended finance vehicles could be inadvertently misused.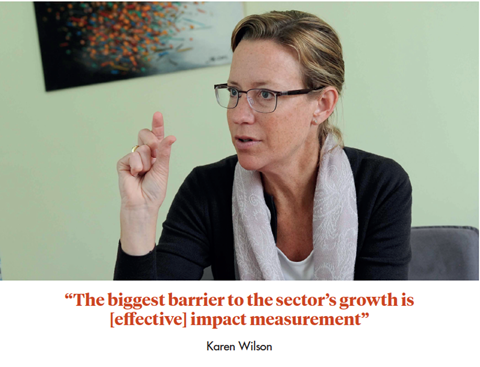 The project aims to resolve this problem by building a consensus on impact reporting and measurement. This will also ensure effective comparisons between projects and improve information exchange. "The traditional impact investor has not commonly engaged with the institutional community. We would like to ease that conversation and matching process," says Prentice.
Commenting on the Impact Management Project, John Levy, director of impact at Franklin Real Asset Advisors, the dedicated real assets platform of Franklin Templeton, commended the initiative. The company specialises on assets such as healthcare, educational and justice buildings. "Approaches on what to measure and how to report on impact have varied widely. The credibility of impact measurement has suffered as a result," he says, agreeing that disclosure needs to be refined.
Impact Management Project
Through the Impact Management Project (IMP), more than 2,000 practitioners came together to build a global consensus on how to talk about, measure and manage impact. By involving the whole value chain – from policy maker in Argentina to fund manager in East Africa or asset owner in the UK – the IMP facilitated consensus about definition of impact across different perspectives, terminologies and logics.
After hundreds of conversations, the IMP reached consensus that impact can be deconstructed into the five dimensions:
● What outcomes is the enterprise contributing to and how important are the outcomes to stakeholders?
● Which stakeholders are experiencing the outcome and how underserved were they prior to the enterprise's effect?
● How many stakeholders experienced the outcome, what degree of change did they experience, and how long did they experience the outcome?
● Whether an enterprise's or its investor's efforts resulted in outcomes that were probably better than events that would have occurred otherwise.
● What is the likelihood that the impact will be different from what was expected?
More flexible and robust certifications need to be created to more effectively and precisely assess impact management strategies across asset classes, he says. "Many asset owners are still not armed with enough nuanced data to gain comfort in asset managers and their impact management processes."
Once practitioners have come to conceptual agreements on how to assess each dimension, reporting standards could follow. "The Impact Management Project wouldn't own standards in the long term but could partner with one of the existing standards organisations, such as the Global Reporting Initiative," says Prentice.
In the longer term, however, further innovation could emerge as data and measurement improves. This will result, not only from greater amounts of data, but from more advanced techniques for assessing social impacts. "Measuring social and financial impacts and returns at the same time requires new economic models. It will take time. The biggest barrier to the sector's growth is [effective] impact measurement," says Wilson.