Investors hope that this month's general election brings much needed stability to a faltering economy
Key points

Political uncertainty and slowing economic growth are concerning investors
The gap in returns between the best and worst-performing funds has widened
Occupational funds are in the vanguard of ESG integration
This month Spaniards head to the polls to vote in the country's fourth general election in as many years.
After months of tough negotiations following the election in April, Socialist caretaker president Pedro Sánchez had no choice but to call another election after failing to secure cross-party support to form government.
During the past few years, Spain's strong economic growth has served as a powerful counterbalance to its many political uncertainties. However, this latest call to the polls comes at a time when concerns about the country's economy have intensified, with signs of deceleration and fears that a recession might be around the corner.
Against this backdrop, returns in the country's complementary pensions sector have been strong. According to Inverco, the Spanish investment and pension fund association, the average return for occupational pension funds for the year to June was 2.9%. Returns among the largest and more sophisticated funds were much higher, with the top performing schemes returning close to 7% over the same period.
For David Cienfuegos, head of investments, Spain, at Willis Towers Watson, the strong returns are hardly a surprise given the good performance of the market recently.
However, what is more interesting to Cienfuegos is that the dispersion of portfolio returns between the best-performing and worst-performing funds and the sector average keeps increasing.
"The main reason behind this dispersion is the structure of the portfolios – not so much if they invest more in active or passive management, or if they may have more exposure to Europe or the United States. That is becoming less and less relevant," Cienfuegos says.
It is the disparity in broader strategic asset allocation terms – for instance, the percentage of the portfolio invested in fixed income, or the lack of exposure to alternative investments – which is driving significantly different returns across the sector.
Fernando Aguado, head of investments at asset manager Fonditel, the investment manager of the pension fund for employees of Telefónica España, agrees: "2019 has been extremely positive in terms of returns but asset managers shouldn't give [themselves] any medals. The year has been a bit of a trickster in that sense, with high returns and a lower perception of risk."
The current environment, he explains, might have led some investors to develop a more palatable view of how well their portfolios are performing. Managers, on the other hand, are increasingly concerned about the structure of many portfolios, their lack of diversification and future return prospects.
According to data from Mercer for June, Spanish pension funds invested 38% of total assets in euro-zone fixed income, and a further 17% in non-euro bonds. Euro-zone equities represented 15% of the portfolios, with a slightly higher exposure to non-euro-zone equities, at 18%.
This large exposure to fixed-income assets is increasingly concerning at a time when yields from 10-year Spanish bonds have plunged. In addition, the amount of global debt yielding negative returns has tripled in just nine months from October 2018 to August 2019, to $15trn (€14trn).
Cienfuegos says that the fact that some pension funds are investing up to 60% of their portfolio in fixed income with short durations should set alarms bells ringing because, unless interest rates drop further, they could face a situation where a large proportion of their portfolio is generating negative returns.
He says: "The decision-making process around introducing changes is difficult because they have to change their investment policies and the status quo. Some strategies have greater complexity and unless you start building them now, you might not be ready for when your fixed-income exposure starts yielding negatively."
Spanish investors have traditionally been slow when it comes to implementing changes. This is particularly true when it comes to occupational pension schemes where every decision needs to be discussed and approved by the comisión de control – or board of trustees – and even when decisions are made, implementation is not always straightforward.
"Decisions are slower [in the occupational pension sector] and fewer changes are made. But in the last few years we have seen one change that is very relevant and that is that exposure to non-euro assets has greatly increased," says Xavier Bellavista, principal at Mercer.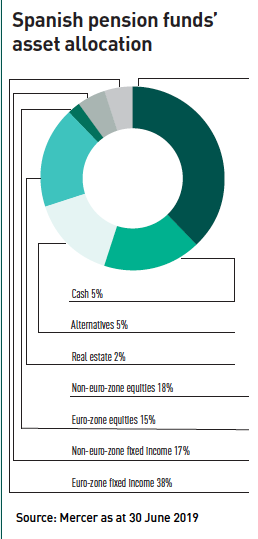 The move towards the globalisation of the equity portfolios started a long time ago, but in fixed income the trend is more recent. Bellavista says: "This is very significant, and another indication that investors are seeking returns elsewhere. We try to make our clients see that if we are incorporating assets which carry more risk individually, we must make the effort to build good strategies to guarantee that those individually riskier assets bring diversification to the whole portfolio."
When portfolios are performing well, it is not easy to persuade investors to adopt strategies that fall outside of their comfort zone or that are often perceived as riskier.
For Aguado, changes in asset allocation should not be about taking on extra risk but more about more efficiently using the level of risk investors already have. "And this is where we are putting a lot of effort into diversifying better, looking for alternatives that might be a little out of the ordinary, or more specialised niches."
Exposure to alternative investments among occupational pension funds has been gradually increasing and represents about 7% of their portfolios, which is still less than half the European average of 15%. However, the most sophisticated funds already show much higher allocations to alternatives.
Occupational pensions sector leads the way on ESG integration
The occupational pensions sector has placed itself at the forefront of pushing the ESG debate into action. About 75% of assets held by Spanish occupational pension funds take into account environmental, social and governance (ESG) criteria, according to Spainsif, the Spanish sustainable investment forum.
For Fonditel's Fernando Aguado the trend is unstoppable. "In the institutional space the trend is stronger because there is more pressure from clients. Our approach is to be long term, seeking the integration of ESG throughout the whole value chain, not only by integrating specific factors when building portfolios but also engaging with companies, and identifying investment themes that make economic and social sense in line with the UN Sustainable Development Goals."
Steps are being taken across the sector, with some of the larger pension funds leading the debate. In its latest ESG activity report, Pensions Caixa 30 disclosed that 87% of its assets are being managed under ESG criteria, while 90% of its underlying asset managers are signatories to the UN PRI (Principles for Responsible Investment).
The fund is an UN PRI signatory, along with another five Spanish funds – the occupational pension funds of Telefónica, Repsol, Santander, BBVA, and Geroa.
"Some of the larger funds are doing very interesting things but we are also seeing small funds asking their managers about investment in certain sectors, such as renewables. They are not only making investments but, at a smaller scale, they also want to participate in global initiatives such as the UN PRI," says Mercer's Xavier Bellavista.
Pensions Caixa 30, the pension fund for employees of CaixaBank – the country's largest occupational scheme – invests nearly 19% of its portfolio in alternatives, including private equity, commodities, real estate and infrastructure.
Another trend is the growing appetite for illiquid assets. That has been a source of concern for market participants as valuations go up and margins shrink. Fonditel has been investing in illiquid assets for over 15 years and is now rethinking its reinvestment programme in response to market conditions.
"If we are incorporating assets which carry more risk individually, we must make the effort to build good strategies to guarantee that those individually riskier assets bring diversification to the whole portfolios" - Xavier Bellavista
"We are not doing anything in secondaries because we think it's too expensive. On the other hand, in real estate we are looking at things that can generate constant yields, such as student accommodation or old people's homes," says Aguado.
"We are adapting our approach to illiquid investments to the point of the cycle we are at. A portfolio of illiquid assets is not a collection of good ideas – it has to be diversified by asset type, by vintage year, profile, and so on."
The strong economic growth of the past few years has helped investors navigate the many twists and turns of Spain's recent politics. As the tide begins to turn for the country's economy, many hope this month's election will bring the stability needed to face the next chapter.
Spain: The tide turns
1

Currently reading

Spain: The tide turns

2

3