The Spanish pension fund industry gathered in Madrid last month to remember Jon Aldecoa, and to launch awards named after him.
Aldecoa, who died in 2018, was a leading voice in the Spanish pensions sector. A consultant, lecturer and thinker, he dedicated his career to promoting supplementary pensions, and pioneered socially responsible investment.
The Jon Aldecoa Awards, an initiative by mutual pensions company Loreto Mutua, recognises individuals or organisations that stand out in supplementary pension provision.
In the first year, the awards went to the OECD, for its work promoting sustainable pensions, and to the Basque Country's law on voluntary social welfare entities (EPSVs), which was one of the first pieces of Spanish legislation regulating complementary pensions and this year celebrates its 35th anniversary.
Aldecoa, a Basque, was technical secretary at the Basque Federation of EPSVs for close to a decade, before moving into consulting. A regular commentator on pension investments, he was a judge for the IPE Awards for a number of years.
For Jon Aramburu, managing director at Loreto Mutua, the awards have the dual objective of paying tribute to Aldecoa and providing a forum for debate about the future of Spanish pension provision.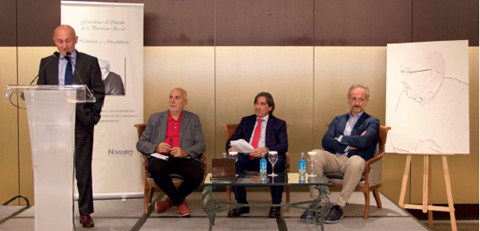 He also sees them as a meeting point for those who believe in "the need to reach some kind of political-social agreement in the whole country that finally develops a coherent and necessary social welfare model".
Diego Valero, from Novaster, says Aldecoa has left a "huge legacy", both in the development of supplementary pensions and sustainable investment.
"Jon was always ahead of the market and for me personally it was an honour and a pleasure to accompany him," he said.