China's growing clout in Asia is influencing investment strategies across the region
Key points
• The rise of China has reframed the asset allocation debate in Asia
• Institutional investors generally prefer either to invest in specific countries or in global emerging market portfolios
• China's weighting in global bond indices is set to increase steadily
• Asia's return correlations with China have increased in both equity and foreign exchange markets since the global financial crisis
Not so long ago allocating to Asia ex-Japan was a decision between going active and deciding which of its 'Little Dragons' you liked, or buying a regional index. Either approach would not result in a massive portfolio tilt. The rise of China – the biggest dragon of them all – has reframed the decision entirely.
China is driving an increasing proportion of Asian growth, and widening the gap between Asia's share of indices and global GDP. By way of illustration, the MSCI All Country World index, which covers about 85% of the global equity universe, weights the US at 53.9%, and China at 3.6%. This contrasts with the combined capitalisation of the New York Stock Exchange at just over $26trn (€22bn), as opposed to Shanghai, Shenzhen and Hong Kong at about $10.6trn. There are no other Asian stock exchanges, except Japan, in the world's top 10. Chinese exchanges overwhelm the region, and are equivalent to 40% of the US market cap. Yet China is less than 7% of the US's weight in the global index.
Region, country or global
How are institutional investors viewing this? When it comes to Asian allocation, they are not taking an interim position, but either going country-specific, or broad emerging markets. Few want Asia. "They either want us to make the allocation decision, or to take advantage of specific cases they have identified. The middle ground isn't attractive," says Peter Elam Håkansson, CIO of Sweden-based East Capital.
And China is the dominant regional option. Investors are being pulled two ways regarding China: on the one hand, its markets are becoming much more open; on the other, there are growing worries of a trade war with the US .
One example of the former is the world's largest index provider, MSCI, adding about 230 Chinese domestically-listed A shares to its indices, which Reuters described as "expected to unleash a surge of foreign inflows into the country's stock markets". This partial inclusion will see A shares form just over 0.7% of the MSCI EM index, and 0.1% of the MSCI ACWI – well shy of China's true global influence.
With foreign ownership of the A-shares market at about 2%, investors have been positioning themselves to take advantage of this development. Håkansson says A shares are a stronger proposition than Hong Kong-listed H-shares. "Companies issuing A shares tend to be more entrepreneurial-led, as opposed to the H-share market, which is characterised more by state-owned enterprises," he says. "The other advantage they have is that the former tends to have a stronger domestic orientation, and therefore less exposed to negative impacts of trade wars."
However, the A-share gold rush has yet to happen: "Investor interest in the Chinese market – particularly A shares – has been great," Håkansson says, "but we have not seen much investor action to follow this. People are curious; they want to know more, but the backdrop is not encouraging."
There is a similar, less developed story playing out in fixed-income markets. China's weighting in the Bloomberg Barclays Global Aggregate index will be phased in over 20 months from April 2019, from zero to 5.5%, and should eventually go higher. The launch of Bond Connect – China's fixed-income equivalent of Stock Connect – in 2017 also opens up the market to foreign investors.
"Equity price changes between China and other Asia countries increased markedly during the crisis and has remained high in recent years"

Federal Reserve Bank of San Francisco
If the Chinese fixed-income situation is less developed, it is also more contradictory. Some Asian and EM indices have no China exposure; others have an excess; China is 51% of the JPMorgan Asian Credit index (JACI). "This, for many non-Asian investors, is too much," says Joep Huntjens, head of Asian fixed-income at NN Investment Partners. This concern has been addressed by the JACI Diversified Credit index, where the maximum country weighting is twice the average.
"Nevertheless, over time exposure to China should increase as a result of the opening up of its onshore bond market and inclusion of CNY [Chinese yuan] bonds in local bond indices," says Huntjens. "China's onshore bond market is almost the size of Japan's and is too important to ignore."
As China opens up its markets and is included in indices, Tom Brooke-Smith, portfolio manager at Willis Towers Watson, is finding that clients are showing greater interest in the country. However, he adds, "we wouldn't increase weighting to Chinese assets just because they come into an index". He does, nevertheless, accept that indices can provide some useful information, "such as how much of a haircut you might be expected to take, as indicated by the Chinese index falls in 2015", when the Shanghai market plummeted by 30% in three weeks.
Tapping into the local knowledge to navigate these risks might well be one reason for the popularity of specific Chinese allocations. Brooke-Smith argues: "Given that Chinese markets are opening up, there is a need for niche skill sets – managers who are aware of the specific issues around such things as regulation, intellectual property rights and uncertainty about default processes in debt markets, for instance."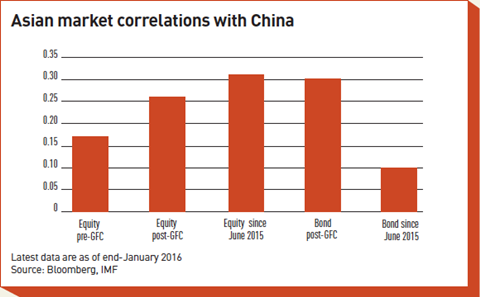 Buy China, get Asia?
While Chinese and broader Asian markets are subject to volatility, fixed-income institutional investors with longer time horizons "are well positioned to benefit from the higher yield", Huntjens says. This is an argument that is probably just as valid for other asset classes.
But the source of that volatility is changing. Analysts are noting not only that Chinese markets, in common with their neighbours, are volatile, but that China is driving that wider volatility: "Financial spillovers from China to regional markets are on the rise," the IMF reported in 2016, adding "if China-related shocks are coupled with a rise in global risk premiums… spillovers to the region could be significantly larger".
On this question of China's financial influence in the region, there is a growing theme. Buying China means buying Asia – in equity markets at least – and the reverse is also true.
There has been a sea change since the global financial crisis, after which Asia's return correlations with China have increased in both equity and foreign-exchange markets. In contrast, Asia's bond markets have remained uncorrelated with China, while remaining high with the US.
Research from the Federal Reserve Bank of San Francisco found a similar pattern between regional equity and bond correlations, with "only weak cross-country linkages in longer-term interest rates, but much stronger linkages in equity markets", which the bank reckoned fitted the greater liberalisation of equity markets relative to bond markets in China. It also found that "equity price changes between China and other Asia countries increased markedly during the crisis and has remained high in recent years".
It is not known what effect protectionism will have on correlations between China and Asia. This raises further questions as to whether China's increasing regional gravitational pull will reduce the benefits of Asian diversification. That would make the whole debate of region versus country moot. Brooke-Smith says that WTW is looking at whether, as China integrates more into international markets, diversification will be reduced, adding: "It doesn't seem to have happened yet but we are keeping it under review."
'Yet' may prove to be a vital caveat. China offers some of the world's largest and most advanced companies, along with global leaders in such areas as clean energy. That it is starting to dominate Asian markets provides a logic for why investors are being more granular in their regional selection – or perhaps are simply hypnotised by the biggest dragon in town.
Special Report Asia: Game-changer
1

Currently reading

Special Report Asia: Game-changer

2

3