The UK's Financial Conduct Authority is carrying out a comprehensive review of the asset management industry, which reaches to the heart of investment consultants' business models. Carlo Svaluto Moreolo reports
At a glance
• The FCA's study targets three areas: value for money, competition, and the role of investment consultants.
• Investment consultants offering fiduciary management services will be under close scrutiny.
• Firms have welcomed the review but are wary that it will result in prescriptive regulation.
• The regulator will publish an interim report this summer, and a final report in early 2017.
The UK's Financial Conduct Authority (FCA) is taking a hard look at the country's investment consultants. The regulator made it clear in the terms of reference of its asset management market study, published last November, that it is on the their case. The study seeks to establish, among other things, how they affect competition for institutional asset management services in the country.
Concerns over the structure of the UK investment consulting market are no news. The dominance of three global firms – Aon Hewitt, Mercer and Willis Towers Watson – and potential conflicts of interest deriving from the fact that they offer fiduciary management services have been called into question in the past.
In 2014, the Law Commission, an official body tasked with keeping the law under review, issued a warning about "herding" behaviour by pension funds that were being advised by the same firms. In the same year, a KPGM report on fiduciary management highlighted that most mandates were being awarded without open tenders.
But the fca study aims to investigate the fine details. According to the terms of reference, it will address three main areas: how asset managers to compete to deliver value for money; whether asset managers are able to control costs and quality; how investment consultants affect competition for institutional asset management.
An interim report will be published this summer, while the regulator has promised the final report for early 2017. The focus is clearly not only on investment consultants. They are seen as one constituting parts of the value chain, and as such partly responsible for ensuring that institutional investors get value for money.
But the FCA's document does not treat them lightly. "We want to understand whether investment consultants are incentivised to suggest or promote investment strategies which may increase their business, but which may not be in the best interest of investors." Responses to a previous wholesale sector competition review suggested that consultants might be incentivised to recommend complex strategies to justify the fees being paid to them.
William Parry, investment consultant at Xerox HR Services, notes that the FCA's request for information from consultants that was issued as part of the study is "as comprehensive as possible". However, he says: "It does feel there are areas within the market that have been under increasingly close scrutiny and are now being looked at formally by the regulator."
The FCA wants to ascertain whether conflicts of arising from fiduciary management are being managed, and their impact on competition for institutional business. "Conflicts of interest may also arise as a result of the business model of investment consultants where investment consultants offer fiduciary management services alongside advisory services," the terms of reference document argues.
The outcomes of the study could be of various types. "If competition is not working well, we may intervene to promote effective competition", the document goes on to state. This could entail rule-making, publishing guidelines, enforcing action, proposing self-regulation or referring the matter to other authorities.
It is hardly a surprise that all the consulting firms approached to discuss the issue, after initial reluctance to do so, expressed their wholehearted approval of the FCA's initiative.
Ed Francis, EMEA head of investment at Willis Towers Watson, following a well-rehearsed script, says: "Willis Towers Watson is fully supportive of this FCA review. Many of its aims reflect our own long-held beliefs about how the industry should change to better serve asset owners' interests and ultimately those of the end saver."
Andrew Kirton, European head of investments at Mercer, emphasises the comprehensiveness of the exercise: "We have cooperated fully with the FCA on their Market Study and intend to respond accordingly. The data collected by the FCA will be substantive and detailed across many types of providers, which we hope will allow for effective analysis."
Aon Hewitt completes the trio of firms that advise 70% of the UK institutional investment market. Tim Giles, partner at Aon Hewitt's global investment practice, adds: "We want to do the best by our clients. We will welcome anything that is going to improve competition, because we think that is going to improve what they get in terms of outcomes."
The three consulting giants all offer fiduciary management as well as traditional investment advice. Firms on the non-fiduciary management side of the spectrum also applauded the FCA's announcement.
But asking consulting firms what they think about the FCA's study can result in an unhelpful crossfire of allegations. Consultants that offer fiduciary services are questioned as the conflict that derives from offering advice at the same time is said to be too great to be ignored. This is because fiduciary services are understood to be significantly more profitable than traditional advice.
They respond that firms focused on traditional advice are also subject to conflicts, as they have a vested interest in 'churning' asset management mandates. The question is: are those firms encouraging clients to engage in manager selection processes more frequently than needed, which increases their fee revenues?
Both allegations are difficult to prove. Parry, who oversees the fiduciary manager research process at Xerox, describes how his work, thus far, has not found any evidence of dubious behaviour by fiduciary managers.
Asset managers have also asked whether there is chance they are being priced out of the market when they compete with investment consultants in fiduciary manager selection processes.
Parry says: "When we have done our reviews, we have found that occasionally the fees do get more competitive if you do a benchmarking exercise with a number of external fiduciary managers. That said, we are yet to see any behaviour that is wildly different from what we would expect."
Still, Parry says fiduciary management has to be more transparent. "There are some areas of fiduciary management where I think the industry is still fairly embryonic. In particular, it needs a good nudge to improve its ways of monitoring fees and performance so they are more in line with traditional asset management. Studies like the FCA review are likely to encourage that."
Conflicts of interest
It is undeniable that conflicts of interest can arise from both models – investment advice plus fiduciary management and traditional advice. From the trustee's perspective, the more pressing issue is whether they are receiving good advice that really helps them reach their targets.
Alan Pickering, chairman of professional trustee organisation BESTrustees, believes that the sector does not face any serious issues of competition. "The market for investment consulting services is still quite competitive, there is choice out there, and it's for the trustees to make sure that they get an individual consultant who understands their particular needs," says Pickering.
He adds: "Such an individual consultant can come from a big house or a small boutique. It's the individual that is more important that the brand he carries." Pickering says fiduciary management per se is not a problem, as long as trustees seek advice from an independent third party on the decision to award a fiduciary contract.
He argues: "Fiduciary management is a form of delegation. It may be quite a long way along the spectrum of delegation, but it's nothing revolutionary. Trustees have always delegated to third parties."
"However, I feel very strongly that where trustees are thinking of moving along the spectrum of delegation towards fiduciary management, they should get advice from someone other than the entity that might benefit from the awarding of the fiduciary management contract."
Pickering says the schemes whose boards he sits on have relied on the scheme solicitor and auditor to carry out the decision. He recounts: "They have helped us weigh up the merits and disadvantages of going further along the delegation spectrum. Whether groups of trustees need someone else to help with the procurement of that contract, I'm open to persuasion, but at least the initial blue sky thinking should be undertaken with the help of someone who hasn't got a vested interest in the awarding of the contract."
So fiduciary management is potentially a good model, but investment consultants that offer fiduciary services do have a vested interest. By that logic, getting advice from aan independent third-party organisation on weighing the pros and cons of fiduciary management seems more appropriate than blindly entering into an agreement.
Clearly, however, that entity can hardly be a consulting firm that does not offer fiduciary services. But some traditional advice firms will make no secret that they have been advising pension schemes on fiduciary agreements as 'independent' third parties.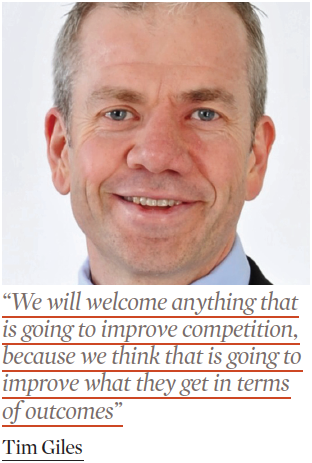 The issue would not be problematic if it were not for the fact the supposed greater profitability of fiduciary management for consulting firms in comparison with traditional advice.
Has its introduction made the market less competitive, given the lack of regulation on fiduciary management selection processes? Kirton says this is not the case: "We believe that the current regulatory environment enables pension funds to receive competitive advice from a range of providers. Clients choose us based on our capabilities and the help that we provide in striving for best outcomes for their members. However, we remain open to alternative views and will work with regulators to serve the best interests of consumers and pension schemes."
But the FCA is keen to verify that. Should it find that the dominance of three consulting and fiduciary giants is detrimental to competition, it may refer the matter to the Competition and Market Authority. But what kind of evidence they need to find to substantiate that case?
The levels of cost in the industry are a good indicator. Willis Towers Watson recognises costs are problem. Francis says: "It is widely accepted that total costs in the pension fund food chain are disproportionately high, despite a highly competitive marketplace. We are working constructively with the FCA to help shape the review in the hope it will address this, as well as other important areas such as incentives and alignment of interests."
Value for money
One of the stated purposes of the FCA study is assessing how costs are linked to value for money across the industry. Aon Hewitt's Tim Giles stresses that the link between cost, reward and value added is key, and is hopeful that the review will not result in forced cost reductions in the industry.
He says: "Cost and reward for service should be looked at, but with a focus on the value that service brings. I believe would be a little myopic to focus on reduction of costs at the expense of additional value. If you went for the cheapest investment approach, you might end up with advice that might not appropriate for getting the best returns for clients. It is possible to demonstrate how, in a number of areas, focusing purely on costs may lead to worse outcomes," Giles adds.
The more important issue, according to him, is transparency. Most participants in the industry still lament a lack of transparency on costs. It would be surprising if the FCA, by looking at the value chain, did not find evidence of that.
David Weeks, a committee member of the Association of Member Nominated Trustees (AMNT), welcomes the study's focus on costs. He points to the example of Railpen, one of the UK's largest schemes, which found surprising facts about its cost profile as a result of an in-depth study. First, there was a disproportionate loading of costs on a limited number of investment strategies, and second, there was scope for significant reductions. The scheme has recently hired staff to monitor costs on a full-time basis.
That evidence was quite telling of the potential for cost reductions at other pension schemes, according to Weeks: "That is the model that many of our members look to as good practice. Other schemes would also find similar potential for cost reduction if they adopted the same rigorous approach."
"I think that many of us are concerned that costs and charges haven't been subject to much scrutiny. We welcome that the regulator is now addressing this issue", he adds.
Unearthing evidence about costs, says Weeks, is pre-requisite before any judgments are made on whether conflicts of interests are affecting value for money. "Let us bring into the open what the situation is, and then we can assess whether or not it falls on the wrong side of the line. A majority of our members would take the view that 'explain or comply' is the correct approach."
What will the sector look like after the FCA finished its study? Pickering hopes that regulation is not part of the picture. "The last thing we want is more regulation. The British pension system has been ruined by prescriptive and burdensome regulation. The last thing that I want is the regulator prescribing what service I should need, and what price I should pay for that service. I think that good governance is preferable to lousy regulation, or indeed any form of regulation."
He concludes: "Trustees and their investment consultants should make sure that they get the right products from the right provider at the right price. And each of those three elements can only be judged on a scheme-specific basis."
Special Report: Consultants under scrutiny
1

Currently reading

Special Report: Consultants under scrutiny

2

3