Several factors have combined to boost the dollar's performance, finds David Turner
At a glance
• Many analysts argue monetary policy divergence has been key to the dollar's recent rise.
• However, several contend capital inflows into US equity are also important, with a minority deeming it the key factor.
• Analysts dismiss safe-haven flows as an explanation for the dollar's appreciation.
• The dollar's rise is as much about weakness in other economies as about US strength.
In 2011 the dollar fell to its lowest level since the system of free-floating currencies began with the end of the Bretton Woods agreement in 1973.
It was a hard year in the world's pre-eminent economy. The credit rating agency Standard & Poor's downgraded US sovereign debt for the first time in history, unemployment was high, and the S&P 500 stock index was volatile. At one point, the trade-weighted index for the dollar used by the Federal Reserve dropped to close to 80.
By January 2016, however, it had reached 101.25, after an initial modest recovery from its 2011 low and a growth spurt from mid-2014. It was a remarkable about turn, although by the end of August the index had slipped to 97.
James Kwok, London-based head of foreign exchange at Amundi, the French asset manager, credits the rise to a combination of strengthening factors for the dollar and weakening factors for other currencies. "I would say both are equally important," he says. "The appreciation of the dollar has been so powerful that it must be because of both forces."
To many analysts, the biggest factor behind this combination of strength in the dollar and weakness elsewhere has been monetary policy. The US Federal Reserve began quantitative easing in 2009, but that the Bank of Japan restarted its programme, after a gap of many years, only in 2013, and the European Central Bank kicked off its own programme in 2015, in response to disappointing economic growth. "That divergence is the key to the dollar's performance," says Marc Chandler, currency strategist at Brown Brothers Harriman in New York. This discrepancy initially depressed the dollar, but then stabilised it and eventually raised it as expectations that the resulting strength in the US economy would force it to end quantitative easing (QE) and raise interest rates.
QE ended in October 2014, and the central bank raised its benchmark rate by 25 basis points in December 2015, with the dollar surging well in advance in anticipation of both events.
The dollar also received further impetus from commodity price weakness, including the sharp fall in the oil price in 2014, which depressed commodity currencies such as the Canadian dollar, an important constituent of the index.
The divergence in economic strength is an unusual situation – hence the unusually powerful effect of monetary policy on the dollar, notes James Athey, fixed income investment manager at Aberdeen Asset Management in London. "It's a very strange global economy," he says. "Economic cycles are far less correlated than you would normally expect, certainly within developed markets."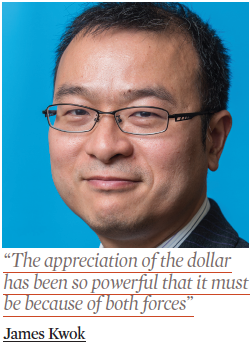 Some analysts argue that this US economic strength is not just about monetary policy, but also about something inherent to the US – an underlying dynamism that many other developed economies lack.
Salman Ahmed, chief investment strategist at Lombard Odier Investment Management in London, offers qualified support for this idea – in specific circumstances. Ahmed says: "The US has always shown a high flexibility in responding to shocks, in terms of its ability to bounce back – in contrast to the euro-zone". The aftermath of the 2008 financial crisis is, to him, a case in point.
Patrick Safvenblad, chief investment officer of Harmonic Capital Partners, a London-based global macro hedge fund, even goes so far as to suggest that the growth capability of the US has been the key factor. When it comes to developed market allocations, "the long-term appreciation of the dollar is because the US is the only place to invest", he says.
He points to the lack of exciting investment opportunities in Europe and in Japan – noting, symbolically, that "there is no Uber in Europe". Uber is a fast-growing online transportation company based in San Francisco. Safvenblad downplays the effect of Fed actions, arguing that yields are too low in the US to attract the capital inflows that boost currencies. He says, instead, that it is the capital inflows into equity that have been key to the dollar's rise.
Sandra Crowl, member of the investment committee at Carmignac, the Paris-based investment manager, also argues that capital inflows have been important – attributing this to a reallocation by US institutional investors to US equities because of lower political risk than the euro-zone, as well as higher GDP growth. However, she rates monetary policy divergence as the main explanation of dollar strength.
Aside from monetary policy divergence and economic power, other explanations for recent dollar strength are less convincing to dollar watchers.
Kwok of Amundi echoes the views of several other experts in dismissing the dollar's safe-haven status as a long-term factor. "It only means anything when you're talking about a short period," he says, noting that when market fears subside investors return to less safe currencies.
"The long-term appreciation of the dollar is because the US is the only place to invest" Patrick Safvenblad
Many investors are also sceptical about fair value as an explanation of the dollar's performance: the notion that the dollar has an intrinsic strength, based on measurable factors such as purchasing power, productivity growth and interest rates, to which it tends to return. Most fair value estimates suggest that the dollar was cheap before its rise, but is now relatively expensive. However, "I don't really believe in fair value", says Ather of Aberdeen AM. "It's subjective: to derive a value for the dollar, you have to input your own expectations for the US economy and monetary policy." Given that everyone has a different opinion for this makes it meaningless, in his opinion.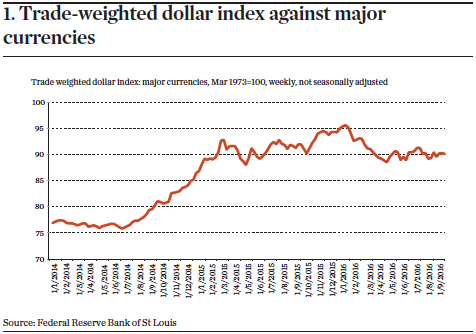 However, other investors see power in fair value – but only over the long term. "Currencies do tend to get back to their trend, but this return to trend takes between five and seven years," says Luca Paolini, chief strategist at Pictet Asset Management in London. Pictet AM estimates that the dollar was 20% undervalued five years ago, but is now overvalued to a similar degree – suggesting a depreciation of about 20% over the next five years, according to Paolini.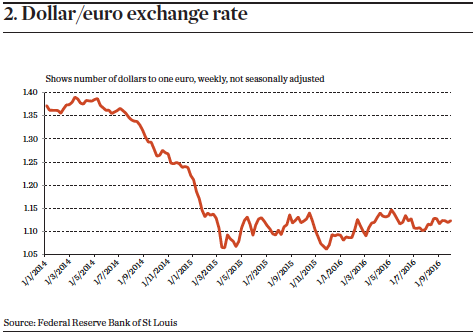 Five years is, of course, a long time in financial markets. Analysts' slightly shorter-term forecast, for the coming year or so, is for relative stability. "Current conditions point towards stasis and range trading," says Benjamin Mandel, executive director and economist in the multi-asset solutions team of JP Morgan Investment Management in New York. He notes that the GDP growth differential between the US and the euro-zone, which influences relative currency strength, has narrowed, with the US at about 2% and the euro-zone's at about 1.5%. In addition, emerging markets have somewhat more stability, with a bit of an uptick in growth – creating support for their currencies.
This does not allow for the fact that the Fed is keen to normalise policy – pushing rates back up towards average historical levels to prevent excessive leverage in the system and to leave the opportunity for rate-cutting to stimulate the economy when the next recession happens. However, Neil Mellor, currency strategist at BNY Mellon in London, says that the Fed is in a bind. "I don't recall the world economy ever before being in a situation like this, where the Fed can't raise rates by 25 or 50bp without causing havoc" – because there is so much dollar-based leverage in the global financial system already. For this reason, he says, the US will have to keep monetary policy loose – preventing another strong rise in the dollar – for a long time.
Special Report: Currency - Behind the strong dollar
1

Currently reading

Special Report: Currency - Behind the strong dollar

2

3