Regulation is challenging traditional LDI strategies. Schemes should take a closer look at how their interest rate and inflation risk is being managed. Carlo Svaluto Moreolo reports
At a glance
• Basel III, EMIR and Solvency II are transforming the LDI sector.
• The relationship between Gilt and swap prices has reversed.
• Active LDI managers rely heavily on the Gilt-swap differential for returns.
• Opportunities in other asset classes exist but the take up will be limited.
Less than two decades after pension funds embraced liability-driven investment (LDI), major changes in financial regulation are having lasting consequences on how schemes hedge interest rate and inflation risk.
The impact of regulatory change is showing particularly in the UK LDI industry, which has been growing at double digits per year over the past few years. According to KPMG's 2015 UK LDI survey, the notional value of liabilities hedged by UK defined benefit pension schemes at the end of 2014 was £657bn (€830bn), having grown 29% from the previous year.
Growth in the sector is expected to continue at a healthy pace, as UK corporates try to close a deficit that stood at £800bn at the end of April this year, according to the consultancy Hymans Robertson. But the combined effects of three major packages of international regulation – Basel III, the European Market Infrastructure Regulation (EMIR) and Solvency II – are leading LDI managers and their clients to rethink how they protect themselves from interest rate and inflation risk.
Perhaps the most obvious structural development is the relative pricing of Gilts and interest rate (IR) swaps. Following the financial crisis, swap yields exceeded those quoted in the Gilt market. This meant it was cheaper to hedge interest rate risk using swaps.
That relationship has since reversed. Robert Gall, head of market strategy at Insight Investment's financial solutions group, says: "Depending on where you are on the curve, and which security you hold, you could be picking up 65bps on a long-dated index-linked Gilts versus a comparable swap. If that has 30 years of duration in it, that is nearly 20% cheaper hedging using Gilts than using swaps."
Gall says this change has a significant impact for the sector. He says: "When you think about the funding position of many schemes, yes they have deficits, but to get a 20% uplift, or to be able to hedge £100m at the cost of £80m, is a really significant opportunity. And that has not always been the case."
Andrew Connell, head of portfolio solutions at Schroders, notes that after the swap market developed in the 1990s, Gilts tended to outperform swaps, during periods when the UK fiscal position was favourable. "This happened for two reasons," says Connell. "First, there was less supply, because the government was not under pressure to issue debt and second, the credit quality of the government was improving." But with quantitative easing (QE), the government became a new buyer in the market and, since then, the relationship between Gilts, swaps and the fiscal position never really re-established itself," he continues.
Although this could be simply thought of as a cyclical market move, it has deeper significance. One of the culprits is Basel III, the regulatory framework that sought, among other things, to strengthen bank capital requirements post-financial crisis. "Regulatory issues and the market participants' reaction to them are overriding what has been a fundamental dynamic since the beginning of the swap market," argues Connell.
The rules make leverage more expensive for banks, which, in turn, affects the costs of repurchase agreements (repos). Repos are a classic strategy to gain leveraged (or synthetic) exposure to Gilts and are widely used in LDI. Banks have to meet higher capital requirements when they offer repo services, and are passing the cost on to participants.
At the margin, this may result in lower demand for Gilt repos by pension funds and therefore less market demand for Gilts, as pension funds may turn to the swap market for hedging purposes.
LDI managers say this trend will persist, despite the counterbalancing impact of EMIR. The latter framework requires over-the-counter (OTC) derivatives to be cleared by designated central clearing houses. This increases the operational cost of entering a swap agreement. It also poses serious collateral management issues for pension funds, since clearing houses are only allowed to acquire cash as variation margin.
Pension funds managed to get an exemption from the rules but, from next year, EMIR will fully apply to them as well.
Meanwhile, Solvency II, the insurance regulatory framework, is pushing UK insurers deeper into the swap market, because discount rates applied to insurers' annuity-based liabilities are largely driven by the swap market. This makes swaps a more natural hedging asset for the industry, and is further increasing the demand for the asset class versus Gilts.
But Connell says that the higher costs relating to swap clearing will not push swap rates back below Gilt yields. He argues: "We don't think the market dynamics have played out in terms of Basel III forcing banks to properly price their capital. We think repo costs will increase further, as there isn't an infinite supply of repo. This is a fundamental change in the landscape that is reshaping the relationship between swaps and Gilts."
LDI managers are rethinking their strategies altogether, according to Connell. The key issue for them and their clients is getting the right balance between 'active' and 'passive' LDI. With Gilt and swap prices moving in different directions and being driven by different factors, managers have to review their strategy of trading between the two asset classes to add value.
Connell explains: "We think that the asset swap trade, where you choose between Gilts and swaps, has been looked at in the wrong way, and the communication of what it is and how it works has not been as strong as it could have been."
The argument is simple. In spread trading, investors buy a higher-yielding asset and sell a lower-yielding one to earn a spread. But they have to be mindful of spread duration, which can neutralise returns if spreads move against them by even a small margin. In an LDI context, choosing to hold higher-yielding Gilts rather than a lower-yielding swap can insulate a pension fund from interest rate risk. But both assets carry a high spread duration. This means that relatively small changes in the spread between Gilts and swaps can quickly wipe out a year's extra return that derives from the higher yield.
Connell says: "Investors have forgotten that Gilts and swaps do not move in a tight range. If you look at the history, Gilts have come from over 100bps richer than swaps. There was a belief that in the post-QE world the spread was going to be range-bound, roughly moving between minus 15bps and minus 30bps."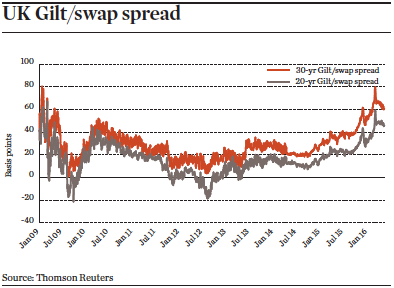 He says there was no reason to think that range was not going to be broken over the medium term. "Investors are chasing extra return, but completely underestimating the funding level risk they are taking on by trading between swaps and Gilts to achieve this," he adds. If the spread moves against portfolios, investors risk seeing their funding level drop significantly.
The volatility has already hit certain portfolios, according to Connell. Yet managers argue that there are genuinely good returns to be reaped from active or dynamic trading of Gilts versus swaps. Insight Investment's Gall says: "We are not saying that it won't be without volatility but, for schemes, the idea that they could buy certain cashflows, guaranteed by a government, that are 20% cheaper than a swap rate, is quite a formidable proposition."
There appears to be a slight tension between those who advocate a more active approach to LDI, and those who see active LDI as potentially too risky, or disconnected from its fundamental hedging purposes.
Of course, the definition of 'active LDI' is relatively subjective. Among investment consultants, Aon Hewitt does advise its clients to let managers exploit inefficiencies in the market. "Our view would be that there is some evidence that managers are able to exploit those inefficiencies," says Craig Gillespie, investment consultant at Aon Hewitt. "There are obviously drivers of the differential between Gilts and swaps that might present opportunities. The differential moves over time, so there is an opportunity for managers to add value."
But Gillespie adds: "It's important to take those positions in a variety of different ways and markets, in order to maximise your chances of achieving outperformance. But different people have different views on that, and since we're always driven by our clients' objectives, we're happy to work with them to produce a sensible passive approach, if that's what they're looking for."
On the other hand, there are those who see LDI as a largely risk-reducing activity that should be focused on cashflow-matching. Rupert Brindley, strategist in the JP Morgan Asset Management's global pension and advisory solutions group, sees a tendency by some managers to focus excessively on trading the Gilt/swap spread. "There are those who believe that the name of the game is to dynamically reallocate between the different types of potential hedges, and to do that potentially on a very high-frequency basis if market conditions support it. That's an approach that is, we think, akin to a relatively weak hedge fund strategy."
"We are an active house, and we think there is a big opportunity in looking at the differential between Gilts, swaps and corporate bonds. You want to cast your net as wide as possible when looking for hedging opportunities, and we believe the fundamentals support hedging using corporate bonds at the moment. But we are always focused on a cashflow-based approach. The temptation is to end up trading aggressively the basis between Gilts and swaps. There are risks in becoming too tactical and within a very narrow frame of reference."
The collateralisation conundrum
Most LDI managers and consultants factor in the possibility that portfolios will start filling up with non-traditional hedging assets including illiquid ones, from high-grade corporate bonds through to long-lease property and infrastructure (see article in this section). However, whether or not these assets will become mainstream in LDI portfolios may also depend on further regulation-led developments.
The changing requirements for collateralisation of derivatives is one major driver. From next year, pension funds will have to deal with collateral management issues due to central clearing under the European Market Infrastructure Regulation (EMIR). Schemes will reluctantly have to hold more cash for posting swap collateral or gain synthetic Gilt exposure.
Jonathan Crowther, head of UK LDI at AXA Investment Management, says that there is a possible solution to the collateralisation issue on the horizon. On the one side, he points out, pension schemes are holding a large amount of Gilts and other high-quality securities, and increasingly need to access cash for collateralisation.
On the other side, there are entities amassing cash, including money market funds, clearing houses, central banks and sovereign wealth funds. These are happy to give up cash for high-quality securities, since banks are no longer keen to borrow short-term cash.
Crowther says: "Banks used to intermediate this area of the market very well through repo, but it is becoming increasingly expensive to do so. We anticipate that other entities will begin to intermediate that space. These will be either the existing clearing houses, which may set up repo clearing facilities, or market trading platforms that try to match buyers and sellers in deals based on standard terms. That should in theory reduce the bid-offer spread and thus reduce repo costs."
One such trading platforms is DBV-X, a EU-regulated 'multilateral trading facility' set up "for the trading of standardised collateral baskets in exchange for cash or other collateral baskets", according to its website. The London-based business, formerly linked to Swiss inter-dealer broker Tradition, has been in discussion with Bank of New York Mellon about a takeover by the bank.
According to Crowther, the need by banks to limit their involvement in the repo market creates a bottleneck, but there is both potential demand and supply for repo, in spite of the regulatory developments.
Indeed, although LDI managers and pension schemes become increasingly comfortable with holding non-traditional hedging assets, Crowther believes portfolios will continue to rely heavily on derivative exposure. "I think the dynamics of the market still keep pension schemes predominantly hedging with Gilts or swaps at present," concludes Crowther.
Special Report: Liability-Driven Investment - Time to review LDI approaches
1

Currently reading

Special Report: Liability-Driven Investment - Time to review LDI approaches

2

3

4

5