As stated by the International Capital Market Association in April 2014, new regulations are having an impact across all areas of collateral fluidity. Collateral providers are facing increasing capital requirements under Basel III and Solvency II, leading to a global reduction in the availability of high-grade assets and higher costs for transforming riskier assets into those usable as collateral. At the same time, collateral needs are increasing with the introduction of initial margin and the effect of the high-quality asset scarcity on haircuts.
The operational chain is also under pressure as central clearing moves from T+1 processes to intra-day margining, while rules on re-hypothecation and collateral segregation require greater sophistication in inventory and allocation monitoring.
The need for cash or short-term liquid assets may distort portfolio balances: diversifying collateral will become important to reduce the regulatory drag on portfolio returns.
Hubs
The first challenge to optimal collateral processing is global collateral fragmentation. We should distinguish market fragmentation from the internal fragmentation due to 'siloed inventories'.
Several initiatives – such as collateral hubs – are currently reducing market fragmentation. The enhanced services offered combine collateral management, transformation operations and delivery automation to network members. The harmonisation of settlement rules, through projects such as T2S, will provide a better fluidity of the collateral workflow.
For the buy-side, the benefit of outsourcing the operational flow to third parties should be balanced with an increasing need for cost transparency and controls on inventory.
There is an increasing demand for tools aimed at forecasting collateral needs through 'what if?' scenarios, or even before entering trades. Such analytics will help buy-side traders selecting optimal prime brokers and central clearers for a given derivative deal.
In any case, these initiatives do not exempt participants from addressing internal fragmentation of their collateral inventory. Centralising the view of collateral across portfolios and custodians is a prerequisite to efficient allocation.
The global inventory can be built by answering a few questions: What do I have? Where is it? How long have I got it for? The efficient centralised inventory should be able to overlay in real time various collateral schedules, pricing rules and concentration limits.
Optimisation consists of selecting the optimal allocation of the global inventory.
Objectives
The definition of optimal allocation evolves constantly and is different for each institution. The original cost approach based on 'cheapest to deliver' is now extended to include operation constraints due to fragmentation. Some market participants tend rather to consider an 'easiest to deliver' evaluation.
In essence, the optimisation strategy should result from a global analysis. Considering collateral and liquidity management across products, entities and locations as a whole allows defining the 'best use' of a centralised inventory.
Best practice involves first evaluating the main optimisation drivers and constraints and then defining the appropriate strategy for an entity's specific objectives. For instance, pension funds should, at the same time, take advantage of their high-grade assets through transformation or upgrade operations, and meet capital and liquidity requirements. On the other side, collateral consumers should evaluate the optimal use of their inventory between a direct use and the collateral upgrade opportunities.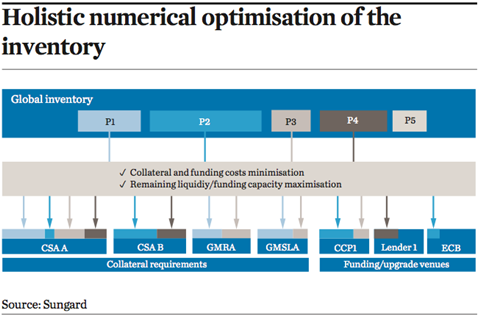 In both cases, the parameters to be considered are the same. What are my requirements and constraints? What are my collateral cost components to meet these requirements?
The first question is easily answered. Defining what the collateral inventory should be used for is usually driven by liabilities and regulatory constraints. In addition to external collateral and capital requirements, some managers may define internal funding objectives.
Waterfall
Modelling a theoretical 'cost' is far more complicated and remains specific to each organisation. It is recommended that there should be focus on three main components: an opportunity cost based on transformation prices; an external operation cost related to the clearing and counterparties network, and an internal cost or transfer pricing implied by the collateral centralisation. Each organisation typically uses several combined methods to define their costs and the way they will optimise the use of their collateral.
The key element of efficient optimisation resides in the capability to evaluate all possible combined allocations through a global holistic process. Simple waterfall approaches cannot ensure the best use of a position that could have been upgraded, used to raise cash or posted to meet several collateral requirements with different haircuts, prices and limits.
The required optimisation tool should be based on advanced numerical techniques comparable to those already used to optimise portfolios. The efficient optimisation engine can suggest the best allocation that will simultaneously minimise collateral and funding costs, maximise remaining liquidity and capital and validate business and limit constraints.
The figure illustrates how an optimisation algorithm helps to effectively allocate positions from a 'global inventory' between margin requirements and funding opportunities. The optimal solution should, in the same single process, identify the remaining positions after allocation in order to maximise the funding capacity and the high quality liquid asset ratio.
The first step for any buy-side organisation is to centralise the collateral inventory and clearly identify the operational constraints related to portfolio fragmentation. It is essential to have a clear view on all parameters affecting collateral fluidity. For some market participants, in-sourcing collateral operations will be a prerequisite, as external agents do not have a holistic view of inventory and margin requirements.
The second step involves the strategic definition of the 'theoretical cost'. This can be achieved by assessing the possible uses of the collateral inventory and inherent costs/returns. At the same time, all constraints related to portfolio balances, concentration limits and regulatory ratios should be considered when configuring the optimisation algorithms.
Once an optimisation programme is initiated, you can expect increased velocity of collateral assets as the portfolio is continuously rebalanced to maintain an optimal state. Without an automated solution it would be operationally unfeasible for this to happen. The optimisation workflow should be fully integrated with trading and collateral operation systems.
The conjunction of rules restricting collateral velocity and increasing the global demand is affecting all buy-side participants and might shortly have an impact on portfolio performance. This will demand organisational changes.
Optimising collateral is achievable and represents a significant competitive advantage for every buy-side organisation by reducing collateral costs and increasing revenues from inventory.
Matthieu Baudoin is product manager for the Apex Optimizer at SunGard
Special Report - Securities Services: Margin of error
1

2

3

4

5

6

7

8

9

Currently reading

Special Report - Securities Services: The optimisation opportunity

10