The fund is embracing thematic investments and Paris-aligned benchmarks
Key data

• Pension fund for engineers and architects
• Assets: €12.4bn
• Location: Rome
• No net-zero target but incorporates responsible investments since 2017
These days, Italian pension fund INARCASSA is becoming increasingly aware that those companies proactively managing the subject of ESG hold up better in market crashes and generate better performance than do their competitors, according to CIO Alfredo Granata.
"It's no coincidence, because ESG issues are now integrated with traditional investment criteria," Granata says. At the investment level, Inarcassa is trying to reduce the carbon footprint of its portfolio, although it does not have a formal net-zero target.
In 2017 the Inarcassa board of directors approved the adoption of responsible principles in its investment and governance process, and joined the UN PRI (Principles for Responsible Investment).
The organisation has integrated its own due diligence process, including research and evaluation of environmental, non-financial aspects of investment.
This year, Inarcassa has launched thematic investments with a focus on environmental aspects – climate and the green transition – as well as in Paris-aligned benchmark (PAB) financial products. These impose more stringent requirements with regard to fossil-fuel exclusion, aiming to reduce carbon intensity by 50% compared with the original investible universe, and by 7% on an annual basis, according to Granata.
With the support of its ESG adviser, Granata says Inarcassa also carries out quarterly portfolio carbon-intensity evaluations – reports that have demonstrated continuous improvement in the control of CO₂ emissions.
"Companies that derive their income from coal mining – as well as from weapons development or tobacco production – are potential candidates for values-based exclusion"
Selective divestment
Inarcassa now selects funds where asset managers mostly exclude companies deriving 25% or more of their revenue from thermal coal and tar sands, or 10% from Arctic drilling.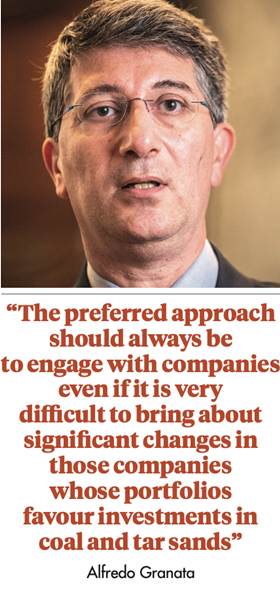 "The preferred approach should always be to engage with companies even if it is very difficult to bring about significant changes in those companies whose portfolios favour investments in coal and tar sands," Granata says.
However, decisions on these topics are likely to form part of a broader climate change policy at Inarcassa in the future, aimed at supporting the goals of the Paris Agreement.
"Companies that derive their income from coal mining – as well as from weapons development or tobacco production – are potential candidates for values-based exclusion," he says.
The main motivation for applying such tilts – and the depth of those tilts – is linked to a number of decarbonisation objectives, such as the aim of becoming climate negative, perhaps with an intermediate goal of climate neutrality; a reduction, in line with the requirements of the scientific community, of gas emissions at investment and corporate level; and the purchase of 100% of energy from renewable sources, where available, and further efforts to improve energy efficiency.
Regarding his expectations for COP26, the upcoming United Nations Climate Change Conference in Glasgow, Granata hopes that countries attending will have updated their plans to reduce their emissions.
"Each country is required to present ambitious emission reduction targets by 2030 that are aligned with achieving a net-zero emissions system by 2050. At the moment, the main objectives are to accelerate the coal exit process, reduce deforestation, accelerate the transition to electric vehicles and encourage investments in renewables.
"The collaboration of each country will serve to finalise the 'Book of Rules' of Paris – the detailed rules necessary to make the Paris Agreement fully operational – and to accelerate activities aimed at tackling the climate crisis by strengthening collaboration between governments, companies and civil society," the CIO says.
On the subject of carbon pricing, he says that this has been increasing at a slower rate than the price of other energy sources, and the risk is that the transition process could be slowed.
"The cost of energy in Europe is very high not only because of the increase in emission costs, but also because of the skyrocketing price of natural gas," Granata says. "The latter is also the source we rely on in the transition to a renewable-energy regime, so the price increase will have a negative impact in environmental terms. All of these aspects could probably cause a slowdown in the energy-transition process.