One year in and the verdict on the EU's Sustainable Finance Disclosure Regulation (SFDR) is mixed
Key points
The flagship investor disclosure framework has inadvertently effectively created a labelling regime, which ESMA has said is a misunderstanding
The way SFDR has been drafted and implemented has created confusion in the market, and increased greenwashing risk in the short term
On the plus side, it has brought about some standardisation and forced asset managers to engage more deeply with their processes and commitments
ESMA has confirmed it will help the European Commission develop minimum criteria for Article 8 products
The impact of the European Union's controversial Sustainable Finance Disclosure Regulation (SFDR) is being felt around the European institutional investment industry.
The regulation requires asset managers and institutional investors to disclose how they tackle ESG-related issues at both entity and product level.
By introducing a standardised disclosure framework, SFDR has forced asset managers to strengthen their efforts around sustainability – or at least to show that they are doing so.
It remains to be seen, however, whether SFDR will achieve its several ambitious objectives, which include preventing greenwashing and helping the fight against climate change.
The framework came into effect in March 2021, after a somewhat messy regulatory process. During the discussions, some industry participants had felt that requirements were too taxing due to the lack of available standardised ESG data. This led to the scope of the disclosures being reduced.
Now that SFDR is a reality, there are questions about its effectiveness. Industry participants, including pension funds, are grappling with the lack of data that makes disclosure problematic.
The implementation of level 2 of SFDR, which has been delayed to 1 January 2023, should bring much-needed clarity.
Level 2 consists of the Regulatory Technical Standards (RTS) that define the content, methodology and presentation of disclosures. The regulator will provide disclosure templates and specify how principal adverse impacts on sustainability factors mentioned in Article 7 of SFDR should be disclosed.
However, the lack of standardised ESG data will remain a problem for the foreseeable future. The EU's proposed Corporate Sustainability Reporting Directive (CSRD), currently under discussion, is seen as a potential answer, but it is difficult to predict its impact.
Jan Kæraa Rasmussen, head of ESG at PensionDanmark, says: "For certain asset classes, particularly our listed equity portfolio, we already have a lot of the data that is needed to fulfil the requirements of SFDR. But for unlisted assets there is a clear lack of data. Our approach is to work on one asset class at a time, engaging with managers and companies, starting from those that we manage internally.
"When the data is not readily available, we ask managers and companies to commit to delivering the data in the future.
"The availability of data on principal adverse impacts (PAI), however, represents a particular challenge. We have all but complete data for some of the 14 indicators, for other indicators it is from less than half of the constituents of our listed equity portfolio. And for one indicator, it is even below 10%."
Fund managers stock-take
Despite the lack of data, the industry has had to engage in a massive effort to classify European investment products as Article 6, Article 8 or Article 9, according to SFDR.
Article 8 concerns financial products that promote, among other characteristics, environmental or social characteristics, while Article 9 concerns products that have sustainable investment as their objective.
The vagueness of such definitions has been subject to heavy criticism. This, combined with the lack of clarity around key aspects of the regulation, has contributed to fears that SFDR has become a labelling scheme, useful for marketing purposes more than anything else, instead of a disclosure framework.
As a European Commission official told an IPE event last summer, however, the SFDR was not intended as a labelling regime but rather to "make sure that the information presented to investors is more coherent, more uniform, more reliable when it comes to ESG".
More recently, in a February 2022 member briefing, INREV, the industry association for investors in non-listed real estate, wrote that in ESMA's eyes there is a "widespread misunderstanding" in the market about the SFDR Articles and that the watchdog has emphasised that Article 8 and 9 are not product labels.
At Invesco, Elizabeth Gillam, head of EU government relations and public policy, says the SFDR is ostensibly about disclosure, but that the way it was drafted means it strayed into product regulation territory.
"By creating two different levels of ESG, it automatically led people to see it in terms of a classification," she says.
"There's a slightly bizarre conversation happening where the European Commission is being critical and making the point that the SFDR was not intended as a labelling regime, but it has now said they will develop minimum criteria. It's a bit of a strange situation."
The plan to develop minimum criteria for products referenced in Article 8 of the SFDR was set out in the Commission's new sustainable finance strategy document last summer, and ESMA recently confirmed that it will work with the European Commission on minimum sustainability criteria for Article 8 products.
Greenwashing concerns
A study by Morningstar on the impact of SFDR on Europe's fund industry, published in February 2022, found that assets in Article 8 and 9 funds had reached €4.05trn at the end of December 2021, representing 42.4% of the assets of all funds sold in the EU.
The study also found that in the fourth quarter of last year, 64% of EU fund inflows, representing €81.4bn, went into Article 8 and 9 funds. During the same period, 54% of the funds launched in the EU, or almost 200 funds, were classified as Article 8 and 9 vehicles.
To put that into perspective, Morningstar also reports that 25.2% of funds were classified as Article 8 and 3.4% as Article 9 funds.
Morningstar makes no secret of the potential flaws of SFDR. The study says: "A lack of clear policy guidance has resulted in different approaches to product classification, which in turn have led to confusion and greenwashing concerns."
A particularly interesting piece of evidence offered by Morningstar is the cases of funds that were reclassified. The company found 1,800 such funds, reclassified up from either Article 6 to Article 8 or from Article 8 to Article 9. Unsurprisingly, there were no downgrades.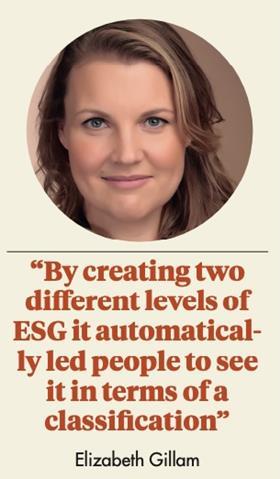 The study provides several individual examples of reclassified funds, pointing out that the changes applied to these funds vary greatly, "ranging from adding exclusionary screens to a complete overhaul of the investment objective, investment policy, and holdings".
"While some funds have used SFDR to overhaul their strategies entirely to align with sustainable objectives, others have just formalised an existing ESG integration process or applied a light touch to qualify as Article 8," says the study.
According to Morningstar, new fund marketing and legal documents at times offer scarce details on how funds promote environmental and social characteristics, which raises greenwashing concerns.
The study notes that "light-touch and business-as-usual approaches have legitimately raised concerns that asset managers are greenwashing their product ranges, and that investors could be misled in thinking that funds marketed as promoting ESG characteristics or pursuing sustainable goals are noticeably different from what they were prior to SFDR or different from similar offerings that haven't been classified as Article 8 or Article 9".
Others also offer a relatively downbeat assessment of the SFDR's impact with respect to greenwashing so far.
Stuart Ballard, head of product strategy and development at Federated Hermes, says the SFDR has, in the short term, probably increased greenwashing risk because of the way it has been implemented and because it has also created a classification regime rather than just being about enhancing disclosure.
"It's not fundamentally flawed, but because of the sequencing in the way it's been implemented and the various delays that have been suffered so far, they've actually opened the window for a longer period of greenwashing rather than reducing the amount of greenwashing."
Alluding to the deferred application of the RTS (a second such delay) until 1 January 2023, Ballard says: "Every time there is a delay to getting people to articulate why they think they're Article 8 or Article 9, it's expanding the window of opportunity for people to not provide that information and so I suspect there are a number of funds out there classified as Article 8 or Article 9 in the knowledge that they are not able to back that up and they are planning to use the time period between now and the implementation date to back that up, in order to enhance their processes."
There is no way of knowing if a fund manager has been disingenuous in the way it has classified a certain fund. What can be observed, however, says Federated Hermes' Ballard, is that some managers have made additional or enhanced disclosures to help people understand their interpretation of the SFDR.
He says this approach makes sense, because there is uncertainty around the regulations and by disclosing more on a voluntary basis, asset managers can insulate themselves from allegations of greenwashing, even if it ends up that a given classification was incorrect.
Adam Gillett, head of sustainable investment at WTW (formerly Willis Towers Watson), says the purpose of SFDR is to bring about transparency and a level playing field, but that "at the moment, it is at least a couple steps away from achieving that fully".
"Because the definition of Article 8 funds is so broad, there are very different levels of sustainability among those funds."
In a sense, he says, the winners, so far, of the SFDR are the providers of data and similar services, with industry participants seeming to be focused on getting the data that is required to classify their funds.
But Ballard and Gillett also point to positive aspects of SFDR and other industry participants also suggest the currently confused situation could clear up.
New MiFID II requirements
Invesco's Gillam and Koen Van de Maele, global head of investment solutions at Candriam, both bring up the potential impact of incoming MiFID II rules under which asset managers will have to ascertain clients' preferences with regard to sustainability as part of their suitability assessments.
Because the categorisation regarding sustainability preferences in MiFID II is not fully aligned with that of financial products as identified in the SFDR, this could work against the labelling-trend force that is currently coming from SFDR.
"When these rules become applicable after the summer, every adviser and asset manager will need to ask clients and prospects what their ESG preferences are and there is no direct link to Article 8 or 9," says Van de Maele. "Luckily or unluckily, but I think luckily.
"We have, over the last year, seen a bit of labelling [based on the SFDR] but my expectation is that this will lessen because by the end of the year with MIFID it's all about taxonomy alignment, percentage of sustainable investments, and principal adverse impacts. Maybe that will create more of an objective level playing field."
Gillam echoes this hypothesis. "It's possible that Article 8 and 9 may cease to be as important because of the criteria coming from the new MiFID suitability assessment rules," she says.
Van de Maele also suggests that the final Level 2 rules, which prescribe the detailed reporting requirements facing asset managers and should come out by the end of the year, may also contribute to a move away from Articles 8 and 9 being treated as product labels.
Matt Feehily, a senior managing associate at law firm Sidley Austin, says it's probably too early to tell to what extent the SFDR is curbing greenwashing, but that the picture could become clearer when filling in the disclosure templates required by the RTS becomes established.
"Some public ESG disclosures don't currently follow the framework constituted by the templates as these are not yet in force, but it will be interesting to see over time, particularly as we get towards the effective date, whether more firms start to align with what the latest version of the template would be at that time," he says.
"Certainly it will be interesting to see whether there are gaps in disclosures once those templates do become mandatory. That may be the point in time you're better able to assess the greenwashing objective and whether it's been met, because you're able to judge the disclosures that have been made against a consistent standard."
Indeed, from one perspective the problems associated with SFDR are merely bedding-in problems, even if they are a source of frustration for the industry and others, and the regulation is already having a positive effect, with more possibly in store.
Ballard at Federated Hermes says that although you could say the greenwashing risk has increased with SFDR, "the other impact of SFDR is that it is making everyone up their game on ESG integration, be that through adding exclusions, through enhancing their use of stewardship, [or] through integrating ESG risk factors more into what they do".
"They're doing that because they're worried now about the declassification risk. However, they've already classified and that's where the greenwashing issue is, because there's a time gap between those two things."
Pension funds on both sides of the fence
As is often the case, pension funds find themselves in a special position within the financial industry when it comes to dealing with SFDR. They are both in scope of the SFDR as preparers of disclosures and potential consumers or users of fund manager disclosures or classifications.
From the point of view of the former, they have been in a similar position to asset managers – that is, "left with some degree of uncertainty when interpreting the meaning and practical implications of the EU rules, particularly Articles 8 and 9", as Rasmus Juhl Pedersen, head of responsible investment at Denmark's PBU, puts it.
In terms of pension funds as consumers of SFDR-related information from asset managers, Pedersen says PBU has had enquiries from its asset managers about the pension fund's possible position and requirements with regard to the regulation, but that, so far, it is awaiting final guidelines from the EU and the Danish financial markets regulator.
"We would not be included to buy Article 6 products, but we have no position or requirements as to how managers declare their products Article 8 or 9," he says.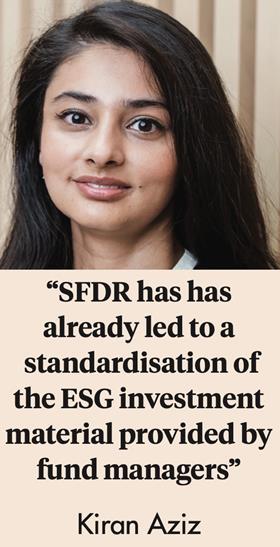 Whatever the effectiveness of SFDR, for pension funds that manage assets both internally and externally the regulation represents more than a simple exercise in compliance that adds to the regulatory burden.
Kiran Aziz, head of responsible investments at Norway's Kommunal Land- spensjonskasse (KLP), says: "SFDR has affected us in a number of ways. Firstly, it has required us to categorise our funds according to Article 6, 8 and 9. We quite early made the judgement that we were to categorise all of our funds as Article 8 and 9, because we seek to provide our clients with as much structured information about the sustainability performance of our funds as possible.
"For KLP, transparency has always been a key part of how we do business. For example, we have always published detailed summaries of exclusion cases. As such, the SFDR allows us to further develop ESG information and to present it in a way that is standardised in the markets."
Aziz points to the Principal Adverse Impact (PAI) indicators envisaged by SFDR as a useful leverage for engagement with portfolio companies. "These indicators allow us to better compare companies with each other and to make better-informed investment and engagement decisions," she says.
According to Aziz, SFDR has already achieved a lot. "It has already led to a standardisation of the ESG investment material provided by fund managers. The entity level reporting now provides a more comparable overview of the methodologies used, the fund manager's engagement focus and the international standards used as a guide," she says.
Jan Kæraa Rasmussen, head of ESG at PensionDanmark, also has good things to say about the EU regulation. "SFDR is beneficial because it has introduced common indicators that everyone has to use, making it easier to make comparisons and to run due diligence. It will not replace all the indicators we use today, as some of them are complementary", he says.
However, Aziz sees the fund level reporting as less useful, mainly due to the wide variety of approaches and interpretations of Article 6, 8 and 9 funds. "This has led to the same types of funds from different managers being assigned to different categories. While the EU has started to provide further guidance on how to use the fund reporting system, more clarity is needed if it is to function as planned."
Mixed picture
Wolfgang Kuhn, independent sustainable finance consultant and former director at campaign group ShareAction, says he cannot think of any other piece of legislation or regulatory framework in the area of sustainable finance that is potentially more impactful than the SFDR.
"It challenges the common attitude of industry participants, which is to expect regulators to tell them what to do, as if sustainability was their problem," he argues. "By adopting SFDR, the EU has essentially said that it's the industry's job to report on ESG issues, and that is incredibly important. The fact that industry participants have to report at entity level is particularly significant."
He holds up the sequencing of the EU's sustainable finance rules as a positive, saying the EU prioritised SFDR over corporate reporting requirements "as if to prepare and train investors beforehand to get the data that will then be made mandatory for corporates to report".
"This means asset managers and investors learn to value sustainability data.
"During the regulatory discussions, I thought it was ironic that the same asset managers who say that engagement is incredibly powerful, as opposed to divestment, lamented that they would not be able to get the data from investee companies that would be required from SFDR," he adds. "It begs the question: if engagement is so powerful, how come companies are not providing ESG data? The industry can come across as quite lazy in that respect."
Harald Walkate, former head of ESG at Natixis Investment Managers and now a senior fellow at the Center for Sustainable Finance and Private Wealth at the University of Zurich, says that one of the major problems with SFDR is that it does not provide clarity on its specific objectives.
"It mentions a whole range of objectives that are quite vague, from addressing climate change and helping meet the Sustainable Development Goals to fighting greenwashing," he says. "It is hard to see how a single piece of regulation can achieve all these objectives at the same time."
Walkate says SFDR risks becoming a huge waste of time and effort, in the sense that it is not likely to drive capital toward sustainable finance projects, and that achieving the objectives of SFDR is going to require government involvement.
"Investors and corporations are unlikely to achieve the objectives of SFDR single-handedly. In order to address climate change, we need government action: pricing signals (for example through carbon taxes), industry-specific regulations, and stimulation of R&D and innovation to develop new technologies."
Jérôme Tagger, CEO of Preventable Surprises, a 'think-do' tank, brings up the question of SFDR's real-world implications.
"Behind SFDR there is a theory of change that somehow better disclosure will lead to greater allocations to sustainable finance products and strategies, and help deliver the transition to a cleaner, more sustainable economy," he says.
"That is a very challenging assertion. There is little evidence, yet, that Article 8 and 9 funds drive significant amounts of capital towards green finance, for instance. What matters is the practices and behaviours of asset managers and investors in general, rather than the classification of their ESG products.
"There is a growing risk that ESG teams within asset management companies and institutional investors spend more and more time on compliance and disclosure rather than actual research and engagement. ESG teams already tend to be relatively small and one wonders whether that is a good use of their time. In that sense, SFDR and the discussions around it can become a distraction."
Kuhn's comments suggest he sees a more positive role for SFDR in terms of the potential real-world sustainability impact.
"Potentially, the framework will also force investors to reflect on the engagement-versus-divestment debate," he says.
"By requiring greater transparency around the characteristics of a fund, a strategy or an entity, SFDR will compel managers to provide more details on the depth of their divestment activities. This will allow investors to see the benefits of divestment compared with engagement, and vice versa, when both activities are conducted properly."

ESMA has its say
As several industry participants say, more time is needed to assess the impact of SFDR. ESMA, for one, is well aware of the problems associated with the regulation and has it in its sights as part of a wider plan to tackle greenwashing and advance the EU sustainable finance market.
In a recent sustainable finance roadmap report for 2022-24, the watchdog identified a number of challenges within the EU sustainable finance market, such as a regulatory framework that unequally covers different parts of the value chain, and "diversity in the interpretation and application of legislation (eg SFDR) with the risk of inconsistent application across the EU and resulting detrimental consequences for the good functioning of markets, including the risk of regulatory and supervisory arbitrage, and for the protection of investors".
It said greenwashing was a "complex and multifaceted issue" and that "a shared regulatory understanding of the new rules under the SFDR and how to identify and addressing greenwashing under this regime was "an essential starting point for more advanced supervisory convergence work related to greenwashing".
Special Report - Regulation
1

2

Currently reading

Regulation: SFDR put to the test

3

4

5

6

7

8

9

10