Hans-Jürgen Dannheisig and Clemens Schuerhoff assess drivers in the German Spezialfonds business and changes in the asset management industry
A changed regulatory environment for investment has provided Spezialfonds with a boost. However, the process of adaptation is demanding for both providers and users and the implementation of numerous additional legislative requirements and agreements means more work for all participants.
Spezialfonds
• Total assets: €1.15trn (July 2014)
• Net asset flows Jan-Jul 2014: €39.7bn
• Net asset flows Jan 2009-Jul 2014: €360.5bn
• Cumulative inflows Jan 2009-Jul 2014: €944.5bn
• Number of funds: 3,844 (July 2014); 3,920 (December 2008)
Providers and investors have criticised both the changes and their implementation. In many cases capacity is so impaired that it affects the provision of core activities in portfolio management. Spezialfonds are an important vehicle that needs to be adapted to meet these new regulatory requirements. The regulatory reform of the KAGB and the inclusion of real asset investments through Spezial-AIF funds creates enormous potential. Family offices and corporates are expected to make increasing use of these assets, as are traditional investors.
Against this background there is a strong chance that the volume of Spezialfonds assets could reach the €2trn mark in the next 10 years, which would constitute an average increase of €80bn per year.
The necessity for changes in portfolio structure as a result of (continuing) low interest rates has led to a broad asset diversification. Investors interviewed for our November 2014 report on Spezialfonds underline the high level of portfolio changes. The German Spezialfonds in particular have proved suitable to meet new requirements as this environment plays itself out.
Alongside insurers, pension institutions are large-scale users of Spezialfonds. The investment volume of this group has increased beyond expectations when compared with insurers, and the assets of pension institutions are characterised by broad diversification across all asset classes.
Pensions & Spezialfonds
• Pension assets: €227.4bn (July 2014)
• Net asset flows Jan-Jul 2014: €12.6bn
• Net asset flows Jan 2009-Jul 2014: €98bn
• Cumulative inflows Jan 2009-Jul 2014: €184.2bn
• Number of funds: 613 (July 2014); 485 (December 2008)
The reasons for this can be found in the less onerous regulation faced by pension funds in comparison with insurers, but is also down to pension institutions increasing their real estate and fixed-income investments. The same drivers lie behind the growth of fixed-income investments as in the insurance market and many direct holdings have been converted into fund investments in recent years.
Growth can also be observed in the movements between asset classes and there has been considerable activity in all categories of Spezialfonds.
All these developments are based on mega trends that are changing the institutional world. We continually research these trends with the support of opinion formers from the provider and investor sides.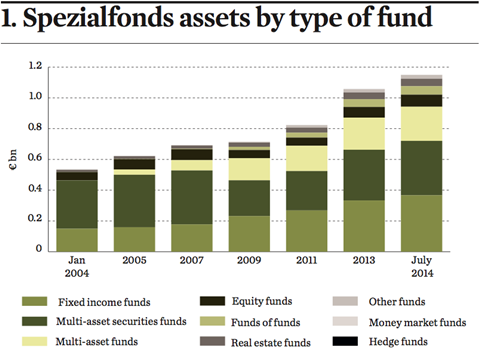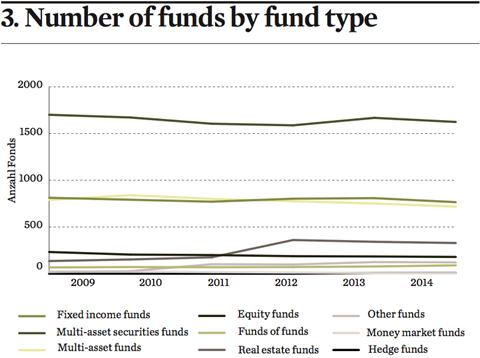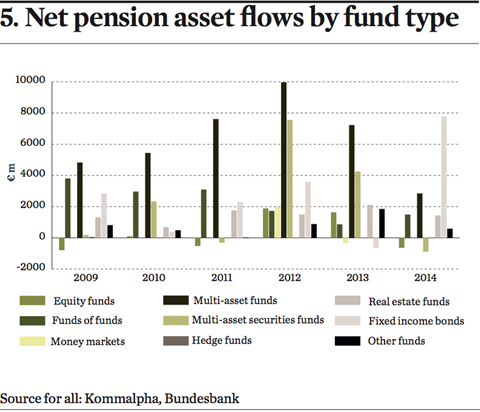 Five mega trends can be summised from the opinions of market participant and these will greatly influence institutional investment in the coming two decades. These include: demographics; techology; data handling; the environment, social and ethical factors; and changes to government financing. The interplay between these factors will change the asset management industry and is already doing so.
• Demographic developments are changing the demand for investment management products and strategies and are also changing the potential client mix. The strongest influences are coming from the pensions and insurance industries.
• Technological progress is driving social, economic and ecological changes that challenge business models but which open new opportunities. Analysis and exploitation of data, increasing in terms of quality and quantity, provides information, previously overlooked, which can be exploited by asset managers. The influence of findings harvested from 'big data' extend not only across asset management concepts and investment processes but also to the interaction between investor and provider.
"There is a strong chance that the volume of Spezialfonds assets could reach the €2trn mark in the next 10 years, which would constitute an average increase of

€80bn per year"
• Technology and the internet have changed the flow of information. No asset manager has an automatic knowledge advantage over the client. The way the mass of available information is handled changes the requirement for investment concepts. Networks are influencing social values and the way people (and investors) communicate on a global basis.
• Developments in state financing and central bank policies are changing institutional investment. As a result of the crises of recent years, the basic acceptance of pure debt-financed economic initiatives has decreased. Crisis induced phenomena – such as stable low-interest-rate policies and clear changes in financial market supervision and regulation – are changing both the return and risk profile of core investments and the demands placed on asset managers. Investment instruments assumed to be stable, such as unit-linked life insurance policies have fallen victim to these developments.
• Growing scarcity of commodities and land, and the exploitation of natural resources, are increasing the importance of responsible business interaction. 'New' asset classes like infrastructure and agriculture are establishing themselves. These investments are more thought of in terms of global supply chains. The ethical and ecological dimension of sustainability is expanding and is increasingly becoming an economic factor by itself.
Investors will have new requirements, wishes and demands in coming years. The finance industry will have to reinvent itself against this backdrop.
Kommpalpha's analysis is based on Bundesbank data and information concerning Spezialfonds. Overall, Kommalpha took into account over 300,000 individual data points. Data was analysed as of 31 July 2014.
Hans-Jürgen Dannheisig and Clemens Schuerhoff are founders of Kommalpha
Sector fund proposals: A new tune for German pensions?
1

2

3

4

5

6

Currently reading

Spezialfonds: A boost for the sector

7