Securities Spezialfonds assets are approaching a €1.5trn high water mark
Key points
• For the sixth year running, securities Spezialfonds have reached a new record asset volume with €1.48trn as at end-2017
• 2017 net inflows stood at €53bn
• Pension institutions are the largest single investor group with €374bn
• Inflows to closed-end funds increased to €3.7bn last year, with €1.7bn in the first half of 2018
• Universal-Investment has displaced HSBC Trinkaus & Burkhardt as the second largest Spezialfonds provider by asset volume
Current indicators are positive for securities Spezialfonds. In the first five months of 2018, non-real estate Spezialfonds attracted inflows of €30bn – significantly more than half as much as the entire previous year, when overall inflows totalled €53bn. This was substantially less than the €88bn accumulated in the previous year, and only half the record inflows €107bn in 2015.
By comparison, mutual funds saw solid inflows of €25bn in 2017, with assets amounting to €410bn – €44bn (12%) more than 2016
Total securities Spezialfonds assets are now €1.48trn (figure 1); although overall Spezialfonds volumes exceeded the €1.5trn level in April 2016, this was with property funds (Immobilien-Spezialfonds) included.
Pension institutions remain the largest investor group (figure 2). Performance and net inflows of €25bn boosted the value of their Spezialfonds assets from €337bn to €374bn over 2017 (figure 3). Of this asset growth, €12bn (3.5%) can be attributed to performance and market effects. Income in the form of fund distributions amounted to €52bn overall – 3.5% of the 2017 overall Spezialfonds volume of €1.48trn.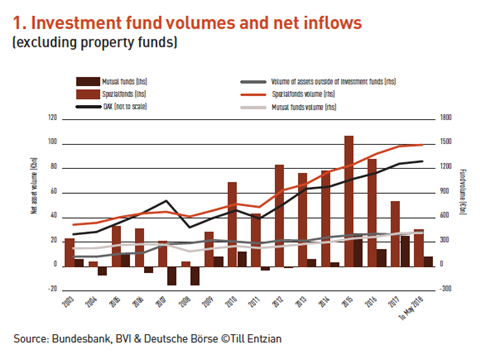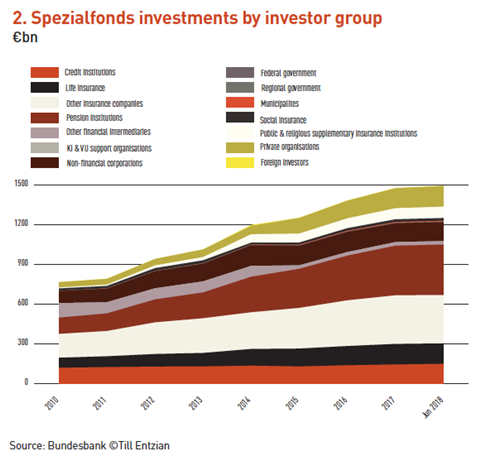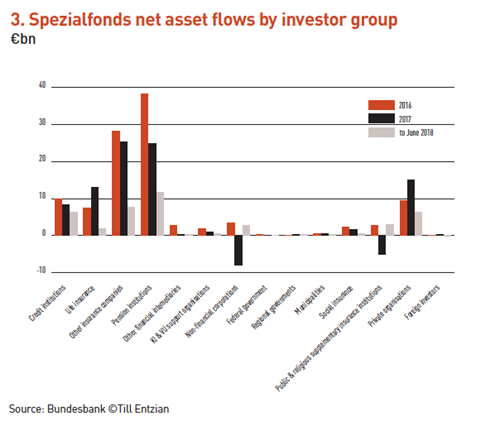 Another large investor group, non-life insurers, invested €25bn in new assets but profited less from positive market developments. The value of their assets rose modestly from €344bn to €366bn.
Life insurers were the third largest group with €155bn (previous year: €145bn), and their net inflows reached €13bn in 2017. Assuming income distribution at a similar rate as for other institutions, the investment return would be around 1.5%. This still indicates a very low risk-bearing capacity for life insurers. However, it is possible that some Spezialfonds may have been converted into mutual funds.
Banks and other credit institutions have continued increasing their Spezialfonds exposure. The volume managed for this group was €146bn at the end of 2017, an increase of €6bn.
As with life insurers, credit institutions' net inflows of €8bn exceeded the asset growth of €6bn. A steady inflow of €15bn came from foundations and other non-profit organisations in 2017, increasing their Spezialfonds volumes from €133bn to €151bn. In the first five months of 2018, they invested new assets totalling €6.4bn.
Two investor groups reported net disinvestment over the latest period of analysis. This includes industrial companies, which redced their investments by €8bn. This group now only invests €142bn in Spezialfonds. Public and church supplementary pension institutions were also net disinvestors, to the tune of €5bn. No notable changes are to be reported for the federal, provincial, local, and foreign investor groups.
Competition from ETFs
Domestic ETFs are unchanged in number but have increased their market-related volumes from €49.6bn to €51.6bn (figure 4). At the same time, the value of bond ETFs slightly decreased to approximately €5bn. On the whole, this moderate trend does not correspond to international trends, where volumes invested worldwide in ETFs increased from $3.5trn to $4.4trn (€3trn to €3.8trn) in 2017, according to EY.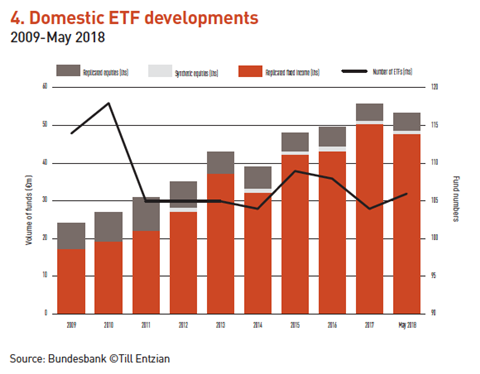 The global share of ETFs in the portfolios of institutional investors increased from 9.3% at the end of 2016 (according to BlackRock) to 19.0% at the end of 2017 (according to a survey by Jane Street Capital). At first glance, ETFs may seem to be a substitute for Spezialfonds. An ETF – with intraday pricing, assets in the possession of the investors, and daily redemption – offers some of the same advantages of a Spezialfonds, as well as lower costs.
Indeed, asset managers report significant outflows from active strategies, driven by the shift to passive products such as ETFs, as well as through the use of technology such as robo-advisers. As these vehicles offer significantly lower fees, cost pressure is rising again significantly for traditional providers.
Lawmakers and regulators might want to consider slowing the speed of regulation. Just listing the abbreviated names of current or proposed regulations fills an entire page in a presentation. Despite this, there is an opportunity for Spezialfonds providers, since those preoccupied with investors and their needs will develop the expertise to deal with them.
Regulatory reforms
Lawmakers have seen benefit in a complete reformulation of the taxation of investment returns. The original 27 paragraphs have grown to 57, but further additions will follow, as well as extensive interpretive letters. The intended simplification of tax law has gone and the differential treatment of mutual funds and Spezialfonds has become permanent.
Moreover, Spezialfonds can transfer tax advantages and tax obligations to the investor through the use of a 'transparency option'. All involved parties must in become acquainted with the 'status certificate', the 'partial exemption quota', the 'partial exemption prerequisites' and tax-free investors with the 'investment share inventory evidence', the '45 day' rule and evidence of compliance with the latter.
The 'partial exemption' is intended to compensate for the double-taxation effect. However, compensation would not be needed if a sensible concept had been chosen in which double-taxation could be precluded from the beginning.
Closed-end funds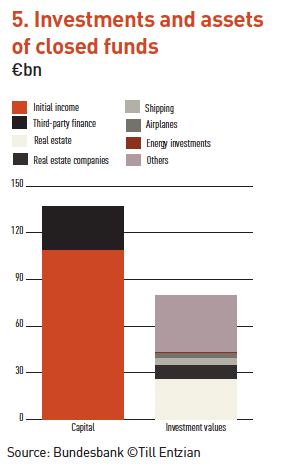 Closed-end funds investments stood at €77.3bn euros as of May 2018, according to the Bundesbank (figure 5). Investor capital stands at €108.6bn with a further €28bn in external financing. Inflows to closed-end funds have increased from €2.9bn in 2016 to €3.7bn in 2017, with an additional €1.7bn in the first half of 2018. This compares with open-end fund inflows of €78bn in 2017.
The largest asset exposure in closed-end funds is real estate with €36bn, of which two-thirds were direct and one-third indirect. Exposure to shipping amounts to €3.2bn and aircraft to €2.8bn. Surprisingly, the value of the energy investments including wind power and solar investments totals €700m, or 1% of all assets.
Focus on the providers
There have been a number of changes in the competition league table (figure 6) this year. Nevertheless, Allianz Asset Management remains in undisputed first place. Assets encompass classic Spezialfonds with portfolio management and administration from one provider (unchanged at €232bn), pure portfolio management of assets outside own Spezialfonds (€170bn; €3bn more than previously), and, finally, pure administered assets, with other asset managers are responsible for portfolio management (€219bn; €8bn more than in the previous year). Both Spezialfonds and assets not organised as Spezialfonds are taken into account.
At €269bn, Universal-Investment has wrested second place from HSBC Trinkaus & Burkhardt, which manages €250bn. Universal-Investment is almost exclusively focused on pure administration, totalling €237bn (previous year: €194bn).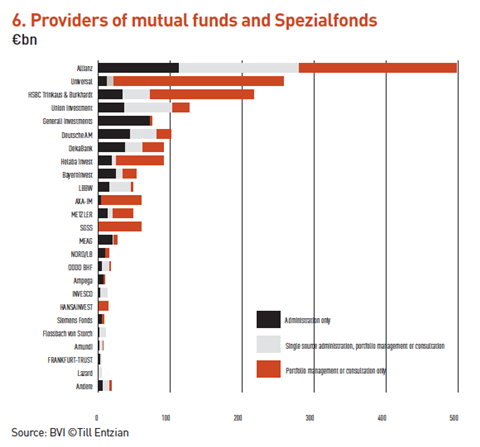 DWS (previously Deutsche Asset Management) has surrendered fourth place to Union Investment. Both focus on classic Spezialfonds business from a single provider with only 10% of the asset volume managed or advised by external managers. Conversely, both houses manage or advise externally administered portfolios to a significant extent – Union Investment with €67bn of a total of €162bn to a greater extent than DWS, with €38bn of a total of €144bn.
Generali Investment is still the only Spezialfonds provider exclusively orientated towards the classic model; external portfolio managers are only responsible for €4bn of its total €142bn volume.
DEKA drops one place behind Helaba Invest, while Société Générale Securities Services GmbH (SSGS) in Munich also had an unsatisfactory 2017. New business in particular did not develop as planned, and the administered fund volume stagnated at €60bn. SSGS claims 13th place.
Metzler Invest performed poorly in league table terms, although overall assets under management grew in 2017 from €74bn to €76bn. Securities Spezialfonds volumes reported to the BVI dropped from €83bn to €61bn, however – and the company falls three places in the ranking to 12th.
In contrast, LBBW rose two positions to 10th and now manages a total of €63bn, with around €30bn in classic Spezialfonds business and pure portfolio management.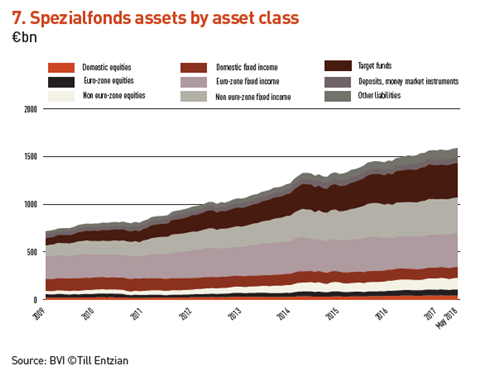 Pioneer – previously known as Activest and Hypo-Invest – is now Amundi Deutschland. Among the providers of securities Spezialfonds, the company remains in at 22nd place with a total of €8.6bn euros under management, of which €2.9bn is in classic Spezialfonds business and €4.6bn is pure portfolio management.
This raises the question: was the acquisition of Pioneer a harbinger of a consolidation wave rolling over the sector. There have of course been movements like this in the investment sector before, although the number of Spezialfonds and mutual funds companies is greater today than ever previously.
Asset allocations are evolving
The focus of investments is changing slowly but continually. For the third year in a row, Spezialfonds have increased their allocations to domestic equities, and with a value of €43bn, this corresponds to 2.8% of the total volume (previous year: 2.7%). Holdings of non-domestic equities also increased – euro-zone ex-Germany equities account for 3.9% (3.7%) and non-euro-zone equities 7.6% (7.2%).
Overall, equity investment rose by 0.7 percentage points. In contrast, bonds fell by a total of 2.5% points – domestically from 7.9% to 7.2%; in the euro-zone from 23.4% to 21.9%; and in the rest of the world from 24.1% to 23.8%.
There has been a continued expansion in holdings of other funds, where Spezialfonds invested €356bn or 22.8% of their total assets as at end-2017. Other than specific strategies and shares in open real estate funds, these target funds may consist of ETFs, which offer a cost-effective option for speedy asset location changes. The actual exposure is not present in Bundesbank statistics.
Figure 8 offers a detailed overview of the asset allocations of pension institutions and insurers – the two most significant Spezialfonds investor groups – these can be used to extrapolate future trends. The Bundesbank has published separate statistics for both investor groups since 2016, including historical data.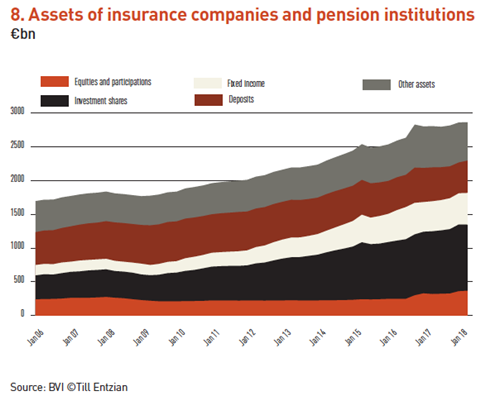 For these groups, the significant observation is that asset growth has slowed on the whole. Total assets amounted to €2.9trn as of the end of 2017, just 2.2% above the 2016 level, which represents the lowest growth rate in the last 12 years, when average annual growth was 4%.
This fits with the picture painted by the German Insurance Assocation (GDV) of declining new life insurance business across 2017, and a continuing low interest environment. Here, insurers are confronted with particular challenges, which they are seeking to meet with a partial reallocation of direct investments. Still, some €989bn or 34.5% are in fund structures, primarily Spezialfonds.
In summary, times are good for Spezialfonds providers. The product is established and has sufficient advantages compared to other vehicles, so remains indispensible for efficiency-minded institutional investors.
Even if insurance institutions are reporting declining new business, current contribution flows mean secure growth. There is plenty of potential in the volume of the existing direct investments of institutional investors.
It does seem at the moment that there are an above-average number of uncertainties of a political and economic nature that could each lead to a substantial setback in the global economy and damage to the German economy. There is, however, no scenario that should prevent the continuing success of securities Spezialfonds.
Till Entzian's annual review of the Spezialfonds market follows the tradition started by Dr Hans Karl Kandlbinder, the originator of the Spezialfonds concept. The original German version of this article appears in the 15 August 2018 edition of Zeitschrift für das gesamte Kreditwesen. Till Entzian is a lawyer based in Frankfurt and advises on Spezialfonds
Where German investors and asset managers agree and disagree
A survey by the German research house Telos shows discrepancies between what domestic institutional investors think they need and what asset managers provide them.
Managers make an effort to send senior staff to meetings with (prospective) German institutional clients. But, there is no need, according to Telos.
For this first-time study of client versus asset manager expectations, 60 institutional investors with "several hundred billion euros in AUM" were interviewed, as well as 70 asset managers, according to Frank Wehlmann, the firm's managing director.
One discrepancy was that almost half of all the institutional investors do not care whether a managing director or other senior staff member comes to a meeting. Competence and knowledge is more important.
It is important that they speak a common language – quite literally. Some 63% of the investors said that German language information was "very important". Even if the discussions are held in English, presentations and handouts should be in German.
On the other hand, it is less important for German institutions nowadays whether the manager has an office in Germany. This is something asset managers overestimate.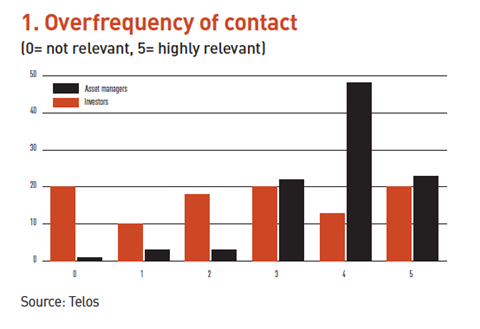 An even wider gap can be found in the field of communication: asset managers overestimate the need to be available on the phone for their German clients such as Versorgungswerke and corporate pension funds.
On the other hand, managers underestimate that some German institutional clients would like to hear from them about changes in the company, in times of market turmoil a bit more often than they do now.
Asked whether they would see asset managers getting in touch "too often" as a major factor of annoyance, only 50% of investors agreed. On the other hand, 93% of asset managers thinks this could be a major problem for investors.
Wehlmann points out over the last 10-15 years, asset managers have had to learn a lot more about the regulatory framework their clients operate under: "This means the overall view on a client profile has gained in importance."
It also means, especially in Germany, that the demands of the various investor groups differ. In particular, when it comes to knowledge about the regulatory framework, as Wehlmann points out: "For 50% of insurers this know-how is very important in an asset manager, while the share of corporate pension plans attaching the same significance is only 17%."
On the other hand, only 17% of insurers said stability in account management was important. This continuity is, however, among the priorities for Versorgungswerke and corporate pension funds.
In total, 17% of the surveyed institutions were insurers, 21% Versorgungswerke and 13% corporate pension plans.
Where both asset managers and all client groups definitely agree is the need for a single responsible account manager per client.
Barbara Ottawa
German Asset Management: A larger appetite for ESG
1

2

3

Currently reading

Spezialfonds: Assets approach €1.5trn