A review of the German institutional fund sector
Key points
• Spezialfonds assets at a new high of €1.38trn.
• Changes to the investment tax law will benefit Spezialfonds.
• There are continuing high net inflows from pension funds to Spezialfonds.
• Total assets for German pension funds and insurers are now €2.6trn.
The success of securities Spezialfonds continued throughout 2016. For the fifth year in succession the sector increased net managed fund volumes to a new high. Although inflows were lower than in 2015 (€107bn) with a net volume of €88bn, Spezialfonds nevertheless reached a volume of €1.38trn at the end of 2016 (figure 1) – an increase of 10.4% over 2015. An additional €403bn is managed for institutional investors in securities accounts and other non-Spezialfonds vehicles.
There was also a rise in the asset volume of domestic mutual funds. With net inflows of €14bn (previous year €27bn) the total net volume reached €366bn at the end of the 2016, an increase of €20bn over the year. Although net inflows were only half those of 2015, this can nevertheless be seen as a wholly positive development. In the six years from 2009 to 2014 the sector acquired just €4bn annually.
In hindsight it always seemed unlikely that 2015's high inflows would be repeated. Many commentators and investors question the sustainability of equity prices and interest rates may soon rise, affecting longer-duration fixed-income investments.
Domestic mutual funds generally punch below their weight in comparison with Luxembourg vehicles. According to statistics of the German Investment Funds Association (BVI), member companies recorded total inflows of €72.2bn for mutual funds in 2016, with a net volume of €887.3bn as of the end of the year. Of this, more than €500bn was invested in Luxembourg and other foreign vehicles.
High implementation costs
Given personnel changes at the Federal Finance Ministry, it is to be hoped that disadvantageous regulatory approaches will be avoided in the future. This is all the more welcome as the industry needs to implement several regulatory and tax matters following the reform of investment taxation, as well as MiFID II and new investor regulations for insurance companies.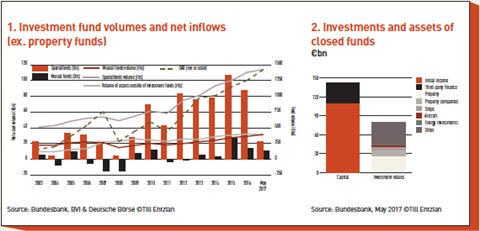 The forthcoming investment tax reform is not expected to have a major effect on investors, on markets or providers, if one disregards the substantial implementation efforts undertaken hitherto. The days when investment companies (KAGs) were able to calculate tax information for investors simply on the basis of the source principle – later reinterpreted as the 'transparency principle' – are long gone. The same applies to the time when all open investment funds were treated according to identical and relatively simple rules.
No tax disadvantage
From 2018 a distinction will in principle be drawn between mutual funds and Spezialfonds, whereby tax differentiation may well vary from that specified in the regulation. One basic change is the move away from the transparency principle for mutual funds and the introduction of taxation at defined rates at the fund level. The level of these rates will also depend on the composition of the fund and will, for example, offer the possibility of exemptions for property or equity components. The tax treatment of income at fund level may depend on the make-up of the investors.
Spezialfonds investors will also benefit from various options as tax transparency will, under the right conditions, be realised for dividends or tax relief for domestic property income. Investors will not now face disadvantageous taxation rates compared to direct investors, despite earlier drafts that suggested the contrary.
Requirements placed on providers and on sales activities by the MiFID II Directive are increasing within the mutual fund sector. This involves enhanced 'suitability testing' as well as documentation duties. In contrast, investment funds were previously automatically considered to be investment instruments that could be acquired and sold without much further consideration.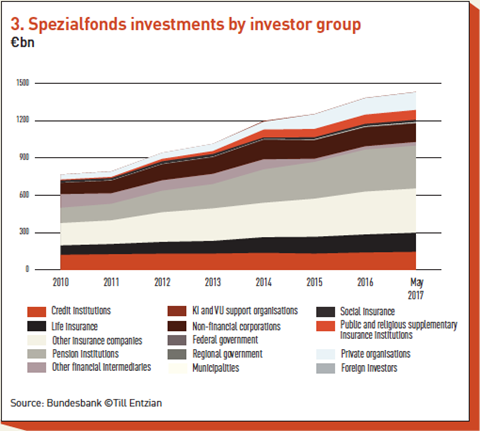 Closed fund assets
The Bundesbank has published figures on the origin and use of assets in closed-ended investment funds since early 2015. These figures have not changed substantially over that time, and the current status as of May 2017 is shown in figure 2. Existing assets total almost €75bn, divided into property (€25.4bn of direct investment plus €9.0bn in property companies), aircraft (€3.3m), energy investments (€800m) and other investments (€36.3bn).
Initial capital of €108.8bn as well as further third-party financing of €33.2bn has been raised in the context of closed funds. This €142.0bn is clearly greater than the value of existing assets.
Legislators and regulators had originally intended to give private investors easier access to simple, safe, cost- effective and profitable investment vehicles and to increase requirements placed on less safe, illiquid investment instruments burdened with high sales and internal costs. In this context, the constant creation of new sales requirements and restrictions for open-ended investment funds lacks coherence. It is impossible to generalise about closed funds, however, and institutional investors have invested substantial assets in these vehicles.
MiFID II and its implications
Under MiFID II, market participants will have to generate and document well-structured processes to ensure that investors do not inadvertently invest in an unsuitable investment fund. It seems doubtful that legislators and the authorities have in reality grasped the underlying principle of this sensible approach – analogous to preventing cyclist from being sold a lorry. It must remain dependent on each situation and part of the responsibility of the consumer whether a car driver is sold a five-door 100bhp model or a three-door 150bhp model. As open investment funds are in principle similar in nature, rather like cars, legislative and regulatory resources are misdirected here.
There is also the consideration that few investment products are entirely unsuitable for a given investor group from the outset as individual cases differ. It goes without saying that involving the product provider in decisions at the level of each individual investor will be somewhat difficult.
A further point of MiFID II concerns the investment research services that have been supplied to asset managers to date by sell-side brokers without separate charge. Costs and precise allocations will be required separately for these in future.
The underlying aim of this regulation is of course correct. However, it seems that considerable effort is being expended on a subject of relatively little importance to the results of investors. It also remains to be seen which specific consequences the new regulations will have.
Many investment managers may not in the end be prepared to pay separately for the research in question. This should have no negative consequences in a large number of cases as a large proportion of such research remains unread in the first place, although it cannot be ruled out that some information of value will be omitted.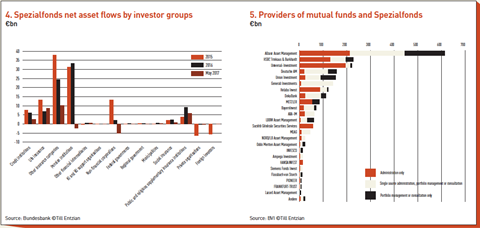 Requirements for insurers
Following the implementation of Solvency II, BaFin is working on a new version of the investment circular for insurers. To protect insurance companies against investments that BaFin considers unsuitable, investment funds are excluded from or at least restricted for purchase if they acquire certain assets, even if these investments are permitted under the KAGB.
There is no problem in principle in harmonising direct investment opportunities with indirect investments via a Spezialfonds. Conceivably, there should be greater additional freedom in the case of indirect investment because of the additional security and expertise of the investment manager, and the added dispersion of risk at fund level.
It is important for the Spezialfonds sector that assets are not subject to restrictions that do not apply to direct investments or to other investment vehicles. Against this backdrop, the tide of regulation works in favour of Spezialfonds as providers have gained considerable experience in recent decades in dealing with ever more complex tax and supervisory regulations.
High pension inflows
Insurance company net asset flows to securities Spezialfonds have slowed over the last year, in line with general trends (figure 3). Life insurers invested a total of €6.8bn in 2016, compared with €13.2bn in the previous year. Although this represents a drop of 50%, it is not an unusual fluctuation – life insurers invested €8.6bn in new assets during the first five months of 2017 alone. Reinsurance companies and other insurers report investments of €24bn for 2016, against €36bn the previous year).
At the end of 2016, insurance companies held total assets of €489bn and thus continued to represent the most important investor group. €145bn relates to life insurance companies, an increase of €10bn over end-2015, with €344bn for reinsurance and other insurance companies, an increase of €38bn.
The highest asset inflows – €33.3bn – were from pension institutions, up from €31.2bn in 2015. Spezialfonds investments for this group increased from €295bn to €337bn over 2016. This year has seen outflows of €2.2bn, although the value of fund holdings for pension institutions increased, thanks to favourable market developments, to €344bn at the end of May 2017.
Spezialfonds volumes stagnated for non-financial stock companies (figure 4). The investment volume of this group has fluctuated around €150bn since 2014, whereby outflows of €5bn this year have been almost completely compensated for by market developments. Foreign investors registered outflows of €5bn in 2015, representing the bulk of their assets, and hold just €2bn in Spezialfonds.
The number of Spezialfonds increased slightly for the second time, namely by 29 to 3,543 at the end of 2016. This increase by less than 1% does not correspond to the more than 10% growth in assets. The number of sub-funds within Spezialfonds has increased by 351 to 5,177. These figures show that the trend towards master fund structures continues unabated.
Spezialfonds provider rankings
The first nine positions in the league table of Spezialfonds providers ranked by assets remained unchanged last year (figure 5). Allianz Asset Management continues to top the ranking by a high margin with total assets of €614bn. Of these, €232bn consist of classic Spezialfonds with single-source administration and portfolio management handled by the same company.
This is supplemented by €211bn of administered assets, with portfolio management provided by another company and €170bn for which Allianz Asset Management handles only the portfolio management with administration by another company. For illustrative purposes, Spezialfonds with non-Spezialfonds assets are included here.
HSBC Trinkaus & Burkhardt lies in second place with a total volume of €228bn, just ahead of Universal Investment with €221bn. Figure 5 shows that both companies focus primarily on administration of Spezialfonds – more so Universal Investment with €194bn than HSBC Trinkaus & Burkhardt with €129bn.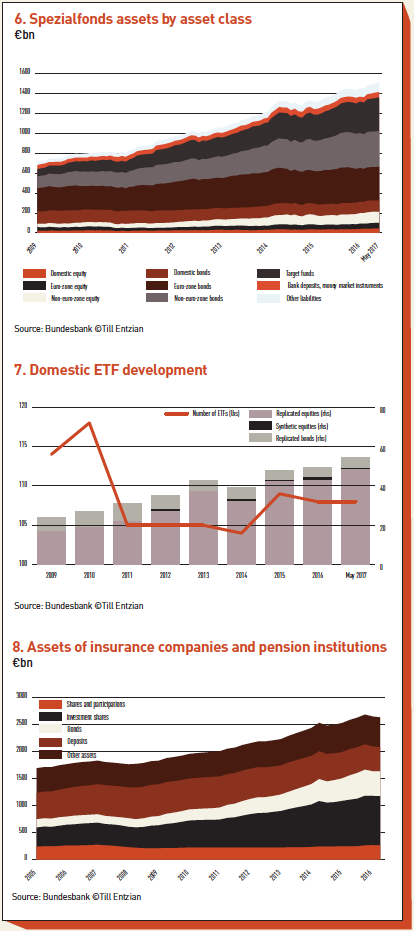 Statistical anomalies
Deutsche Asset Management and Union Investment occupy positions four and five with €158bn and €152bn. Both focus on classic Spezialfonds business – much like Generali Investment, in sixth place with €135bn.
Bayern-Invest increased its assets to €70bn, displacing AXA Investment Managers from tenth to eleventh position. SGSS also rose one place with a current administered fund volume of €56bn. This company is the only one not to offer portfolio management services, concentrating exclusively on administration. Invesco rose three places and now manages €13.8bn.
To the benefit of smaller managers, it should be noted that the volumes of the large companies in figure 5 tend to be somewhat exaggerated. The reason for this undesired effect is that the volumes of the three different categories (administration, portfolio management and both together) are firstly recorded at individual group level but then allocated to the totals of the relevant categories.
If a Spezialfonds, for example, is administered by an asset management company that is part of the group, and if another firm handles its portfolio management, the same volume will not appear as a classic 'single source' Spezialfonds at group level but will be recorded firstly as pure administration and secondly as pure portfolio management, therefore being recorded twice. It has not been ascertained as yet to what extent this effect occurs.
Investments by asset class
There is consistency in the breakdown of Spezialfonds assets by asset class (figure 6). The predominant investment type is fixed-income securities, where domestic issuance has continued to fall (down from 8.5% to 7.9% over 2016). Non-German euro-zone bonds have also declined in significance (23.4% compared with 25% last year), while non-euro-zone bonds increased by one percentage point to 24.1% .
This means that a total of 55.4% of the total Spezialfonds volume was invested in bonds at the end of 2016. The assets of target funds rose to 21.7% by the end of 2016, an increase of 1.6 percentage points. This slight upward trend continued this year, with assets rising to 22.5% at the end of May.
A good proportion of these target fund assets may be ETFs, which have become a standard tool for the institutional investor, given the advantages of low cost and high transparency, safety and liquidity. Figure 7 shows that although the number of domestic ETFs has remained practically unchanged at 108, the asset volume has increased to over €50bn to May 2017. In comparison, it should be noted that the worldwide ETF volume increased from €2.4trn to €2.8trn in 2016.
Most domestically issued ETFs consist of fully replicated equity funds. Fully replicated bond funds have a volume of €5.4bn. Synthetically replicated equity funds have a volume of €800m, and there are no synthetically replicated bond ETFs.
Insurance investment
Data on the investments of primary insurers must now be omitted as BaFin, the regulator, no longer records balance sheet data to the extent it did previously. It is only possible to ascertain from the current figures that the total investments of primary insurers increased by €59bn to €1,468bn during 2016. Of this, €33bn, or 2.2%, was invested directly in property, leasehold rights and shares in real estate companies, REITs and closed real estate funds, which is €273bn more than at the end of 2015.
At €505bn, the highest proportion of insurance companies' assets was invested in special assets, equity investment companies and investment companies. An increase of €40bn was recorded here, equivalent to 1.4 percentage points, taking the total proportion to 34.4%. Shares in open real estate funds and special real estate funds are not included here and are no longer listed separately. Their value stood at €21.5bn at the end of 2015.
Investment by insurers and pension institutions
Unlike the BaFin figures the Bundesbank data in figure 8 is based on market values. The total value of financial assets was a substantial €2.6trn at the end of 2016. Liabilities have been deducted from this figure, and non-financial assets totalling €90bn are not included. Average annual growth of these capital assets stands at 4.3% over the last 10 years.
The value of equity and participation investments over the last 10 years has remained practically static, decreasing slightly from €275bn to €268bn over that period. The value of assets in unitised investments (investment funds) has doubled from €410bn to €923bn over the same period. This means that 35% of all capital investment by insurers and pension institutions is now made into unitised funds of all types.
If these long-term trends continue, the investment industry can expect assets to increase by more than €80bn over the next 12 months. Spezialfonds providers may not have managed to prevent the relentless march of regulation, but they have moderated its intensity, leading us to expect consistently positive developments for the sector in coming years.
Till Enzian's annual review of the Spezialfonds market follows the tradition started by Dr Hans Karl Kandlbinder, the originator of the Spezialfonds concept. A German version of this article appears in the August 2017 edition of Zeitschrift für das gesante Kreditwesen. Till Entzian is a lawyer based in Frankfurt and advises on Spezialfonds.
German Asset Management: A model for collaboration
1

2

3

4

Currently reading

Spezialfonds in focus

5