Sterling will remain mired in uncertainty as long as the conflict over Brexit is unresolved
Key Points

A no-deal Brexit would probably sent the pound tumbling to $1.10 or less
If the UK reversed the Brexit decision, sterling could jump to $1.50
Options markets are pricing in a much greater chance of a sharp fall in the pound than a sharp rise
A negotiated settlement would boost sterling but perhaps only slightly
"It's not the despair, Laura. I can take the despair," Brian Stimpson, the headmaster played by actor John Cleese, tells the heroine in the 1986 comedy Clockwise, as his attempt to wend his way to make a crucial speech at a prestigious conference descends into ever greater chaos. "It's the hope I can't stand."
Many investors in sterling assets may be feeling much the same. Currency experts say that a 'Brexit risk premium' is priced into the pound because of the fear that the UK will exit the EU without a transition agreement. This is confirmed by the common agreement that the pound has been stuck below estimates of its fair value since the Brexit vote, even though estimates of fair value vary greatly. However, currency experts agree that if it becomes clear that the UK will leave with no deal, sterling will still fall greatly. In other words, a large reservoir of hope.
This leaves investors in UK assets with a problem. If the pound looks set to fall no further, they could enter the market now with one less item to worry about. But because sterling could still depreciate sharply, they are left wondering whether to stay out of UK assets, or temporarily quit them, until the Brexit fog clears.
Another option, to hedge currency risks, is expensive because of the Brexit uncertainty, with options prices for both euro-sterling and dollar-sterling, known as cable, at "elevated levels" according to Jeremy Chalder, associate director in economic research at Record Currency Management in Windsor, UK. The fear of no-deal has also produced a peculiarity in the way the pound is priced. "The risk reversals of sterling versus the dollar and versus the euro are now at their most extreme levels since the referendum," he says. Risk reversals measure the difference in the cost, in the options market, of insuring against a fall in sterling versus the cost of insuring against a rise in sterling. It currently costs a great deal more to insure against a fall, because financial markets believe that a sharp fall is more likely than a sharp rise.
"I think no-deal would fundamentally mean a new repricing of sterling, just like we had after Britain's departure from the ERM [Exchange Rate Mechanism]", says Bernhard Eschweiler, senior economist at QCAM Currency Asset Management in Zug, Switzerland. Eschweiler says sterling would drop to trade in a range at about $1.10, although with the possibility of a more extreme fall in the short term.
Most analysts prefer to make general predictions for the pound based on cable because euro-sterling is largely a satellite rate dependent on trends in euro-dollar. Eschweiler explains this fall by pointing to the reduction in access to the EU market, and damage arising from a loss of contractual certainty, "which goes through the entire economy and its relationships with the outside world". He gives the examples of the financial markets' custody and clearing businesses. In his view, leaving the EU without a deal "almost seems suicidal".
But some no-deal outcomes would be worse than others. Nick Brooks, head of economic and investment research at Intermediate Capital Group, a specialist asset manager, in London, distinguishes between an organised no-deal scenario with transition measures, and a no-deal outcome characterised by "real acrimony, moving to WTO [World Trade Organization] rules out of the single market, and no stop-gap measures". In this latter case, "I think there's a good chance that we get a full-blown currency crisis".
Asked if sterling could plunge to parity against the dollar in this scenario, he says: "I don't think it would stay there, but it would be a very nasty period." He does not quite paint a picture of an ultimately happy ending for sterling, but says: "The UK has a lot of structural strengths that aren't going to disappear – we're not Argentina or Venezuela. It would ultimately stabilise at, if I had to put a number on it, $1.10." Analysts commonly point to the UK's flexible labour market and highly regarded legal system.
The good news is that there is wide agreement among analysts that the probability of a no-deal Brexit is considerably less than 50%. Eschweiler puts the risk of no deal at 20%; Brooks puts it as low as 10%, and the risk of his scenario of a "real acrimony" no-deal Brexit at 2%.
Amundi, which as a house keeps an estimate of probabilities that periodically changes, also quotes a 20% chance that the UK leaves with no deal in March. But Amundi's forecast is not quite as bad as first seems, because it does not regard "no deal" as necessarily the ultimate outcome, even if it proved to be the initial one. "In the end, I think the UK will have a comprehensive trade deal with the EU," says Tristan Perrier, member of the strategy and economic research team at Amundi in Paris. "I cannot believe things would stay on WTO terms." If the UK had such a deal, its potential growth rate would drop by only about 0.2 percentage points, he says. On this basis, UK economic growth would remain similar to or greater than most economists' estimates for several Western European countries, such as Italy and France.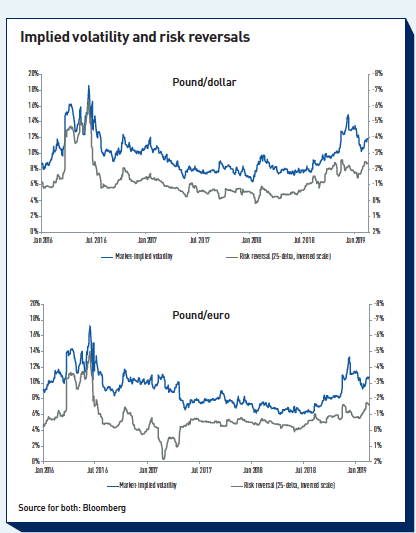 Even in the shorter term, the central scenario for most analysts is that the UK will achieve a negotiated solution before exiting the EU.
This optimistic view is strengthened rather than weakened by the current impasse in Parliament, with most MPs rejecting prime minister Theresa May's deal proposals, but at the same time insistent that some deal or other must be hammered out. Eschweiler of QCAM puts the chance of "some sort of negotiated solution" at 60%. In such a case, analysts generally predict a rise for sterling, although only a modest one.
"I think no-deal would fundamentally mean a new repricing of sterling" - Bernhard Eschweiler
Brooks of Intermediate Capital Group says sterling could rise to $1.45 if something similar to Theresa May's current agreement passes Parliament, but Eschweiler of QCAM is less bullish, saying: "If it went through $1.40 I'd be impressed." There is even the possibility, scarcely entertained seriously by analysts until recent months, that the UK could decide to remain in the EU following a second referendum.
Polls suggest that if there were another vote, the Remain side would win. Eschweiler puts the chance of a no-departure scenario at 20%, predicting that if it happened, sterling could surge to $1.50. But even in this case he still sees some permanent damage to the economy, and therefore to sterling's long-term prospects, relative to where they were before the referendum. In the years before the vote the pound traded between about $1.50 and $1.70. "The uncertainty has clearly wreaked damage to Britain's function as a bridgehead into Europe," says Eschweiler.
Euro: Many factors to take into account
1

2

Currently reading

Sterling scenarios

3