Many analysts see sterling as undervalued but investors expect a premium to compensate for Brexit uncertainties
Key points
• Many analysts say sterling looks cheap when measured by how much a pound can buy
• Other measurable factors, such as positive sentiment and oil prices, suggest the pound could rise further
• However, investors are demanding a risk premium for sterling to reflect uncertainty over the Brexit negotiations
• The purchase of options could be a good way of hedging against Brexit uncertainty because they are currently cheap
Sterling is "pretty much trapped between two opposing forces", says Richard Benson, head of portfolio management at Millennium Global, the currency investment manager, in London.
On the one hand, he calculates that the currency is about 10% undervalued on a trade-weighted basis "by traditional valuation metrics" such as purchasing power parity (PPP) – how much of a range of goods a given number of pounds could buy, compared with how many of these goods it could buy in other national markets if converted into the local currency.
On the other hand, "Brexit uncertainty" means that in the medium to long term investors need "a significant premium" as compensation for the political uncertainty. This makes valuing sterling difficult. Asked whether a convincing case could be made for being bullish or bearish on sterling given these two opposing forces, Benson says: "I think you could make a convincing case in either direction."
The need for a political risk premium is not as novel as might appear. Bernhard Eschweiler, Oberreifenberg, Germany-based senior economist at QCAM Currency Asset Management, places this in an historical context dating back decades. "If you look at developed market currencies, the pound is one of those with the highest event risk", he says. This relates to the UK's venerable dilemma: "You're not sure whether you're in or out. There's quite a history of it: going into the EU and going into the ERM [Exchange Rate Mechanism], coming out of the ERM and now coming out of the EU."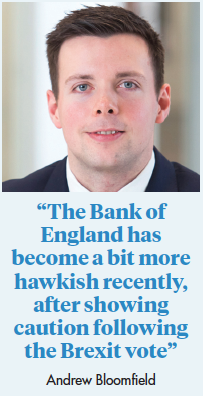 Turning away from event risk for a moment, PPP is regarded by observers as akin to an anchor: the value of sterling may stray far from it for months or even years, but the further its value moves from the anchor, the greater the pull drawing sterling back.
Most analysts regard sterling as somewhat undervalued in PPP terms, even after recent rises against the dollar and euro. For example, Eschweiler says that "cable", as dollar-sterling is usually known, should be about $1.60 on this basis, 20 cents higher than its late-April value.
Eschweiler also sees a strong case for sterling bullishness – leaving aside the necessary event risk premium – when assessing the overall picture for cable on a range of indicators. He prefers to concentrate on cable because he sees sterling as "a loose satellite" of the euro. As well as PPP, Eschweiler points to the rising price of oil, which has an inverse relationship with the dollar. He also notes the relatively low implied volatility of sterling in options markets, an indicator of positive sentiment. The only strong negative indicator is the lower interest rate for sterling relative to dollar assets – a gap likely to widen as the US Federal Reserve raises rates.
Having said this, expectations for the Bank of England to begin a proper tightening cycle – moving beyond the reactive halving of its benchmark rate to 25bps in the immediate aftermath of the June 2016 Brexit referendum – provide some support to sterling. "The Bank of England has become a bit more hawkish recently, after showing caution following the Brexit vote," says Andrew Bloomfield, associate director, research, at Record Currency Management in Windsor, UK. "Supply-side growth potential in the UK is actually quite limited, which means that as economic growth picks up we will see inflation sooner rather than later." The supply side is constrained by a tight labour market and weak productivity growth. At a 43-year low of 4.2%, unemployment is below the 4.5% figure that the Bank of England regards as the long-run equilibrium – the rate below which a tight labour market starts to accelerate inflation.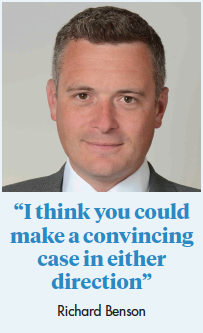 To return to Brexit event risk, observers do agree on the possibility of upside surprises that would boost sterling, as well as downside surprises. Tim Graf, head of macro strategy for EMEA at State Street Global Markets in London, says strong indications that the UK will not leave the Customs Union might push the euro down from 88p in late April to 80p or even 75p.
However, Graf says that a breakdown in negotiations on the transition deal, which would give companies access to the EU single market before the final settlement on less limited terms than the minimum set out by World Trade Organization rules, might push the euro up to 90p.
However, sterling's price movements against the euro are moderated by its status as a semi-satellite of the currency union's currency. Against the dollar, many analysts contend the fall could be much more dramatic, if a hard Brexit looked likely. James Wood-Collins, chief executive officer of Record Currency Management, harks back to sterling's rate after the Brexit vote, which provided "a bit of a dress rehearsal for this". He notes that some months later it sank to as low as $1.21. This compares with a late April 2018 level of $1.40.
Eschweiler of QCAM says the potential downside is even greater. He sees $1.20 as merely a "first stop", should it become clear that the UK is heading for a hard Brexit.
Another negative scenario for sterling is if the transition deal falls apart at the last moment, perhaps because Conservative backbench rebels vote against it. This would be bad enough for sterling; a possible consequence of the rebellion, a snap general election putting left-wing Labour Party leader Jeremy Corbyn into power, could be still worse. "The market has never shown a desire to build in a Corbyn premium but a Corbyn victory would be very sterling-negative," says Benson of Millennium.
The Labour front bench's economic plans, including higher corporate tax, are "almost the exact opposite of what you would want to do to attract external investment after leaving the European Union", Benson says. In addition, "there might also be a blowout in Gilts because of the deficit expansion plans". In conclusion, an "emerging markets-style run on the currency" would be a distinct possibility.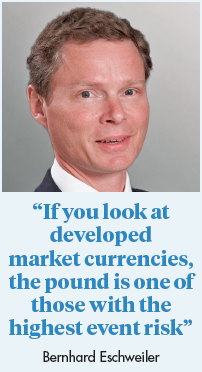 It is hard for investors to know what to do in practical terms about sterling exposures given the huge range of possible futures for the currency. Graf of State Street suggests a strong case for institutions that would be hit by sterling strength to use derivatives now to lock in a value for sterling. He argues that, despite the political uncertainty, the pound is likely, as is the way with currencies, to revert over "six months to three years" to its fair value anchor, based on fundamentals such as PPP.
Andreas Koenig, head of global FX at Amundi in London, suggests investors consider hedging against downside sterling risk because the Brexit negotiations have produced a situation where "the downside could be bigger than the upside". This is because of "complacency" about the obstacles still remaining to successful Brexit negotiations, which has allowed the currency to drift upwards, Koenig also notes a phenomenon that may surprise many people who know more about the Brexit negotiations than they do about options markets: largely because of generally low volatility across foreign exchange markets as a whole, the price of buying options to protect against sterling downside risk is relatively low.
Investors should beware, however: any number of Brexit hitches could suddenly push up the price of such options.
Dollar: A case for hedging tactics
1

2

3

Currently reading

Sterling: Two sides of the coin