"An asset manager brand is very important. But, it is not the brand that defines people in the firm, it is the people who will define the brand." That is the view of Tom Finke, CEO of Barings, the investment management subsidiary of insurance giant, Massachusetts Mutual Life Insurance Company (MassMutual).
Only time will tell how well regarded the rejuvenated Barings brand will be. But, it represents a new opportunity for both MassMutual and a venerable name that has experienced recent trauma.
The creation of the new Barings is a bold step. It represents the merging of two subsidiaries, Barings Asset Management and Babson Capital, together with Babson subsidiaries Wood Creek Capital Management and Cornerstone Real Estate Advisers and giving it a 250-year-old name associated with the City of London. Having the new firm based in Charlotte, North Carolina, rather than the Square Mile may unsettle City grandees. Yet, the logic is impeccable and the sum is arguably greater than the parts.
For Finke and MassMutual, this is not the first time they have rebranded MassMutual investment businesses. Finke joined MassMutual in 2002 when it acquired Charlotte-based US bank loan specialist First Union, which Finke had co-founded. This was incorporated into David L Babson, which MassMutual acquired in 1995. Once MassMutual moved its investment division to David L Babson, Finke rebranded it into Babson Capital. "We wanted to move away from the identity of David L Babson which was very much viewed as an equity firm, which was the heritage of the original company," explains Finke.
Having spent well over a decade building up Babson Capital into a highly regarded brand, at least in the US, changing the name caused some internal consternation. But for Finke and MassMutual CEO, Roger Crandall, there were two key decisions. The first decision was whether to merge the investment businesses into one name. That was simple – going to the global markets as one brand, with one team, with integrated distribution, would enhance the relationships with large institutional investors.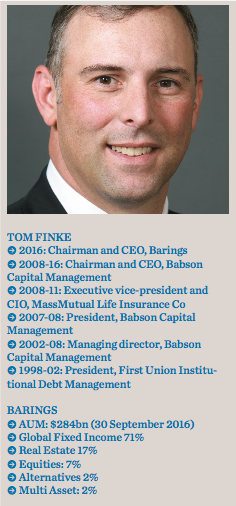 "They, together with the intermediaries that engage in the global wealth markets, are all wanting to work with fewer managers and create strategic relationships and they want managers with a broader set of capabilities," says Finke. The second decision was of course, which name to choose. That required much more thought.
Finke and his management team looked at brand recognition in the different markets. This showed an edge to Barings as being better known than Babson. "Babson is a little better known in the US, but ironically, one of the issues is that people think of Babson College first rather than Babson Capital Management" says Finke. This gave Barings an edge, but what really made the decision was that one of the main reasons in merging the firms was the strength of the brand in Asia Pacific. This is a key area for growth in terms of demand for asset management capabilities. Barings had been in the fund business in Asia Pacific for over 40 years. "The demise of Barings Bank as a result of Nick Leeson's fraudulent trading had occurred 21 years ago so it was not a big issue for us," says Finke.
He adds: "Rebranding to something else would have taken a great deal of time particularly when there was a long-standing reputation and recognition for the Barings brand in Asia". A bonus in using the Barings brand lay in the digital implications. "One problem with the Babson name was that we did not have control of Babson.com and instead had to use Babsoncapital.com. We wanted a simple more direct name for the new merged entity and we did own Barings.com". For many, the idea that the venerable Barings brand as a reputable financial institution may have only lived because someone had remembered to register Barings.com will produce a wry smile.
The new business employs about 1,700 people in 17 countries with operations in the US, Europe and Asia Pacific. By integrating operations, technology, finance and legal platforms, Finke sees the creation of a more efficient structure that can be scaled across assets. One of the reasons the merger was attractive to MassMutual was because there was not a lot of direct overlap between the investment activities of Barings, Cornerstone, Wood Creek and Babson. The fixed income, multi asset and equity side represented the bringing together of core Babson with the whole of Barings.
Babson's fixed income team, particularly its high yield side, was more significant than Barings, so it was more about taking the Barings team and putting it together with the existing Babson team explains Finke. "That then gave the ability to take the Barings equity and multi-asset businesses and really just add them to our toolkit as we did not have an equity platform of significant size at Babson".
The new Barings has a $16bn (€14.5bn) equity platform that, while not as significant as its fixed income equivalent – which totals about half of the company's $284bn assets – still gives the firm a foundation in active equities that it can build on. A key area that has been merged is distribution. Barings and Babson each had their own sales and distribution teams. These have been brought together, enabling a more consistent approach to sales and service. It also allows the firm to leverage relationships across more investment capabilities.
Merging asset management businesses is always difficult given that the key assets can walk out of the door any time. One attribute likely to make this merger succeed is that the culture of all four firms has always been team-based rather than focused on star managers says Finke. Bill Gross epitomised PIMCO while he was there; GMO's founder, Jeremy Grantham's entertaining and perceptive quarterly letters have become legendary.
It would be difficult to name anyone in Barings who would aspire to reach guru status: "Where some firms may really focus on the star portfolio manager, we focus on the depth and intellectual strengths of our investment teams, not just one person. A lot of our decisions are driven by fundamental research and it is the research teams that provide the bedrock for the portfolio management process. There are people, there is a process and there is a platform that all contribute to the success of our investment style," says Finke. It that also means that there has been less opportunity for clashes of ego amongst the investment staff following the merger.
For Finke, developing activities in Asia Pacific is key to the firm's future. Before the merger, a quarter of Babson's clients were in Asia Pacific and the firm manages $8bn for Australian clients, with two of the largest high-yield clients being Japanese. Barings not only had clients in the region, but also an investment presence in Korea, Taiwan, Hong Kong and Japan, whilst Babson had a direct leveraged finance business in Asia.
The merged entity now has 200 employees in the region along with 30% of the clients. But in China and India, there is little exposure: "We are still underrepresented in India, which could be interesting in the future. In China, we do have a few investors whilst Barings does have an equity licence to trade in the Chinese market," says Finke. What is clear, is that the CEO has a strong platform to try to build a larger presence in countries that represent both a third of humanity and probably the fastest growing savings markets.