When Colin Clark entered finance in 1980 he could not have predicted he would be part of some dramatic shifts in global asset management. The current director of the global client group at Standard Life Investments (SLI) first worked for two leading British firms, SG Warburg and Mercury Asset Management (MAM), which long ago ceased to exist. When MAM was taken over by Merrill Lynch, he went on to work for the US financial giant but that was, in turn, taken over by BlackRock.
Clark puts these shifts in the context of the growing scale of the asset management business and its constituent firms. "These rather small activities grew and grew and grew and grew, outlived their previous ownership structure, and were acquired by a larger asset management company," he says.
His current firm has also undergone a dramatic shift over the years. The parent company, now Standard Life , was a mutual company until it was floated on the London Stock Exchange in 2006. Life assurance had long been the core business of the venerable Edinburgh institution.
It was only in 1998 that the parent group launched SLI as a dedicated asset management subsidiary. Since then, the relatively new operation has become the dominant part of the business. This was reflected in the appointment of Keith Skeoch as chief executive of the parent company in 2015. He had headed SLI since 2004 and continues as its chief executive too.
Clark joined SLI as a non-executive director in 2004, became an executive director in 2010 and joined the main company board in 2015.
Today the overall group has two strands – a UK-focused life company, and a global asset management group with €343.5bn in assets at the end of 2015. In continental Europe its assets increased from €14.6bn to €19.3bn over the year.
In the most recent IPE survey of the top 400 asset managers globally it was ranked thirty-eighth. Its worldwide offices include Beijing, Boston, Hong Kong, Seoul, Sydney and Toronto. It also has close relationships with HDFC Asset Management in India and Sumitomo Mitsui Trust Bank in Japan.
Its headquarters are in Edinburgh but it also has London offices on top of the Gherkin, one of London's most iconic buildings. Elsewhere in Europe its offices include Amsterdam, Brussels, Dublin, Frankfurt, Milan, Paris, Stockholm and Zurich.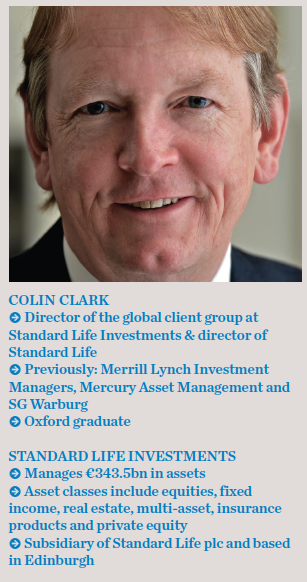 Perhaps the best-known of its products is the Global Absolute Return Strategies fund or GARS as it is widely known. When the fund was launched in the UK in January 2008 it was unusual, at least among mainstream providers. It combined traditional assets, including equities and bonds, with advanced derivatives, aiming to offer positive returns in all market conditions. Its target return of cash (LIBOR) plus five percentage points a year (gross of fees) was attractive in an environment in which market corrections looked possible.
In any case, the timing of the launch was fortuitous as soon afterwards investors started looking for products to protect them against market turmoil. Such an environment suits what are sometimes called all-weather funds. GARS benefits from working well in different market conditions: "It's its time in the market," says Clark. "It's what people want."
The GARS concept has proved popular in many countries, with a total of £48.1bn (€61.7bn) in third-party assets under management. About half of the assets come from outside of the UK, with continental Europe and the US the most popular sources. In the latter, GARS has proved popular across both institutional and retail channels. Individuals have had the option of investing in it through the John Hancock Investments retail platform. GARS has also enjoyed demand in Asia and Australia.
However, the flip side of the success of GARS is SLI's heavy reliance on the product. Last year it accounted for just over half of gross sales. For critics this might suggest a possible future vulnerability in the group.
Clark is adamant that the success of GARS does not create any potential problems. "I feel like the marketing director for Apple whose been criticised for selling a lot of iPads," he says. "At the end of the day, an iPad is a great product, it meets a need, it was new and innovative and it sold like hot cakes."
His point is not that GARS will necessarily remain in favour for the foreseeable future. On the contrary, he concedes that there could be a shift with market conditions. "I suspect that when the market recovers its poise at some stage in the next year or two, or three, when the market is rather more stable and growing, then index-relative products will come back."
His argument in relation to SLI is that its wide range of product offerings should enable it to adapt to changing conditions. It has capabilities in equities, fixed income, real estate, insurance solutions and private equity. In relation to multi-asset, its other main product area, he points out that it has other outcome-oriented funds in addition to GARS.
Clark also argues that SLI's capacity in multi-asset investing and outcome investing should help it meet future challenges facing the asset management industry. One of the most pressing in the UK is what has come to be known as 'pensions freedom' – the abolition of the requirement to buy an annuity – but there could be parallel developments elsewhere.
In April 2015 the rules on what investors in defined contribution schemes in the UK can do on retirement were liberalised. The requirement to spend the bulk of the proceeds to buy an annuity was removed. Although that option remains they also have the choice of either spending the proceeds or reinvesting them.
This shift clearly creates both challenges and opportunities for the financial services industry. For those who provide annuities it could mean that a significant proportion of their business is eroded. However, for the mainstream asset management industry it substantially extends the pool of potential clients to include a greater number of older investors.
For Clark, this requirement means that the industry needs to improve its expertise in certain areas. "The investment management industry is terribly good at the accumulation phase," he says, referring to 25 to 50-year-olds. "It is much less good at what happens after retirement."
"Finessing that balance between capital preservation and income withdrawal is a very specific investment challenge that becomes all the more important in the pension world," says Clark.
In Standard Life's case, he says the group is well-positioned. The life company was never big in the annuities business, whereas SLI has the skills to provide attractive drawdown products.
If outcome investment is one key trend, another is what is sometimes called the 'democratisation of savings'. This refers to the increasing focus on the individual in the pensions world. "Governments can't afford to pay your pension, companies no longer want to. So who's left to deal with it? The individual."
This points to a long-term shift, particularly in continental Europe, where the entire investment and pensions industry will gradually be reshaped. For one thing the boundary between retail and institutional investing is likely to become increasingly blurred. It is a challenge facing the whole industry but no doubt some firms will tackle it better than others.