It is a subtle point but important not to miss. Natixis Investment Managers (Natixis IM) is in plural form. The group is not just an asset manager but an owner of asset managers and the provider of a global distribution platform as well.
Indeed, it changed its name from Natixis Global Asset Management in November to make this clearer. Jean Raby, the group's CEO, says the brand was designed "to better put at the forefront what we believe is our investment proposition".
The most visible feature of Natixis IM is what it refers to as its 26 affiliates. These are asset management groups which it either owns outright or through a majority stake.
Natixis IM is not unique in operating as a multi-boutique. Others include the Affiliated Managers Group (see Strategically Speaking, November 2016), Bank of New York Mellon, Legg Mason, Old Mutual and Principal Global Investors.
However, Natixis IM has its own characteristics. Perhaps the most obvious is that it is essentially a trans-Atlantic hybrid. Its parent company is Natixis, a corporate and investment bank, which is in turn owned by BPCE, a French banking group. About half of Natixis IM's assets are managed by its North American affiliates and half are run from Europe. The group has headquarters in Paris and Boston.
Jean Raby, as a Québécois, personifies the trans-Atlantic character. He has worked in France for 25 years but sees himself as North American. His Franco-American character is clear from his spoken English which has a distinctive tinge that is neither French nor American. "I am bicultural. No question. And I can tell you that if there is a bias it is that Quebeckers are North Americans who speak French. They are not French people who live in North America."

Natixis IM is diverse in terms of geographical spread, mandate and size. Two of the largest affiliates in North America are Loomis Sayles (see Strategically Speaking, February 2016) and Harris Associates.
The largest is Natixis Asset Management (NAM) which is focused on the French market. Raby attributes some of the confusion about the Natixis brand to the similarity between the name of this affiliate and its parent. For that reason, NAM will engage in a rebranding exercise in 2018.
Other affiliates within the group will keep their distinct identities. "I want the affiliates to retain their own brands," says Raby. "It's part of who they are."
Towards the end of 2017, the group made its first foray into Asia Pacific with the acquisition of Investors Mutual Limited (IML) in Australia. IML is focused on the local retail investment market but Natixis IM has signalled there are likely to be further forays into the region. At present only 1% of group assets are run from that part of the world.
In terms of asset classes, the affiliates invest in a range including equities, fixed income, insurance solutions, money markets, multi-assets and real assets. Some, most notably Loomis Sayles and NAM, operate across a range of classes whereas others are specialists. Ossiam, for example, focuses on factor investing whereas AEW is a real estate specialist. Mirova specialises in socially responsible investing.
Raby identifies a thread to the affiliates despite their diversity. He says that each of them pursues differentiated investment strategies, maintains a high active share, avoids benchmark hugging and delivers strong performance.
While Natixis IM's affiliates are visible, since they are outward facing, the parent group's role is harder to devine. It is not that there is any attempt to hide its activities, but rather that much of its work involves internal relations.
Raby outlines several roles for Natixis IM. It provides a centralised distribution network for affiliates; seed capital along with support for new products and strategies; risk management and global oversight.
He places great emphasis on each affiliate's autonomy in relation to investment decisions. "They have a process and I don't want to interfere with it," he says. For him the appeal of the multi-boutique structure is that each has its own approach. That is also their area of expertise.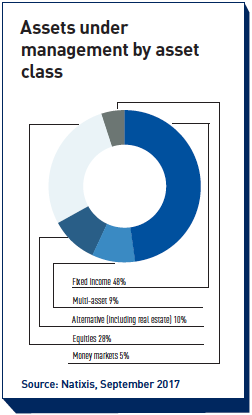 "We combine autonomy on the investment side but rigorous oversight of the regulatory environment," says Raby. Although in relation to regulation he is keen to emphasise that investment teams are also "the first line of defence".
However, there is a caveat to Raby's point about autonomy. "By and large, it is not our intention to tell investment teams what to do," he says. "That being said, through seed capital I can certainly influence the development of products."
The common distribution platform is a key part of Natixis IM but not universally used by its affiliates. In the US, it is usually the affiliates that handle institutional relationships, including pension funds, by dint of history. The distribution platform is the domain of the wholesale and retail business. In contrast, in Europe the common distribution network handles client relationships.
Raby's goal in the future is to raise the group's profile but also increase its scale and reach. In addition to raising its Asian presence he wants to increase its market share in key European markets outside of France. He also says the group is open to growth through acquisition.
If Raby and his management team are successful, the Natixis name will become much better known in the asset management industry.