Nordea has always been a multi-centric institution. Created in 2001 from four entities across the Nordic countries following banking crises in the previous decades, it straddles geographies and markets by design.
Like its parent, Nordea Asset Management (NAM) is also multi-centric, with portfolio management in Denmark, Finland, Norway and Sweden. NAM may be a top-100 player as an asset manager, but with AUM of about €200bn it is still a mid-market entity, lacking both the strength of a top-tier manager and the agility of a smaller player.
At €1bn, 2016 institutional net flows were more modest than in wholesale, which doubled net inflows to €13.4bn over the same period.
NAM's new chief executive, Nils Bolmstrand, joined in January after a stint running Nordea Life & Pensions, which is a client of NAM. This experience, coupled with his previous role at Skandia, including some on the insurance side, leads the CEO to note institutional investors have experienced the low-interest-rate environment most acutely.
"What I bring with me from the insurance side is [awareness] that [this segment] is forced by the regulators to realise the low-yield environment very clearly, and to deal with it in terms of investing," he says. "One of the big drivers of our success, and some others as well, is that we have been able to supply product to the institutional market, where we can deliver returns in a very clearly risk-constrained manner. I think this will spread from the institutional and the insurance market over into the other segments."
Bolmstrand clearly assumes NAM has sufficient scale to compete effectively in a tough asset management market, with resources to invest in the right products and strategies for its chosen segments.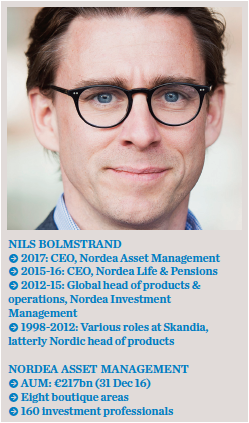 Mirroring Nordea's multi-centric structure, NAM has developed a decentralised portfolio management structure based on a multi-boutique operation. "We have built this structure in order to stay relevant to the institutional market," says Bolmstrand. "The way of doing that is to ensure that you have breadth of product but that you structure yourself in a way that allows you the maximum flexibility while also allowing you to build depth within the products."
The boutiques are fully autonomous in how they make their investment decisions, adds Bolmstrand: "I think that's a key element, and to a large degree they build their own capabilities but they also have the option, if they're looking for specific things, to use the other boutiques."
Boutiques include Nordic equities and fixed income, as well as local specialities like covered bonds. Other areas include credit, beta-plus and multi-asset. In equities, Bolmstrand says, NAM is committed to its fundamental bottom-up equity strategies, although it also has quant-driven capabilities. "That is, again, one of the reasons why we have chosen to have the boutique structure internally. But that does not mean that we can't span the entirety of the risk spectrum that clients are increasingly demanding today."
So what does a fundamental, bottom-up product from NAM look like in an institutional world with real pricing pressures and close attention on the results of active management strategies? "Even if that squeeze is there, I still think there's a willingness to pay for quality," replies Bolmstrand. "The days are definitely over where institutions will buy mediocre products and I think that's a good thing for true asset managers. It seems institutional clients will be more specific about what is it they are looking for in terms of active management, active risk and the products they need, also in terms of the price they are willing to pay."
The institutional client segment, run by Christoph Girondel, is experiencing strong inflows into multi-asset solutions and Bolmstrand argues it benefits from noticeable disaffection with hedge fund strategies. "The success of multi-asset or multi-strategy houses, and also our success within that area, stems from the fact that people seem to have been uncomfortable with hedge funds," he says. "Perhaps hedge funds have been so broad that they have not helped investors actually find what it is that they're looking for." Multi-asset strategies, including UCITS hedge fund strategies and hedge fund-like strategies, have been successful precisely because of this, he says.
About half of NAM's assets are sourced internally through captive channels. This includes Nordea Life & Pensions, a large and sophisticated Nordic pension provider that is also free to use non-group suppliers. (NAM's margin from Nordea Life & Pensions is the same as from external institutional clients at 41bps.)
"It keeps us competitive," says Bolmstrand. "I think this is part of the success, working both within the Nordea network, internationally, and outside of that network. Today we are close to a 50/50 split in terms of assets between the captive and the non-captive."
Increasing solvency and risk demands have shifted Nordic pension providers and corporate sponsors away from traditional DB-type pensions and towards unit-linked structures, a trend that has been in place for many years. Nordea Life & Pensions acts as the group's competence centre for pensions solutions marketed direct to corporate sponsors, but can NAM leverage growth in defined contribution (DC) by offering such products to other providers?
Bolmstrand sees potential for discretionary solutions but is not necessarily in favour of target-date funds owing to the uncertainty around most people's income needs later in life. LDI-type thinking in the DC space serves managers well, given that most investors are seeking an outcome at some point in time, he says.
"You can have defined contribution with a discretionary solution for the client, or you can have unit-linked defined contribution," he elaborates. "In the unit-linked space, clients tend to behave pretty much as they would with other assets but we will see a shift more towards discretionary solutions within defined contribution.
"This is, again, a result of the low-yield environment, in that people seem to be less interested in making individual choices and realise that they actually need a solution around it. In discretionary solutions-led, I think we can leverage from the defined benefit side, because in reality defined contribution with a discretionary wrapping is the same as defined benefit but without the constraints of the liability side."
NAM's parent is reportedly planning to invest €1bn in technology, and the asset management entity will invest in front, middle and back office areas, according to Bolmstrand. Unlike other asset managers, NAM has not outsourced such capabilities and, indeed, it sees its in-house functions in these areas as a key advantage.
Bolmstrand says NAM is planning to add people this year and next, including in the front office. He does not rule out adding boutique capabilities selectively.
Nordea is also working through the implications of a decision to convert from a subsidiary to a branch structure, with Nordea AB in Stockholm as the main entity. It is also working out whether or not its domicile should move away from Sweden to one of the other Nordic countries.
This is a secondary concern for NAM, and Bolmstrand wants to capitalise on NAM's reach outside its home region. "We started as a Nordic player so we are big in the Nordic market," he says. "But 15 years ago we started in Germany and we built that market, and we are building the UK market today. I think that there will always be room for the type of niche player that we are. We are an asset manager with a Nordic heritage but definitely with a global and a European outlook, and we want to establish ourselves as a leading European player."