One of the mysteries of life, for some at least, is the role of the musical conductor. Does all that fervent arm-waving in front of an orchestra achieve anything? Wouldn't the musicians play just as well without it?
Yet David Hunt, the president and CEO of PGIM (pronounced P-Jim), draws an analogy between his role as the head of one of the world's largest asset managers and that of a conductor. "My job is not so different from a conductor. I will never be as good a player as any of the guys who are investing the money but I do need to make all of it work together in harmony and I do need to make sure I'm getting the best in them".
At first sight this claim might seem far-fetched but there is a logic to it. For a start, Hunt is a long-time member of the executive committee of New York's Lincoln Center for the Performing Arts. As a result, he is far better acquainted with classical music than the average CEO.
In relation to PGIM itself, he is not responsible for the day-to-day running of any of the eight constituent businesses that comprise its multi-manager model. Instead, they are each autonomous units with responsibility for a different asset class or approach. Understanding this relationship between the component businesses and the central organisation is the key to understanding how PGIM works.
"Each of them makes all of their own investment decisions, subject obviously to rigorous risk oversight and guidelines," says Hunt. "That's an absolutely key component of making this model work. No great investor wants to be in an environment where they are simply overturned by somebody in headquarters."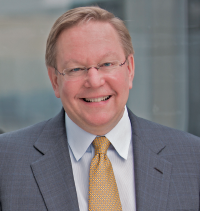 The corollary of this approach is that the individual subsidiaries are held responsible for their own performance. "There is no sense in the world that they can say that 'headquarters told me I had to invest this way so that is why the returns aren't that good for our client'," Hunt says. "They're fully empowered to do the right thing as they believe for their clients. That is the core tenet of our model".
Hunt sees his own main role as what he describes as a 'servant-leader' in the operation. "My most important job is to bring out the best in each one of those businesses," he says. "So I very much view my role as almost a servant leader."
He does not spell out the concept's origin but it probably comes from McKinsey, a management consulting firm where he spent 22 years and ended up leading its asset management practice. Marvin Bower, the consultancy's managing partner from 1950 to 1967, developed the concept in his book The Will to Lead (Harvard Business School, 1997). The thrust of his argument was that senior managers should abandon traditional command-and-control structures and instead focus on developing leaders, starting with themselves. "Having a servant leadership viewpoint helps any chief executive focus on company performance and on the needs of constituents rather than on his or her own performance or image," wrote Bower.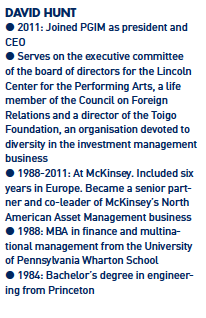 At PGIM, Hunt describes his main role in this respect as almost a mentor. "My job is to make sure each of these businesses is the best that it can be, that it has the resources it needs to succeed and that I am fully supportive of this investment partnership and autonomy that they have."
There are, of course, other ways in which Hunt is responsible for PGIM's overall business. First, the flip side of allowing autonomy for each business is that their performance has to be closely monitored. "I do have a real role in determining whether we are achieving the investment performance that we should and whether or not the business results are as they should be," he says.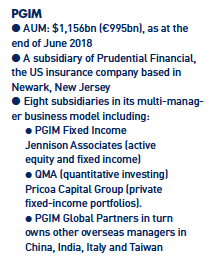 Second, there are areas that operate on a group level rather than an individual level. For example, PGIM has a common framework for risk management that extends across all of its constituent businesses. Investment in technological systems is also done at a group level to benefit from economies of scale.
Third, he has duties in relation to Prudential Financial, PGIM's parent company. That is the Fortune 500 insurance company based in Newark, New Jersey, rather than the UK insurance company with the same name.
Finally, Hunt has many external responsibilities such as meeting PGIM's most important clients including pension funds, sovereign wealth funds and the main gatekeepers at retail investment firms. He also spends some time meeting other investment managers and pension consultants to help maintain a feel for how the market is working.
Few of PGIM's complex internal workings will be apparent to the casual observer. As with an audience watching a concert, the focus will generally be on the final results rather than all the work that goes into achieving them. Whether or not PGIM's clients are pleased with the outcomes is naturally up to them to judge.