As in other walks of life, things go in and out of fashion in institutional investment. Multi-asset investing is a case in point. Once, a few balanced managers held centre stage in pension fund management in countries like the UK, the Netherlands and Switzerland. Then, in the 1990s and early 2000s, the orthodoxy was for manager diversification using segregated mandates or multi-manager approaches. Faith in the equity market premium was high, as was the thesis espoused by Gary Brinson that asset allocation is the primary driver of portfolio returns, ahead of market timing or stock selection.
Pension funds could set their portfolios on cruise control, meeting on a quarterly basis with their consultants and perhaps do some occasional portfolio rebalancing. Tactical overlay strategies did gain some traction, but it took a remarkably long time before asset allocation reasserted itself as a core capability for pension funds, be it within the fund, through a fiduciary manager or using a diversified growth-type approach.
Percival Stanion, who set up Baring Asset Management's multi-asset team in the early part of the past decade, says it took a few years before UK consultants and clients started to see the benefits of multi-asset approaches. "Up to about 2006 it was a tough sell," Stanion recalls. "Over that period we had a dozen or so clients, almost all of them in the endowment and charity area, the vast majority segregated, as there was a great deal of resistance to pooled approaches. We did an awful lot of pitches but there was little business at the end of it."
Diversified-growth strategies were popularised by John Finch and Kevin Frisby at HSBC Actuaries & Consultants in the early 2000s. They and other UK consultants have largely dictated the few common parameters of diversified growth: a cash or inflation-plus target return over the medium term and an overall strategic aim to capture most of the return of the equity market with lower volatility. Overall, diversified growth strategies have become a mainstay activity in the UK, with a strong institutional and retail following, 47 separate strategies and fund assets of £124bn (€175bn).
Standard Life Investments' £26bn GARS fund, one of the better known strategies, uses hedge-fund-type techniques such as relative value and directional trades with a large number of portfolio positions; others allocate more to credit or are heavier in equities. Some funds are entirely passive; some make extensive use of external managers while others are managed using in-house funds.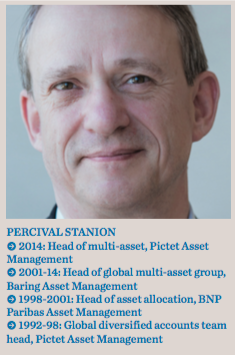 Stanion and his colleagues tested the robustness of their own portfolio construction and liquidity parameters when they effectively had to liquidate their strategy in the latter part of 2014. The Baring Dynamic Asset Allocation fund's AUM was £6.5bn in February 2013 and had increased to around £9bn by early September 2014 when Stanion's departure for Pictet Asset Management, together with his colleagues Andrew Cole and Shaniel Ramjee, was announced. This triggered automatic re-ratings by investment consultants and immediate outflows; AUM was down to £1.8bn by September this year.
Liquidity was always a key consideration, Stanion says: "We were very open about the fact that we thought there was a limit to our fund, given the way we executed our transactions, particularly because we were using third parties for a significant percentage of our portfolios. We would have liquidity issues at some point and we had to head those off, so we closed the programme to new clients at £10bn and to existing clients at £12bn."
Given their sizeable client base of UK defined benefit (DB) pension funds, Stanion and his team had also developed a view that any significant "normalisation" of UK long-bond yields would trigger substantial outflows as DB funds moved to insurance buyouts. This led them to construct a portfolio of 90% liquid assets.
"We were able to validate our own stress test on how quickly we could liquidate our fund, and that is effectively what we had to do," Stanion says. "We were gratified that our assumptions had been sensible and that we did not have any significant liquidity issues because we had limited our exposure to less liquid assets. We learned a lot from that in terms of the day-to-day management of big outflows."
At Pictet, Stanion has sought to recreate a similar set-up to that at Baring. His new multi-asset fund, seeded with £25m in December last year and now at £130m, returned 3.7% to 29 October 2015. The seed capital fund has benefited from a heavy underweighting of equities prior to the turmoil of summer 2015, down from 55% to as low as 18%, as well as from overweight positions in Italian and Japanese equities. Stanion is keen to highlight his team's market-timing ability and has made such dramatic moves before: ahead of the Lehman crisis in 2008, equity exposure was down to 15% but up again to 40% by early 2009. It fell below 20% in 2011 during the Greek crisis.
Large portfolio shifts like these carry the risk that the fund will miss out on the upside when markets turn in investors' favour. Research by JP Morgan over the 20 years to end-2014 shows that missing the best 10 market days reduced portfolio performance from 9.85% to 6.1%.
"The argument I would use to counter that is that I do not think we are in a continuous bull market," says Stanion. "So, if we are not being asked to match a market return over any given time period, we have a mandate time that means we are not panicked into buying markets when they have run powerfully, so there is not the same commercial pressure to leap back into markets that we have already half missed. This gives us significantly more freedom to await opportunities as our clients will not panic because we are behind an index over a given period."
The second point, Stanion says, is that markets are choppier, with more down periods than in the 1980s and 1990s: "You are less at risk of missing a super bull run and you will have your opportunity to get back into risk assets again fairly shortly. Our central thesis is that not only are returns lower but that there are more negative shocks." Clients are also asymmetric in their risk/return profile, Stanion believes, valuing downside protection more than they value capturing 100% of the market upside.
Overall, Stanion sees himself as a "value-driven" investor. "We are value-driven investors in that we think the risk premia on asset classes often throw up value opportunities and that is a hugely important factor in the way we build our portfolios," Stanion explains. "In equities, certainly in our country and sector selection, cheaper sectors offering better risk/return tradeoffs will tend to be attractive to us. Having said that, on a stock level, there are times we have more of a growth bias than being a simple value player, when we think investors will be looking for growth and will pay for it."
Stanion sees virtue in both active and passive implementation in different scenarios. Time horizon is a key consideration: "If it is a tactical move that might have a short horizon of 6-18 months, we would probably use a passive vehicle. If we are looking for a longer investment time horizon and if there are arbitrage opportunities that are not just about the beta of the market, then stock selection is very important and that is when we would be using active managers. Current structural changes in the Japanese corporate sector are a good example."
Exposure may also be indirect. After taking a position in Chinese equities in 2009, Stanion sold out in late 2010 in favour of an actively managed portfolio of Western multinationals with at least 25% exposure to emerging economies run on a customised basis by the Baring international equity team.
For now, Stanion is unwilling to make predictions about institutional inflows for his new strategy. "People want to see how you settle down in the new firm, how the performance is and whether the product is the same or similar to the one they know. These are institutional mandates. They do not reverse them every six months."