At least no-one dies as a result of what the investment management industry does or does not do. Unlike technological companies considering drone pizza deliveries or driverless cars, and where real issues of safety and liability may arise, asset management executives only have a set of financial outcomes to consider.
Jim McCaughan, the Scot who is CEO of Principal Global Investors (PGI) and president of asset ma nagement for the Principal Financial Group, recalls a recent discussion on CNBC where he was a guest host. In a widely reported incident in the summer, a driverless Google Lexus vehicle cut up a Delphi Automotive driverless Audi on a highway in Palo Alto, California, in what is considered to be the first such incident of its kind.
"My question was, was the one that was cut up programmed to honk?" McCaughan recalls. McCaughan is widely known in the US for his opinions on topics spanning high frequency trading (he is a measured opponent) to the future of investment management.
In a recent note on investment, McCaughan outlined the importance of demographics, urbanisation, oversupply of commodities and manufactured goods and the interplay between technology and infrastructure as key themes. Despite the perception that driverless cars may be dangerous, human decisions actually play a primary or secondary role in most car accidents and as such are the main contributor to the world's 1.4m annual road deaths. In his paper, McCaughan speculated that driving might one day be seen as antisocial as smoking is now.
Having recently run the gauntlet of protests by French taxi drivers against Uber's unregulated Pop car-sharing service in France, McCaughan takes his technology analogy further. Uber drivers are like the passive challengers to traditional asset managers, here represented by the traditional taxi drivers, he says.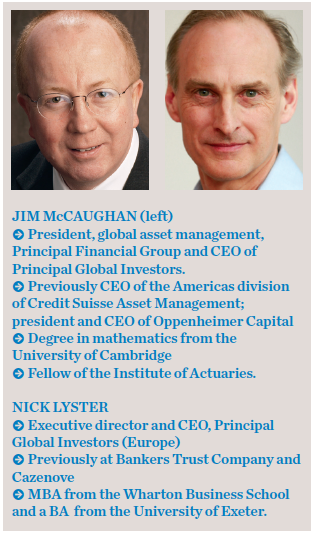 "We've got to find a way to make our skills productive rather than just build a wall. For us that is the newer less liquid markets, less efficient markets," McCaughan says, pointing to PGI's activity in areas like high yield, preferred securities, emerging market debt and small caps. "These are all areas where there isn't a viable [passive] response. I think the players who are doing well in the industry are the ones responding constructively to those changes."
McCaughan never bought into the idea of a 'great rotation' that would drive fixed income investors back into the equity markets. The sheer structure of market demand prevents this, he says, given ageing demographics and the need for income streams, be they through defined benefit (DB) liability-driven investing, individual drawdown plans or annuities. Far more to the point, any investor rotation has been out of traditional fixed income investment in government bonds and toward alternatives, illiquid alternatives in particular.
Diversifying in credit requires careful consideration on the part of institutional investors and those with existing in-house resources are more likely to do it well. One key area of concern is liquidity and here McCaughan points to bank loans by way of example. "Bank loans trade on a three or four week settlement so daily liquidity is difficult. It's rather like offering daily liquidity on a real estate fund. I tend to think that if a Lehman event happened now, given the structural change in the bond market, it would be more serious. Now, the next financial crisis will not be like Lehman and it probably won't start in the US but if it does that liquidity issue could become very important."
Given these concerns, asset managers' allocation skills and knowledge are increasingly in demand. McCaughan sees multi-asset strategies as another area where active managers can prove their worth against passive challengers, although sometimes the two converge, as evidenced by one passive PGI fund series in the US.
"We have a passive underlying target-date fund series through collective trusts with very low fees," McCaughan explains. "It does not perform as well as our active version but it is something people choose. They want the passive with reliability and cheapness."
While packaged funds and solutions are clearly targeted towards smaller institutions and the retail market, larger clients often seek a tailored 'solution' or a more consultative relationship with the manager. There is also evidence that investors are leveraging their relationships with managers through more than one product mandate. "We see a lot of evidence of large institutions going for multi-product relationships and not just in the US but also in Japan for example and with some of our European clients," McCaughan says. "If they can get multiple capabilities from us they get more confidence about seamless delivery."
In continental Europe, where this particularly has been the case, McCaughan's colleague Nick Lyster, CEO of PGI's European business, points out that investors often award multiple specialist credit mandates rather a single aggregate mandate, as is more often the case in the UK. This is more about the governance capabilities of the investor than the size or scale of the asset manager's capabilities. "If you go to a large UK fund they don't do in-house management and they don't have the confidence to hire specialist managers," says Lyster. "They tend to hire aggregate managers and are probably losing out on return by doing that."
This trend in institutional investors' internal governance models favours large, integrated multi-specialist investment groups, according to McCaughan. They, he says, are better able to deal with the demands of large institutions, which increasingly require a more consultative relationships with fewer entities. To this point, CalPERs announced earlier this year that it would cut the number of relationships with managers in the area of alternatives and APG has also undergone a similar rationalisation process.
This requires sales and client relationship teams that can offer a more consultative approach, with the judgement not to offer unsuitable approaches. With the largest investors this can involve considerable effort, time and resources.
"One of my favourite quotes is from one of the world's largest institutions from 5-6 years ago," says McCaughan. "They guy responsible for outside managers said to me 'if you come visit us once a month and bring an interesting idea every time you will get a mandate within three years. Come and give us information, help us do our job'. That particular one gave us a decently chunky mandate within 18 months. A pure specialist boutique asset manager could not do that because they would not have enough ideas and or enough people on the ground to call regularly."
Inevitably, given the rise of the likes of Alibaba in China and its incursion into retail investment management, there has been speculation that big technology firms like Google and Amazon could be the next challengers to traditional investment managers.
As Lyster notes, it seems unlikely that a firm like Amazon, for example, keenly focused as it is on efficient logistical fulfilment of consumer goods delivery, would take on the reputational risk associated with uncertain client outcomes that asset management involves.
McCaughan points to the accretive changes in investment that have lowered costs in investment management over the years. "If I were a small employer in the US and I had a 401(k) plan 20 years ago it would have cost me 2% all up, I'd have filled in the forms and I'd have got a statement probably in the March of the following year," he says. "Now it costs me about 70bps, I get everything online either through a website or on an app, I can switch and see my values in real time. Hasn't the world changed a lot?"