It is no safe haven, but China has provided bond investors with important shelter through the storm
Government bonds, the markets' typical retreat when the going gets tough, fell alongside risk assets through the crisis, as investors around the world have sought safety and liquidity. The scale –and speed – of risk-off moves required investors to seek safety in unlikely areas, as liquidity in some of the most easily tradeable assets all but dried up.
Through the drought, Chinese government bonds proved to be among the most liquid assets – so much so, in fact, that they were easier to trade than European government or agency bonds. China's capital controls insulated its onshore bond market from the full force of the global dash for cash, and the market's smaller number of overseas investors limited the impact of mutual fund outflows and portfolio rebalancing, which contributed to challenging trading conditions elsewhere.
The litmus test of a fully functional capital market is liquidity. While the experience along the yield curve in China has varied, liquidity has improved out to 30-year maturities, and new bonds issued from late 2018 onwards have generally maintained good liquidity.
Historically, foreign investment into China's bond market has been restricted and liquidity concerns have been present because of the past dominance of domestic buy-and-hold investors. Foreign investors choosing to enter the market regardless were met by difficult conditions and operational issues for trading and investing.
Despite being the second-largest domestic bond market globally, having grown from $2trn to over $13trn over the past decade, foreign holdings in the onshore Chinese bond market remain relatively limited, at just 2.2% of total debt outstanding.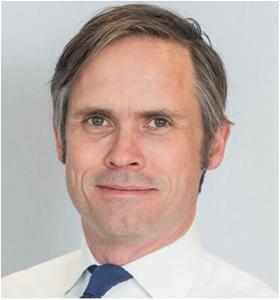 Prior to the current economic and market crisis, the inclusion of Chinese bonds in global indices had placed many bond strategies at a crossroads. For as long as China was left out of the main bond indices, most investors had no need to consider how they might approach this market. But index inclusion made the decision to remain 'underweight' China an increasingly important active choice for investors, rather than a passive omission, given the prominence of key global bond benchmarks in investor portfolios.
Yet before the chaos really took hold, foreign capital was already flowing into China's onshore bond market as investors sought safety from the rapid advance of COVID-19, anticipating continued policy support from the People's Bank of China. At the end of April, foreign ownership of Chinese Government bonds stood at 8.9% and foreign investor interest in China fixed-income assets remains the strongest in Asia. China's inclusion in global bond indexes will continue to attract passive inflows, while reserve allocation inflows will help to absorb some of the increased supply.
Now, at a time when Chinese bonds continue to offer a positive nominal yield in a rapidly expanding universe of negative yielding debt, and market liquidity is improving, the strategic case for foreign investors building exposure in China is increasingly difficult to ignore.
Doubts around Chinese data accuracy as a basis to avoid the asset class must be weighed against the economic need for returns. Concerns about the amount of leverage in China's economy should be considered in new relative terms, following unprecedented fiscal expansions by governments elsewhere to offset the long-term economic damage wrought by COVID-19. Residual reservations need to be backed up by the conviction that allocations to China would lead to underperformance against a global benchmark.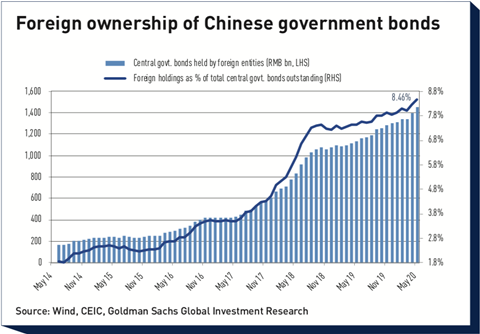 To date, China's policy response to the crisis has been phased and divided across monetary, credit and fiscal easing, as well as regulatory relief and tolerance for currency flexibility. This measured approach contrasts with the 'big bang' stimulus implemented in the aftermath of the global financial crisis – and in advanced economies over recent weeks – demonstrating policymaker recognition of already elevated economy-wide debt levels. An accommodative monetary stance and conscientious fiscal easing further supports the case for exposure to Chinese government bonds.
"The strategic case for foreign investors building exposure in China is increasingly difficult to ignore"
That said, we would caution against labelling Chinese bonds a safe haven. China remains the only large financial market thus far to have completely shut down amid virus containment efforts; the central bank extended the lunar New Year holiday, automatically extending settlement on trades. It is also perhaps one of the most likely markets to use additional capital controls if authorities feel the need.
The recent renewal of trade tensions between the US and China does pose some risk to capital market integration. However, there are limited short-term implications for China's fixed-income markets. Nor can there be any doubt that Chinese bonds have stood up to the test by remaining liquid as the pressure on investors cranked up.
Hugh Briscoe is a global fixed income portfolio manager at Goldman Sachs Asset Management