Managers are constructive about high yield, loans and alternative credit despite the volatile outlook
Key points
The high yield and loan markets recovered quickly in April
Managers expect defaults to rise further
Recovery rates on cov-lite issues are particularly low
Alternative credit offers opportunities
If there is one thing the COVID-19 crisis did not change, it is the lack of clarity and consensus over the overall health of the less liquid credit markets. Most managers agree that the short-term outlook for high yield, loans and other less liquid credit asset classes is highly uncertain. While some see cause for concern, others are focusing on the opportunities on offer.
In March, spreads in the high yield and loan markets widened sharply and issuance in those markets shrivelled away. Thanks to massive central bank support and fiscal stimulus from governments, primary issuance quickly resumed in April and spreads retreated. It was a turbulent ride that left investors hurt but not despondent.
The reopening of the markets in April saw managers attempt to take advantage of more generous terms offered by issuers. Francesco Martorana, CEO of Generali Insurance Asset Management, says: "There was an important repricing of credit markets but the intervention of central banks quickly restored liquidity conditions and eased panic. The new issues that came through in April offered a significant yield premium. We were able to invest in higher-rated issues and shorter terms with yields that a few months ago would have only been available in subordinated bonds or lower ratings. Thanks to our strong liquidity position, we took the opportunity to reposition our portfolio."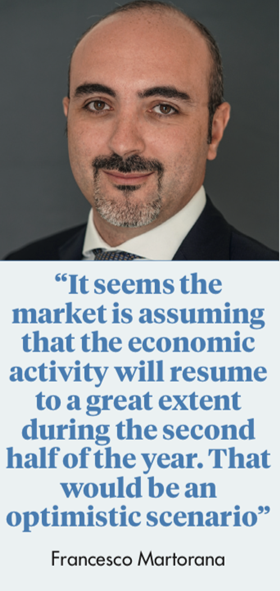 Martorana says, however, that: "The initiatives undertaken by central banks make us constructive on credit. But there are vast differences within the credit markets. Whatever the shape of the recession, the impact of the crisis will be significant, and probably the market today is not discounting it properly. It seems the market is assuming that the economic activity will resume to a great extent during the second half of the year. That would be an optimistic scenario. We are very cautious on certain sectors and regions.
"We prefer Europe versus the US, due to the lower rating levels in the US, the concentration of high-yield issues in problematic sectors, and the structure of the market, which often sees CLOs [collateralised loan obligations] become forced sellers of assets. Generally, we prefer investment-grade issuers versus high-yield ones. If anything, we prefer corporate hybrids because, while they are subordinated issues, extension risk is low and central banks tend to buy the senior parts of those issues as part of their purchase programmes."
Managers are mostly positive on the assets class in the medium term, as the correction brought valuations back to more sober levels. But this confidence is at odds with the International Monetary Fund's (IMF) repeated warnings about the growing vulnerabilities in the credit markets. The IMF points to the rapid expansion of corporate credit since the global financial crisis of 2008-09, combined with the rise of leverage and credit risk and the growing role of non-bank financial institutions.
These institutions, according to the IMF's most recent Global Financial Stability Report, published in May, contribute to the complexity and opacity of the system. "Non-bank financial institutions have become increasingly important players in credit markets in advanced economies, though their behaviour over the full credit cycle has not been tested yet," it says.
Regardless of such warnings, before the COVID-19 outbreak became a global affair, many managers were constructive on the credit markets. Jonathan Butler, head of the European leveraged finance team and co-head of global high yield at PGIM Fixed Income, says: "Until January, we did not see signs on the horizon that the credit cycle was about to end. We expected low defaults this year and a modest tightening of spreads. When we found out about the first cases in Italy, we reduced risk in as many of our portfolios as we could, as we realised the virus was going to hit Western economies.
"In March, we saw a rise in default rates that continued through April, May and June. Defaults have been more muted in Europe than the US because of stronger state support by European governments. That left many US companies to fend for themselves, and issuance of new debt has been strong.
"We now expect to see a very strong wave of downgrades. Companies that are in the industries directly affected by the lockdown will see their revenues plummet, and it will be very difficult for them to manage their cost base, particularly if they are already levered," says Butler.
Downgrades can create 'fallen angels' that high-yield investors may be able to seek as opportunities, he says, but some of those companies could also see further deterioration of their credit profile if lockdowns persist.
"While the virus is still out there but on the retreat, companies that are allowed to reopen may see their credit quality improve. But the concern is around the direction of the virus and the potential for future lockdowns. The question is not whether there will be a wave as a result of the reopening of the economy but whether we will start to see an increase in cases as the weather gets colder and how that increase is handled," Butler says.
The long-term sustainability of the huge pile of debt issued by global non-financial corporations will be tested more deeply as the economic impact of the global shutdown materialises fully.
So far, the performance of credit portfolios has been mixed, according to Chris Redmond, head of manager research at Willis Towers Watson.
"Going into the crisis, the views on the economy and the key sectors were also different. The two areas of particular concern were the energy complex and the retail sectors. Both sectors were very badly impacted during the crisis, and success or failure was heavily influenced by whether managers were involved in those sectors. The issues with COVID-19 extend beyond that, but as of yet the two areas that have shown most specific problems have been energy and retail," says Redmond.
Similarly, the period during which the high yield and loan markets stopped functioning was short, according to Redmond. "Investors were very comfortable interpreting the central banks' intervention and the governments' support to mean that the market should open. We saw an extraordinary rally in credit markets since the beginning of April. All aspects of that market function have returned. Issuance has been very heavy, but demand has been there to take it. We've been surprised by quite how quickly the market has recovered."
The same cannot be said for the securitised credit market, says Redmond, which has remained dysfunctional for much longer.
As a result of the March correction, Redmond says that the current valuations of high-yield bonds and leveraged loans are aligned with a continuation of economic challenges because of COVID-19 until early next year.
"We expect to see corporate defaults pick up and stay at elevated levels over that period. If we were to see economies opening up quicker than that, current spreads are of good value. If we were to see a re-locking-down of the economy, they are probably not," he says.
"Current valuations offer a reasonable entry point for investors with a perspective of three to five years. But the chances are they would have to withstand 12 to 18 months of volatility and uncertainty, seeing how those defaults flow through the economy and how severe they might be.
"Our sense is that managers want to buy but they are cautious. History tells you that you are meant to buy high yield at these levels, and over a longish period you will get paid. But defaults will be higher for quite some time," continues Redmond.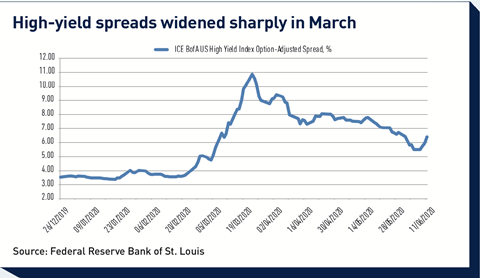 In the leveraged loan market, the issue of 'cov-lite' is finally coming to pass, according to Redmond. In recent years, leveraged loans have been extended with increasingly loose covenants, which would suggest that recovery rates in the event of corporate defaults would be lower.
Redmond says: "One of the reasons we were so heavily underweight loans coming into the crisis was that the market was not discounting the cov-lite phenomenon properly. We are beginning to see a window into the future, and our fear is playing out exactly as we thought it may.
"Recovery rates on the first syndicated loan defaults have been very low, coming in at 40 to 50 cents on the dollar, compared with 70 to 80 cents historically. To us, that demonstrates that the market needs to price loans more accurately for the credit profile investors are getting, and we do not think it does."
Defaults could already be higher if it were not for central banks and governments providing ample liquidity, says David Riley, chief investment strategist at BlueBay Asset Management. "Compared with previous recessions and credit downturns, the scale of central bank and fiscal support has been huge. In our view, the fact that the primary market for investment grade and high yield has reopened and been so strong means that a big surge in corporate defaults, which we would typically expect given the scale of the recession, has been significantly reduced and pushed back. Our default expectations have declined relative to what we thought they would be," says Riley.
This, however, complicates the outlook. Riley adds: "While we are seeing a meaningful increase in defaults, the jury is still out as to what will happen. I think a surge in defaults has been pushed out to some extent into 2021. If corporate earnings are not getting back to some level of normality during the course of 2021, then a lot of companies that have avoided defaults through refinancings and liquidity provisions from governments, will then struggle, and we will face a resurgence of defaults."
For BlueBay AM, dealing with the fallout from the global shutdown has meant re-underwriting the high-yield credits held in the portfolio, after looking at their liquidity positions in the present and in the future.
Despite the uncertain outlook, Riley sees relative value in a number of asset classes. "Broadly speaking, we've been favouring high yield over leveraged loans, and we think there are opportunities and value in some investment-grade-rated structured credit assets, such as triple-A rated CLOs and high-quality ABS [asset-backed securities]. We have also added an overweight in European bank-subordinated debt, such as contingent convertibles and AT1 bonds which suffered during the sell-off."
As expected, the crisis has created opportunities for investors in distressed credit. The many companies that do not qualify for government loans are hungry for bridge financing to fulfill their contingent needs. The light structure of covenants on credit extended pre-crisis mean that investors in distressed companies can lend at super-senior level, says Stuart Fiertz, co-founder, president and director of research at Cheyne Capital.
"The most interesting opportunity is to provide post-covid bridge financing and liquidity lines to companies that can't participate in the government programmes. These are primarily private equity-sponsored borrowers. Existing covenants allow companies to borrow at super-senior level, creating a very interesting risk/reward profile for new lenders. These companies can then buy their time to grow back into their balance sheet and cover the liquidity they need to restart their business," says Fiertz.
While COVID-19 perhaps did not unleash the systemic crisis that the IMF and others feared, it remains to be seen how the credit markets will deal with a likely pick-up in defaults and potential further lockdowns. Still, credit investors are presented with a real opportunity to participate in the recovery, according to Fiertz.
He says: "I would argue that the backstop provided by the Fed was important in ensuring the functioning of the market. What is interesting is that the systemic stress showed up more in the liquid side of the market, rather than hedge funds and alternative credit funds.
"Today, we are lending where banks cannot lend, or where governments do not want to lend, and that is very important to have proper diversity of sources of credit. We're approaching loans from a commercial point of view, but it's important to have lenders that are willing to step up and take on that complexity and risk to offset the systemic pressure that is on banks. The role of alternative credit in balancing out the system or positioning the economy to heal itself and grow has become more apparent."
Credit: Investment grade credit markets in a pandemic
1

2

Currently reading

Credit: High yield managers embrace uncertainty

3

4