Foreign investors are finding Chinese government bonds increasingly attractive
Key points
Chinese government bonds offer attractive yields for foreign investors
Several developments are making access easier including inclusion in bond benchmarks, the launch of Bond Connect and the entry of international credit rating agencies
Risks include the heighted frictions in the US-China relationship
As uncertainty over the future continues and interest rates stay at rock bottom levels in many developed countries, the Chinese $13trn (€12trn) bond market, the world's second-largest, has become an unexpected refuge for foreign investors. However, it may be a step too far to apply the safe-haven label as, alongside the opportunities, there are also the inevitable geopolitical and market risks.
The attraction is easy to understand in a COVID-19-fuelled world where monetary policymakers have pushed interest rates to historical lows, including negative rates in Japan and parts of Europe. The result was that bond yields in the first quarter dropped dramatically. Take US Treasuries, which fell by 95bps to 0.64% from mid-February to April 20. In comparison, Chinese government bonds, albeit hit, had a much higher yield of 2.55%. This represents the biggest gap between the US and Chinese government debt in nearly nine years.
Research from JPMorgan also shows that Chinese bonds outshone their emerging market peers, returning 1.3% in the first quarter compared with the latter's 15.5% drop.
Equally as important, Chinese bonds passed the liquidity litmus test of a fully functional capital market, according to Hugh Briscoe, global fixed income portfolio manager at Goldman Sachs Asset Management. He says that "while the experience along the yield curve in China has varied, liquidity has improved out to 30-year maturities, and new bonds issued from late 2018 onwards have generally maintained good liquidity." (See Ahead of the curve, p76).
The appeal for foreign investors, though, is not just about the real yields, liquidity and relatively low volatility compared with other countries, but also, as Hayden Briscoe, head of fixed income for Asia-Pacific at UBS Asset Management, notes, Chinese bonds have "low correlations with other fixed income and risky assets which makes them a nice fit for a multi-asset-class diversified portfolio".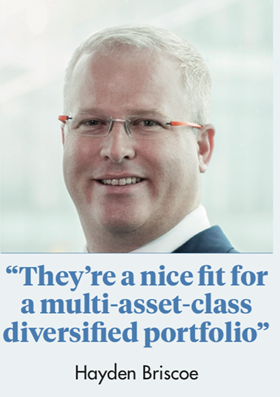 Although the Chinese bonds' outperformance during the first quarter raised their profile, foreign investors had already shown interest before the coronavirus struck, according to Invesco's latest Global Fixed Income report. It shows that although foreign holdings of the Chinese fixed-income market are minute – less than 4% – they have been increasing over the past three years. Their average allocation rose to roughly 3.2% to date from 2.2% three years ago and this figure is expected to rise to 4.4% by 2023.
The report reveals that investors from the Asia-Pacific region were the most proactive – holding an average 6% slice – but that figure has remained broadly unchanged over the past three years. By contrast, the pace accelerated in Europe. Middle East Africa (EMEA) with allocations growing from 1.1% to 1.8%, while in North America they jumped to 3% from 0.8% over the same period.
"One of the most interesting findings in the report is that the biggest increase was among North American investors, where average allocations are expected to rise to 4.7% in three years' time," says
Nick Tolchard, head of EMEA for Invesco Fixed Income. "This may sound counter-intuitive, given the current political situation, but there has been growing interest due to the diversification benefits, lower barriers to entry, the growth of Chinese debt issuance – which now accounts for nearly 60% of emerging market debt – and the inclusions into global benchmarks were seen as a source of security in the region by these investors."
Last April, renminbi-denominated government bonds and policy bank securities started to be phased into the $54trn Bloomberg Barclays Global Aggregate index over a 20-month period, while JPMorgan Chase began adding Chinese government debt to its indices at the end of February 2020.
"One of the most interesting findings in the report is that the biggest increase was among North American investors" - Nick Tolchard
"Index inclusion is significant and will effectively redraw the world map of fixed-income investment," says Brad Gibson, senior vice-president and co-head of Asia Pacific fixed income at Alliance Bernstein. "Our research suggests that the move will trigger a wave of portfolio reallocation, totalling about $110bn, and bring in a new class of investor to the Chinese onshore bond market."
Inclusion into bond benchmarks is just one of many changes transforming the Chinese bond market. The government has slowly opened the doors over the past 15 years. Its most recent initiative was scrapping the overall ceiling of $300bn on total asset purchases under its qualified foreign institutional investor (QFII) scheme. There has also been reports of plans to initially extend its interbank market trading hours to 20.00 local time from 17.00 with the aim of aligning global trading hours and increasing the number of foreign investors.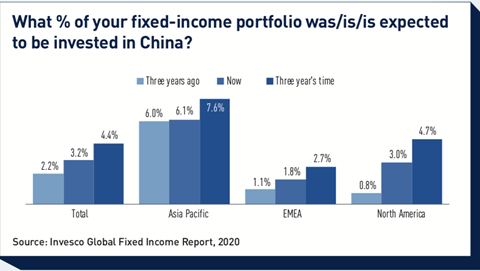 Access has also been made easier over the past five years with the launch of CIBM Direct and Bond Connect. The former tends to be used by the large institutional investors as well as central banks and asset owners, while the latter is typically tapped by smaller to medium-sized players. However, the landscape is changing and Bond Connect activity has been robust over the first quarter with its data showing RMB478.2 bn (€60bn) of foreign inflows in March, the highest monthly addition.
Foreign investors have also welcomed the entry of international ratings agencies to assess the creditworthiness of the country's debt. The view is that adopting best practices will shake up their domestic equivalents which have been criticised in the past for being too generous with their scores. For example, data last year from Wind, an information provider, found that almost 80% of the issuers it evaluated are currently sitting on an AA grade or above.
This issue was also highlighted in a White Paper in 2017 published by the Bank for International Settlements which found global credit rating agencies – such as Standard & Poor's, Moody's and Fitch – graded Chinese bonds issued offshore, six to seven notches lower than their domestic counterparts.
"Index inclusion is significant and will effectively redraw the world map of fixed-income investment" - Brad Gibson
"In general, there have been issues in the field of credit rating agencies analysis, particularly in the lead up to the 2008 financial crisis, but I think they are in a better position than before," says Gustavo Medeiros, deputy head of research at Ashmore. "I think by allowing global ratings agencies to analyse Chinese companies in greater detail levels the playing field and is an important step in the liberalisation of the bond markets."
Kwong Li, head of Asia-Pacific business management, Fitch Ratings says, "The bond market has grown significantly over the past 10 years but if you want the market to grow further you need a more diversified investor base. Foreign ratings agencies will bring in international practices, raise the standards of ratings and research, and give more confidence to investors."
As with any opportunities, investors should also be aware of the dangers lurking. "While positive pictures have been painted, and gaining access has become easier, there are three major risks in the Chinese bond market," says Liam Spillane, head of EMD at Aviva Investors. "These include geopolitical factors, such as the recent announcement from the main US federal government retirement fund that it will not invest in Chinese equities, which could shift to bonds and hurt liquidity."
He adds, "There are also the frictions prevalent in the relationship with the US which have the potential to broaden beyond trade, and the possibility of a policy mis-step, which could, for example, prompt the Chinese government to increase capital controls or allow the renminbi to depreciate materially, as was the case in 2015."
Credit: Investment grade credit markets in a pandemic
1

2

3

Currently reading

Credit: Interest grows in Chinese bonds

4