The pandemic has reinforced the view that ESG-compliant businesses are better able to cope with market shocks
KEY POINTS
The COVID-19 pandemic has strengthened the view that ESG makes sense from a financial standpoint
A growing number of emerging markets have issued green bonds in recent years
Asset managers are developing their own approaches to examining ESG
The slump in output suffered by many emerging economies might prompt some to focus on fossil fuel-intensive industries
Risk mitigation is widely regarded as a strong argument for focusing on ESG criteria when investing in emerging market (EM) debt.
A growing number of asset managers are reacting to pressure from institutional investors to include environmental, social and governance (ESG) criteria in their decision-making models. A perception has taken hold in the market that doing so makes sense not only from an ethical but also from a financial standpoint.
COVID-19 has only strengthened this view. "The pandemic has accelerated the scrutiny on issuers, in particular in the social angle, but also on the environment," says Charles de Quinsonas, deputy fund manager of M&G Investments' Emerging Markets Bond fund. "Issuers that were prepared from the social and governance standpoint have managed the pandemic better than others."
The ravages of the global pandemic have highlighted the benefits of ESG compliance for sovereign and corporate issuers alike.
Countries where governments are more accountable, such as Uruguay, or that have invested in efficient health systems, education and technology, such as South Korea, are widely seen as having fared relatively well. In contrast, those perceived to have poor governance, including Brazil and Mexico, seem to have done poorly. On the private side, companies in sectors that have for years been berated for poor labour standards, such as the meatpacking industry, have become hotspots for the spread of COVID-19.
The ability to better deal with the unexpected is exactly what makes issues committed to ESG standards a more attractive investment proposition, says Carl Shepherd, a portfolio manager at the Newton Investment Management fixed-income team.
"We believe that greater transparency in the management of a firm or government leads to fewer shocks," he says. "Shocks will be due to external influences, rather than bad practices."
According to investors, this realisation has also hit political and business leaders in emerging economies in recent years. Similarly, a growing number of issuers have understood that there is a growing pot of money that will be out of their reach if they do not play by ESG rules.
As a result, many are opting to issue bonds with strong certification criteria. Companies in Colombia, Indonesia, Brazil, Poland and especially China have increasingly tapped the markets with green bonds in the past few years.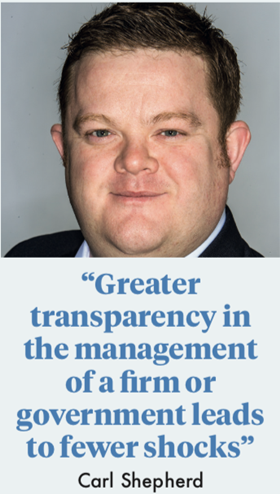 "We had 30% overbooking for our three bonds," says Gonzalo Pizzuto Aznar, finance coordinator at Vinte, a Mexican housing company that has issued sustainable bonds since 2018. "It was an opportunity to tap the markets in complicated times."
Emerging market governments have woken up to the potential of ESG bonds in these complicated times. Chile has a strong green bond programme since last year, while India, China, the Ivory Coast, Togo and Ecuador have recently placed sovereign social bonds. Guatemala issued a $1.2bn social bond in April that was more than six times oversubscribed, according to Standard & Poor's.
"Sovereign issuers are definitely waking up to the realisation that improvements in the ESG area can lead to improvements to financing conditions," says Robert Simpson, a senior investment manager with a focus on emerging markets at Pictet Asset Management.
According to the International Finance Corporation (IFC) issuance of green bonds in emerging markets increased by 21% in 2019, reaching $52bn. This year, social-bond issuance is expanding fast as governments and firms raise money to deal with the devastation of the COVID-19 crisis.
But ESG-certified bonds still represent only a small share of total issuances available to emerging-market investors. So to make good on their word to prioritise ESG standards when investing in EM debt, asset managers have developed their own structures to analyse the extent to which issuers match the sustainable profile they seek. Some have ESG-only funds where sustainable standards are a make-or-break factor when deciding on an investment.
"Meeting minimum standards on democracy, freedom of speech, or fight against corruption, for instance, is a requirement for a country to be included in our ESG-focused portfolios," says Kroum Sourov, a lead ESG analyst at Candriam. "A few countries do not meet our minimum filters on democracy and freedom. Turkey, Russia, China and Saudi Arabia are a few examples."
Others have integrated ESG criteria in the credit research process in all their fixed-income investments. At Neuberger Berman, 40% of the credit worthiness of a country that issues sovereign bonds is directly linked to ESG quality, says Rob Drijkoningen, co-head of the emerging markets debt team. At the corporate level, credit analysts at some firms can downgrade a company from what the financial levels indicate, according to ESG criteria. Alternatively, they can completely exclude the issuer if it is involved in activities that are regarded as unappealing.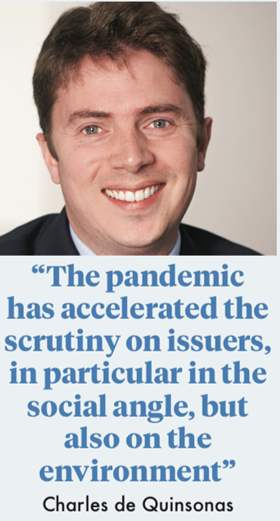 Nordea Asset Management, for example, recently excluded JBS, a Brazilian food producer, from its fixed-income portfolio because of ESG concerns. Last year the Nordic asset manager had already created waves by announcing that it was dropping Brazil from its list of investable sovereigns because of disagreements with the government's environment policies.
"It is a form of stewardship, of responsible ownership of the assets that we manage. But it is also a value-generation exercise," says Thede Rüst, the head of Nordea Asset Management's emerging markets debt team. "Certain types of emerging market that are potentially investable are not attractive because of their high ESG risk."
But fund managers such as Rüst also say that it is not enough to simply drop investments to influence the behaviour of issuers. Many have also tried to engage with sovereigns and corporates to try and make a difference, as well as to find out whether their ESG failures are too deeply rooted, or can be overcome if some effort is made, creating alpha in the process.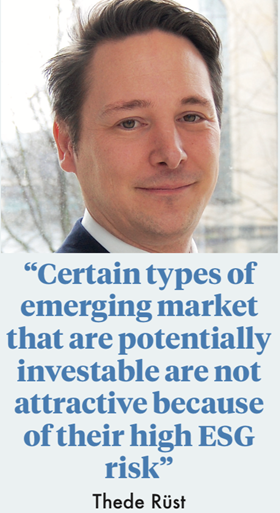 "We have engaged with a Russian mining company that had a very poor track record," Drijkoningen says. "We have been in touch with them for a number of years, and we have noticed that they have a very strong investment programme to reduce emissions of sulphur dioxide into the air. They have also improved labour conditions, which was another concern. By doing so, their ESG ratings went up."
Once again, the logic is as much financial as a responsible investment one. If issuers committed to ESG indeed provide better bonds, it is worth trying to spot them early.
"We want to invest in companies that are improving their ESG scores," says Lupin Rahman, a portfolio manager at PIMCO. "And we want to make sure that our portfolios are properly compensated for investing in countries with poor ESG scores. This is a similar approach to how we look at countries in the high-yield investment spectrum.
"There may be countries that have poor ESG scores right now but are implementing policies that allow us to identify a positive ESG directionality over the coming years," Simpson says. "We want to be able to move into those countries, as these policies will help their credit rating in the middle term."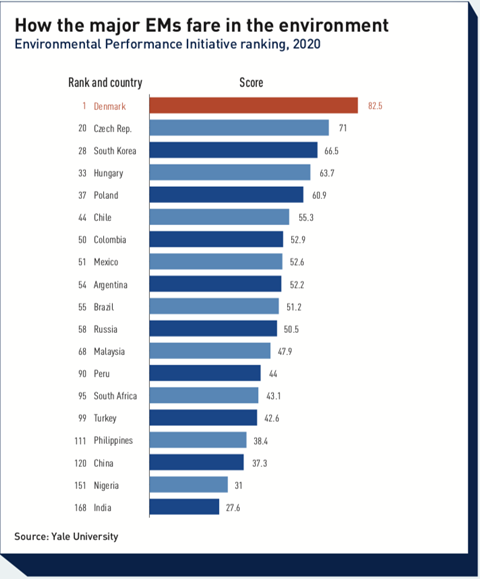 Preparedness to face disasters such as COVID-19 ranks high in this kind of analysis, and how emerging economies react to the pandemic may determine how committed they will be to ESG in the future. If logic prevails, sectors like health and education should become a new focus of investments. But Shepherd fears that many countries might not follow this line as those are sectors that only deliver tangible results in the long run.
Following the dramatic fall in output that most emerging markets suffered during the pandemic, he says, politicians in some may want to focus on fossil fuel-intensive industries, rather than in renewable energy, to give the economy a boost. However, there is also hope that in some countries the virus will make clearer the link between better access to funding, good governance and social resilience. The investment community can help governments to assimilate this lesson.
"It needs to be a joint effort in the industry, as a single investor will find it difficult to promote change," De Quinsonas says.
Emerging Market Debt: Downgrade deluge
1

2

Currently reading

Emerging Market Debt: Covid delivers a booster shot

3