Capital markets are fluctuating between optimism and pessimism
KEY POINTS
The COVID-19 pandemic has had a substantial impact on the credit markets
The pandemic has bolstered the need for corporates to raise liquidity through bond issuance
The initial lockdowns prompted a massive shift in demand towards the highest-quality credits
Rising interest rates and higher inflation are a possibility as the world recovers from the pandemic
The COVID-19 pandemic has clearly had a substantial impact on the credit markets. News on infection rates, lockdowns and vaccine developments have buffeted both corporations and investors in their debt.
Companies had been running down their liquidity positions in the years since the global financial crisis as they focused on maximising shareholder returns. With the pandemic hitting the global headlines in March 2020 came the realisation that economies would be shut down for two months or longer.
The requirement to raise liquidity immediately became paramount. "It really was a cash call on corporate America and, to be fair, globally as well," says Jason Shoup, global head of credit strategy at LGIM America.
Total investment-grade dollar issuance for 2020, estimates Adam Whiteley, a portfolio manager at Insight Investment, is likely to end up at about $1.8trn (€1.5trn). He sees that as decreasing dramatically in 2021 to more like $1trn. "But that would still be a fairly healthy pace by historical standards," he says.
Shoup sees 2021 as even possibly having a net negative issuance after accounting for redemptions, which would be a powerful tailwind for the markets.
What was surprising, perhaps, is that the huge amounts of unanticipated extra supply recorded in 2020 did not disrupt the marketplace. However, as Nick Hayes, head of fixed income asset allocation at AXA Investment Management, points out, the impact of quantitative easing (QE) and the resulting central bank buying of corporate debt has ensured that the demand for credit has been much greater than supply. "The fact that there has been a big pick-up in supply hasn't been bad but rather very good for credit markets," he says.
Investment-grade investors have had the confidence that the market is being backstopped by massive QE programmes from central banks. Demand has also come from investors in government bonds with many trillions showing negative yields.
Hayes says the initial lockdowns caused a massive shift in demand towards the highest-quality credits. The subsequent positive news flows have led to a bifurcation in the BBB-rated segment of the investment-grade universe. This has caused a massive dispersion between companies experiencing short-term low impacts, as opposed to those facing very high medium-term impacts.
But with the Covid-19 vaccine developments prompting much more optimistic scenarios for the global economy, the vast majority of the beaten up sectors will certainly recover, says Ryan Staszewski, senior portfolio manager at Columbia Threadneedle Investments. "That includes lots of airlines, airports and hotels," he says.
Investment-grade companies tend to be large enough to have the resources to withstand short-term shocks, in contrast to companies that issue in the high-yield market. But, as Staszewski warns, to the extent that, for whatever reason, vaccines do not prove to be as effective as hoped and lockdowns become a part of life for a protracted period, even some of these companies face longer-term challenges.
"France and Germany have been really supportive of their national champions, whether providing additional liquidity or subsidies to protect the big employers within their own countries" - Ryan Staszewski
Governments have reacted by trying to support key industries; one of the biggest beneficiaries has been the auto sector. Governments in countries such as France and Germany have been trying hard to provide direct support to their auto companies. "They have been really supportive of their national champions, whether that's providing additional liquidity or subsidies with a definite strong sense of support to protect the big employers within their own countries," says Staszewski.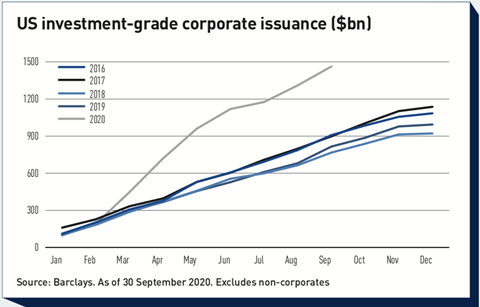 Central banks have also played a key role in the developed markets, with much quicker central bank policy response than was the case in 2008. Interest rates have been moving towards zero, together with an increase in purchases of corporate bonds, with the US Federal Reserve buying in the corporate bond market for the first time.
"The Fed stood out for quite some time, as it was really the only big central bank that wasn't extending QE to corporate bonds like the ECB [European Central Bank], the Bank of England and Bank of Japan. For the Fed, it is there as a backstop facility," says Whiteley at Insight Investment. "They don't want to be really interfering with credit risk premium; they want to ensure continued functioning of markets."
That appears to be the case when comparisons are made between Europe and the US. "We saw a very big disconnect open up in March" he says. "Dollar credits underperformed euro credits substantially but by the end of 2020 that had almost completely normalised and that was in no small part down to activity from central banks."
What that has meant, Whiteley adds, is that hard-currency emerging market corporate debt, which has not seen the same support from central banks, looks attractive versus developed markets.
"Asset-backed markets and high yield have lagged what's happened in developed markets investment grade, and that's because they've not had a direct support" - Adam Whiteley
That also holds true for other credit sectors that have not been supported by central banks. "Asset-backed markets and high yield have also very much lagged what's happened in developed markets investment grade, and that's because they've not had a direct support," he says.
The new issuance has also had another impact on the investment-grade market by reducing the relative size of the lowest-rated BBB credits. That, Shoup points out, is not because the companies deleveraged, but because some of the BBBs in the energy space fell to high yield and also due to the fact that many higher-quality A-rated and above corporates were significant issuers of new debt.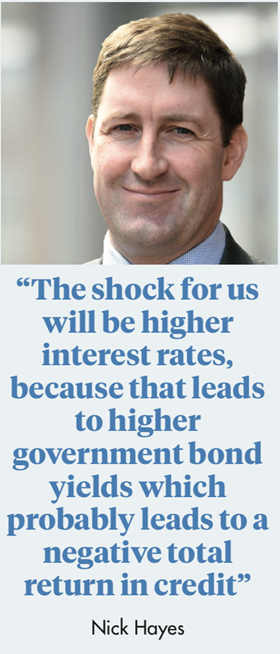 For regulated entities such as insurance companies which are forced to only have investment-grade credits in portfolios, transitioning between investment grade and high yield forces them to accept depressed prices to get rid of the new high-yield debt. Yet, says Shoup, much of the energy debt that ultimately was downgraded, traded at eye-wateringly low prices, only to then recover 30, 40 or 50 points in the next three to six months. That situation has been alleviated to some extent by the Fed committing to buying such 'fallen angel' debt.
As the world recovers from the pandemic, which the encouraging progress on vaccines suggests could happen this year, bond investors face the age-old worries of rising interest rates and rising inflation. As Hayes argues, the credit defaults priced into the marketplace in February and March 2020 will probably not materialise. The markets expect airlines and shopping centres to continue to have a tough time – these are known unknowns.
"What we always worry about are shocks and the shock for us will be higher interest rates, because that leads to higher government bond yields, which probably leads to a negative total return in credit," says Hayes. What will drive higher interest rates would be evidence of inflation increasing rapidly. That could happen if governments are so successful in vaccinating whole populations in six months, leading to a sharp v-shaped recovery. That, Hayes says, is not likely, nor is it priced in. But for most people it would still be the best scenario.
Investment Grade Credit: Markets gauging the new administration
1

2

Currently reading

Investment Grade Credit: Always a demand for quality