The popularity of crowdlending is rising, but will it challenge the mainstream?
Key Points

Swiss SMEs are seeking alternatives to bank lending
Local institutions are discovering crowdlending as a fixed-income alternative
Pension funds are cautious and constrained by regulation
Online lenders have never been stress-tested by a financial crisis
It used to be considered sacrosanct but now more openings are starting to show in what used to be almost a banking monopoly – the money-lending business. Even in Switzerland, renowned for the status of its banks, the financial crisis has generated cracks in the lending market that are starting to be filled by online (crowd)-lending platforms.
These products are a new development but they are growing rapidly, says Pascal Widmer, partner in Swiss capital venture company Alpana Ventures. He points to figures showing that there is CHF7bn (€5.7bn) in outstanding consumer loans and CHF300bn in SME loans in Switzerland. That is compared with a crowdlending market, which has grown to over CHF261m in 2018, according to a survey by the University of Lucerne, PwC and the stakeholder group the Swiss Marketplace Lending Association. The year before, the volume was just over CHF180m, and when this form of lending was offered in Switzerland in 2015 it was just CHF8.4m.
Widmer expects "an even higher growth for 2019 as borrowers and lenders become more familiar with the concept". He notes that in the US "fintech lenders now represent 38% of all unsecured personal loan balances", which means they have overtaken banks in this lender category. Widmer is convinced that, given time, the Swiss market could see a similar share.
One of the stakeholders facilitating this growth is the crowdlending platform lend.ch. It was set up four years ago with the help of investors including Alpana Ventures. Currently lend.ch issues loan volumes of about CHF3-5m per month.
Not only are its founders Florian Kübler, Michel Lalive d'Epinay and partner Stefan Jaecklin "convinced that crowdlending is a model for the future" of money lending. They also see the market as an investment opportunity for institutions once it has taken root.
"After around three and a half years, institutional investors started to take our track record seriously and we now have five institutional investors contributing to loans on our platform," says Jaecklin. But, at present, it is mainly family offices and smaller asset managers using this new investment opportunity.
For Swiss Pensionskassen it is, on the one hand, more difficult to invest in direct lending and, on the other hand, they have a higher precautionary threshold for including new asset classes in their portfolio.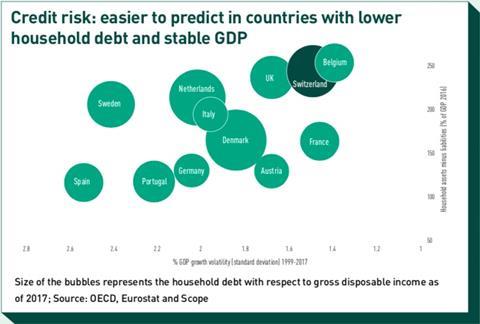 Under the investment regulations for the Swiss second pillar, the BVV2, pension funds can only invest in direct lending via fund structures or securitised vehicles. Exceptions would have to be explained to the financial regulator Finma and then get its approval. So far only a handful of Swiss Pensionskassen have made or are considering making an investment in a crowdlending fund.
It might take three things to push interest by these investors. First, regulation will probably not be changed significantly over the next years, but lend.ch would like to see a small amendment to classification. "It is no problem for Swiss Pensionskassen to add alternative investment funds," says Kübler. "But we do not want to be stuck in the alternatives quota in the portfolios. Instead, we would like all lending to be classified as fixed income."
Lend.ch is therefore structuring its investment vehicles to serve as a bond substitute. To help them see the problem from the point of view of pension funds, they have taken on board Markus Hübscher, managing director of the CHF18bn pension fund PKSBB for the national railway.
Second, it might just need a longer track record and a larger market for more institutional investors to come on board. The researchers at the University of Lucerne expect the CHF1bn threshold in annual crowdlending market volume to generate "a further growth spurt as this will trigger the interest of institutional investors even further".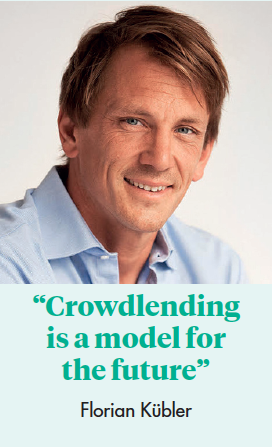 The third pre-condition for the generation of more institutional interest might, however, be that the new lending market still needs to prove itself. In a general analysis of credit risk for online lending platforms, the German rating agency Scope makes a valid point. "Online lenders have yet to experience a stressed economic environment," says analyst Antonio Casado. "Beyond that, the performance track record of online originators is short and typically coupled with low but rapidly-growing origination volumes." These might be cautionary hurdles holding back some pension funds for the moment.
Alpana Ventures' Widmer agrees. "Online lending platforms have never been stress tested in a financial crisis," he says. Widmer is concerned about platform providers that place growth before risk management. In Switzerland sandbox regulations apply to the new lending platforms. Rules are still in flux and are a bit lighter than for traditional financial institutions. The founders of lend.ch point out that Switzerland has already come "quite far" in modernising rules for new financial ventures. Other than, for example, in Germany or Austria it is not necessary to have a banking licence to open a loan business. "Alternative lending will become more and more important as the 'too-big-to-fail' debate and its repercussion on bank's capital restrictions will continue to put a strain on traditional financial institutions," says Kübler.
But there are also possible traps in the new market segments. "For some providers it might just be a game of volume," says Widmer. "Currently the economic cycle is positive for Switzerland but if things turn sour then the default rate could increase." He calls on investors to carefully check the methods and risk assessment applied by the platforms.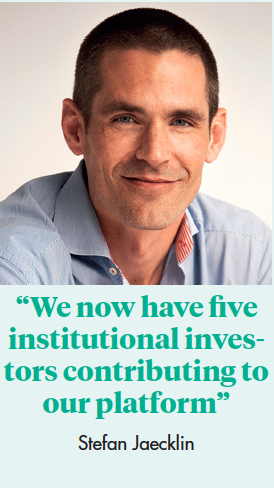 To ensure transparency in the market and also a certain level of standards for institutional investors lend.ch's founder Kübler has also co-initiated a stakeholder platform – the Swiss Marketplace Lending Association. Apart from co-operating with the University of Lucerne, it is also holding conferences and talking about regulatory as well as reporting standards necessary to facilitate institutional investment in the alternative-lending sector.
No stakeholder denies that non-bank lending is a good source of return for investors, judging by the higher coupons paid out compared with many bonds in Switzerland currently being issued with a zero coupon.
"For institutional investors, crowdlending is an opportunity to invest in a diversified CHF loan portfolio in an economy with solid fundamentals like Switzerland," says Widmer.
Casado also identified "countries with a record of stable economic growth and low levels of private debt" as areas where "credit risk is easier to predict" (see figure). That is especially when it comes to "portfolios with a short risk horizon and in early to mid-stages of the cycle"
In need of alternative investment platforms
"We are making good use of structural market inefficiencies" – this is how Stephan Jaecklin of lend.ch describes the business model of lending platforms. This not only benefits investors looking for higher yielding investments and more transparent, digital lending platforms. It also benefits local smaller businesses in need of loans.
"Particularly in the SME segment, many companies are not very attractive for banks due to capital requirements and low cross-sell," he says.
But he emphasises that online lending platforms also have standards for collateral and other thresholds. "Only around 15-20% of loans requested by individuals or SME are offered to our investors."
Noel Brunner, CEO and co-owner at Swiss KMU Partners, says it is not only that banks might not be interested in lending to certain smaller enterprises. "We see more and more entrepreneurs considering alternative sources for loans as they might not want to be dependent on a bank and need more flexible financing partners." He also confirms that the financial crisis in 2008 "has damaged some banks' reputation" in the eyes of Swiss consumers. Further, financing companies via fintechs is proving "to be more efficient and they are becoming a full-service partner for SMEs, handling everything from deposits to loans", Brunner says.
Brunner also sees "more and more interest from Pensionskassen" to invest in the alternative lending space. "But regulation is not quite there yet and pension funds are usually two or three years behind private investors in getting into new asset classes."
He sees crowdlending as an opportunity for local institutional investors to diversify their domestic loan portfolio.
And Widmer urges: "Invest locally, support the Swiss economy, cut the middleman fees and earn returns in CHF." Indeed transparency, local investments as well as different fee structures might be the most winning arguments for institutional investors.
Switzerland: Online lending
1

Currently reading

Switzerland: Online lending

2

3

4

5