The small size of the stock market hinders the deployment of factor investing in Switzerland
Key points
Interest in factor-based investing in Swiss equities is increasing moderately
Before trading costs and liquidity issues, momentum, value and market excess have sometimes produced significant positive results
After trading costs and liquidity issues, positive results are harder to achieve
However, recent factor products and strategies have outperformed the stock market
Switzerland's investment management community is filled to the brim with brilliant mathematicians, and there is nothing that brilliant mathematicians like more than a challenge.
If recent challenges have seemed too easy, they should, perhaps, consider how to successfully apply to Swiss equities the science of factor investing – choosing securities based on common characteristics associated with higher returns.
At first sight, the task does not seem too difficult. Research by Manuel Ammann and Michael Steiner at the University of St Gallen found a momentum premium averaging 10.33% a year for the Swiss market between 1990 and 2005, and a positive-value premium of 2.35%. Data generated by Prof Ammann since then, up to 2014, shows a strong positive momentum premium for certain periods, including 2010, and periodic persistent positive premia for the market excess factor – the market return in excess of the risk-free rate – in 2012 and 2013.
So far, so good – before analysts consider the complications.
Factor investing in Swiss equities "can be very effective", says Ammann. "However, I think one has to ask oneself how much of this theoretical effect that can be found in academic studies, using backtesting, actually accrues to the end investor."
One problem, he notes, is the high cost of implementing the momentum factor, which requires a particularly large amount of trading. Ammann's data does not include trading costs.
Another issue is the unreliability of different risk premia. Value worked well for a while but no longer does, according to Ammann's data; relying on the market excess premium in 2012 would have produced negative results in the high single digits. Investment managers can respond to this unreliability through a 'dynamic' approach of adjusting their weighting in different factors, but this presupposes the notion that they can second-guess the market by timing these adjustments reasonably accurately.
Switzerland also presents a peculiarity when it comes to factor investing – size, a mainstay of factor investing for global and large country strategies, does not work. "Size is not investable when you take into account the cost of transaction, which is a shame", says Xavier Marconnet, head of equity risk premia at Unigestion in Geneva.
The difficulty with investing based on size gets to the nub of a general problem with any kind of factor investing in Switzerland; the stock market is small. The Swiss Performance Index (SPI) encompasses 230 businesses. However, institutional investors and their advisers say many of the stocks are too small. Because of the size of their mandates, institutional investors would have to buy and sell huge chunks of each small company when adjusting their positions. This would bid up and force down the price to unacceptable levels.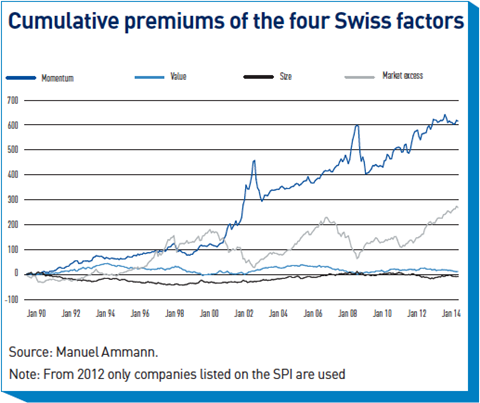 As if this problem were not enough, the Swiss market at the same time also suffers from a specific size problem at the other end. The SPI's three biggest stocks, Nestlé, Novartis and Roche, account for about half of its market capitalisation. As a result, most factor-based approaches will show a huge tracking error relative to the index. This is partly because most factor-based investing deliberately ignores tracking error, and partly because most factor-based strategies set a ceiling for any single stock.
In the case, for example, of Vescore, the quantitative investment boutique of Vontobel that launched a Swiss equities multi-factor strategy in 2015, this ceiling is 10%. As Daniel Seiler, head of Vescore in Zurich, puts it: "If Roche or Novartis explode in price because they make the discovery of the century, we will have a hard time." As a result, unconstrained factor investing involves "really large bets against Roche, Novartis and Nestlé", says Romano Gruber, investment consultant at PPCmetrics, the investment consultancy, in Zurich. He suggests that this may be a problem because "if you believe in efficient markets, there is probably a reason why these companies are so large".
Opinions vary over how many Swiss companies are truly investable by institutional investors. Seiler of Vescore puts it at only 50. Is this enough?
Seiler says 50 is sufficient, although he contends that if a market had as few as 30, "it gets really difficult". Vescore also always invests in all of these 50 stocks because multi-factor investing "is a cross-sectional phenomenon. If you reduce the universe even further you are going to lose this cross-sectional information." Having said this, some of its weightings are as small as 0.1%, which means that stocks performing poorly in Vescore's factor analysis make little difference to index performance.
Publica, Switzerland's largest institutional investor, which runs the assets of 20 pension plans, does not have money in a Swiss factor-based strategy. However, Frederik von Ameln, portfolio strategist at Publica in Bern, says that for factor investing to work in the Swiss market, the multi-factor approach is best. "For a factor strategy to perform, the metric from which it is derived should exhibit large dispersion across constituents," he says. "The bigger the universe, the more likely it is to observe larger dispersion." However, as the universe of Swiss equities is relatively small, "it is likely that the dispersion of the metric is relatively small. That introduces more noise into the strategy." Using multi-factor investing, "the idea is to diversify the noise away by combining different strategies".
Von Ameln says Publica periodically reviews its strategies, and might implement a Swiss factor-based strategy in the future.
And yet, despite all these issues, most observers note a moderate if unspectacular upturn in appetite over the past few years. Asked about interest among Swiss institutional investors, Thomas Breitenmoser, head of investment consulting and controlling at the consultancy Complementa in Zurich, says: "I would say it's stable to increasing. Some managers have shown evidence that they can do it, but there's not enough track record to get the trust of most participants." Seiler says that since Vescore started offering a multi-factor strategy for Swiss equities in 2015, assets under management have grown to CHF600m (€517m), and are still on the increase.
Unigestion does not yet manage factor-based funds for Swiss equities, but has recently participated in a beauty parade with a Swiss institutional investor to provide a Swiss factor strategy. "Value and momentum have been pretty strong performers in the Swiss market," says Marconnet.
This increase in interest can partly be explained by performance. Although observers note that at least one large Swiss asset manager has launched a product that performed badly and was abandoned, Vescore's product – a multi-factor offering in common with most of those mentioned by observers – has outperformed the Swiss Performance index by about 20% since 2015. A single-factor index based on minimum variance, run by Finreon, a Swiss financial research company, has returned 56% over the three years to 31 January 2018, double the 28% return for the SPI.
Seiler attributes Vescore's success partly to its dynamic model. At the moment he is keen on value. Swiss Re, a value stock, is the biggest single investment in the strategy, at 4.9%. However, Seiler is sceptical of expanding beyond the firm's current four factors – value, momentum, quality and minimum volatility. He argues against the use of "factors which are completely opaque" when investors are still getting used to the more familiar ones.