Wonen, the €3.2bn pension fund for the Dutch furnishing sector, in July confirmed plans to transfer its pensions administration from Syntrus Achmea Pensioenbeheer to TKP Pensioen.
With the decision subject to approval by its accountability body, Wonen stood to become the last of the Netherlands' 22 industry-wide pension funds to leave Syntrus Achmea since the administrator announced in November that its IT system could not cope with large sector schemes.
Pieter Verhoog, chairman of Wonen, explained that his pension fund had opted for TKP because of its competitive offer, as well as the fact it already serviced the €19.4bn sector scheme for the retail sector (Detailhandel).
"TKP has ample experience with many participants coming and going," he said. Verhoog also praised TKP's pension planner service.
Wonen's chairman also said that long-running discussions between employers and unions to merge pensions and collective labour agreements for the furnishing and retail sectors had also played a role in choosing TKP.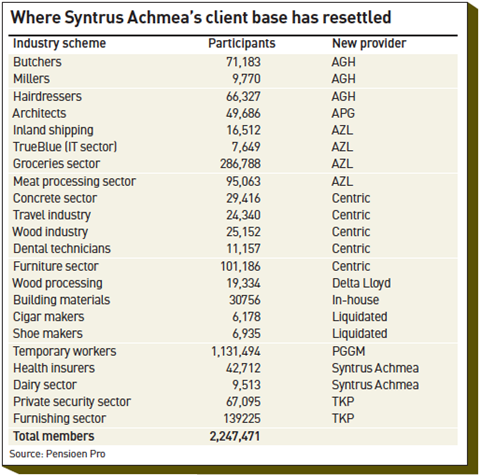 Wonen is the second industry-wide scheme to choose TKP Pensioen for administration. The €1.4bn pension fund for private security (Particuliere Beveiliging) took the same step in October.
Of the 22 schemes affected, 20 transferred away from Syntrus Achmea, including two that were liquidated. Only Zorgverzekeraars and Zuivel, the sector funds for health insurers and the dairy industry, have remained with the provider.
Centric, a new entrant to administration provision, was the biggest winner, taking on five clients with more than 190,000 members between them (see table).
Over 2.2m people were affected by the administration changes.