Pension reforms have reached a second stage as President Macron seeks to push through radical changes
Key points
A report on pension reform this summer proposed unpopular changes
President Macron is determined to introduce radical reform
A nationwide consultation is planned for 2020
Most people agree with the need for system harmonisation
For foreign observers, the political psychodrama triggered by President Macron's pension reform might recall Brexit, if only in the terms of its length (the pension reform talks will have lasted years), and its surprises. Although a key consultation has lasted more than 18 months, when the high commissioner for pensions Jean-Paul Delevoye submitted his report this July, Macron immediately disrupted the project.
While the president was intended only to address the recent G7 summit in a television interview in August, he ignited a debate around pension reform and its implementation.
Although the Delevoye report called for a new universal system around a pivotal age of 64, Macron said he would "prefer to reach an agreement on the length of contribution rather than age" for full pension rights, and that "nothing is decided". This was a political step to prevent unrest triggered around his pension systemic reform.
Trade unions and professional organisations were preparing demonstrations against the reform. Yet Macron needs to avoid a second round of 'gillet jaunes' protests.
Three days after his announcement, Macron's government made another pronouncement: "This is not about burying the idea of the pivotal age," said Sibeth Ndiaye, a spokesperson for the government.
The new school year then started in September with a bombshell when Delevoye, whose principles Macron had contradicted just eight days earlier, joined the government.
"We had to avoid crystallisation", says François Patriat, president of the majority group at the French Senate. "It would be dangerous to let the municipal elections become a referendum for or against the pension reform, as this reform is the essential subject on which opposition is waiting for us".
Delevoye's appointment was just one step in the staging of this second phase of debate on the reform. In September, a troika comprising Delevoye, Édouard Philippe, the prime minister and Agnes Buzyn, the health minister, reopened hearings with union leaders – more to tell them about the second stage of public consultation than to listen to their opinion.
At the same time, the government announced that pension reform would need a nationwide consultation. Delvoye is expected to report next year, although probably not until September.
A high-risk systemic reform
Macron's reforms are under close scrutiny by his opponents, eager for the spring 2020 municipal elections. The stakes are huge, as the reform will impact every citizen and will mark the second half of Macron's five-year term.
According to one recent survey by the poll agency Ifop, only a third trust the government to reform pensions, albeit with respondents split along party lines, even though most people see the current system as unjust.
Overall, 36% believe extending the contribution period is necessary while 16% would opt for an increase in contribution rates and 7% for a decline in pensions.
Despite this, two-thirds are in favour of harmonising the various schemes "in the name of equality between contributors".
On this point, the reforms engender consensus as they create a universal regime while retaining different retirement rights in order to take account of specifics.
Reform guidelines
Delevoye's initial report on pension reform indeed aims to build a universal pension regime. It is an ambitious project that will require many changes, as well as a transition period.
Delevoye sees his reforms in light of the Roosevelt New Deal of the mid-1930s and the UK's 1942 Beveridge Report and stoutly defends harmonisation.
The presentation of the systemic reform is articulated around nine points in the Delevoye report, which correspond with key challenges and points of negotiation. Here are some hints at the changes Delevoye recommends in his report.
● A universal pay-as-you-go system in points: at present, pension rights are calculated with different rules and forms between the regimes. Delevoye aims to shift to a regime where pension rights are calculated on a fairer basis. Each employment would generate retirement points, with a guarantee of rights acquired in the old system.
● Equal rights for contributions: it is currently difficult to assess the yield of pension contributions between the 42 compulsory pension regimes because of their different rules. Delevoye plans to converge rules so that private and public sector employees enjoy identical contributions with identical rights.
● Indicative retirement age and rules to promote work: the reforms would introduce incentives to work longer, while allowing earlier retirement with a reduction of benefits. Rules will be amended so that people working in retirement will acquire additional pension rights.
Since 2017, the minimum retirement age has been 62. Since 2014, people born since 1973 have been required to contrtibute for 43 years to get a full pension. However, the reportindicates that with a working life now starting on average at 22, this generation will have to reach 65 to get its full rate pension.
A proposed "pivotal" retirement age of 64, with penalties for early pensions, has annoyed some trade unions
● Recognition of hardship: the proposed universal pension regime would set common rules for retirement for hardship occupations. Early retirement would be retained for police officers and fire fighters, albeit with advantageous early retirement plans without life expectancy legitimacy phased out.
● Family care: additional pension rights would be allocated from the first child, with a rate of 5% pension bonus per child, with no cap. Reversionary pensions rules will be harmonised so widows receive the same rights and share from their former spouse's pension. Also, some pension rights would be allocated to benevolent caregivers helping older parents or family members.
● Better information and planning: the simplicity of the universal regime is expected to help people better plan for retirement, with an enhanced information service.
● New governance and sustainability principles: the future universal pension regime would be overseen by an inclusive governance framework involving experts and citizens.
● Unified organisation and integrated funding: pension professionals fear the state could simply 'nationalise' many financial elements of the actual French pension regimes. Delevoyre recommends the creation of a "universal reserve fund to ensure sustainability of the universal pension system", which sounds like a public take-over threat on existing decentralised regimes' reserves, like AGIRC-ARRCO, CARMF or CAVP.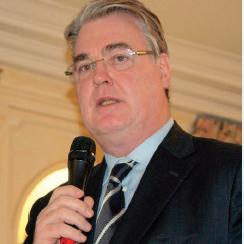 ● A more redistributive pension system respecting EU budget rules: the future universal system is intended to be subject to fiscal constraints, including EU budget rules, putting a ceiling on compulsory pension contributions. But, according to the most recent projections of the Retirement Orientation Council (COR), released in June, retirement regimes anticipate a deficit of around €10bn by 2022. So to be able to start with a clean sheet when the new system gets going the French government may have to enact additional measures before the pension reform law itself.
France: PACTE changes the landscape
1

2

3

4

Currently reading

System reform: A hot political plot