Norway's central bank announced on Thursday that the employment contract to put hedge fund billionaire Nicolai Tangen at the head of its operation to run the country's NOK10.4tn (€960bn) sovereign wealth fund had been signed.
Norges Bank, whose investment arm Norges Bank Investment Management (NBIM) manages the Government Pension Fund Global (GPFG), also revealed details of a labyrinthine plan to distance Tangen from his vast financial interests during and after his employment at the fund.
In a statement from the bank on the contract's signing, Tangen said: "I am more than ever looking forward to embarking on the task of managing the funds of current and future generations of Norwegians.
"It is with great awe and humbleness that I take up this position in September," he said.
Tangen's unveiling as successor to NBIM's outgoing chief executive officer Yngve Slyngstad on 26 March unleashed a public outcry in Norway over the opacity of the recruitment process, potential conflicts of interests in his new role, his use of tax havens and the fact that Slyngstad and other public officials had accepted hospitality and private flights from him.
But Oystein Olsen, Norges Bank executive board chair and the central bank's governor, told today's press conference in Oslo that he was sure the furore would die down.
"We read the newspapers and I am of course aware of all the focus around – let's call it – negative reputation, and we don't like that. Yes, it's a worry," he said in reply to a question.
"On the other hand we are very optimistic about the future having Nicolai Tangen on board," Olsen said.
The process had been difficult for the bank and for him personally, Olsen said, but he said the executive board had been united in its determination to see Tangen installed as the oil fund's next leader.
"When you do the right thing, when you do a good job going forward, this storm will sort of fade away, I'm confident about this also," he said.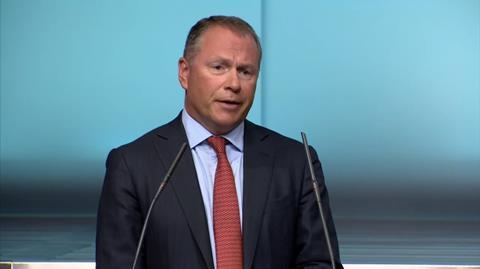 He said Tangen was a man with good leadership skills and unique experience from international capital markets, and would "take a competent organisation to new levels in the years to come".
The employment contract created sufficient distance, he said, between Tangen's private finances, the AKO system around his London-based investment management firm AKO Capital and the job he would carry out as NBIM CEO.
"Mechanisms are established which ensure that Tangen will have no influence on his fund investments for as long as he is employed by Norges Bank, and which prevent possible conflicts of interest and partiality," he said.
The plan described at the press conference and in the many documents released by Norges Bank involves the creation of "information barriers" between Tangen and his wealth, with independent lawyers being appointed to make decisions on his behalf.
The main points are that:
Tangen's voting rights in AKO Capital are being cut to 43%, with a trustee appointed exercise those rights;
Dividends from AKO will be donated to the arts-focussed AKO Foundation;
Tangen will leave all directorships in AKO companies, and AKO boards will change so they do not have a majority of members with close ties to Tangen;
Gabler Investments will manage his personal wealth in the AKO funds under a discretionary mandate, and a proxy will handle all dialogue with Gabler.
For six months after he stops being CEO of NBIM, Tangen cannot provide services to or take up directorships in the AKO system.
Asked at the press conference why Norges Bank had not insisted Tangen simply sell his entire stake in AKO Capital before taking up the NBIM top job, Olsen said that this had never been part of the deal.
"It's been clear from the start that he should continue to be a passive owner, and it's also clear that there has been no demand from us to move his business to Norway," the central bank chief said.
Looking for IPE's latest magazine? Read the digital edition here.