The EU is not achieving its true potential on the global technology stage because it is still not operating as a fully fledged single market
Key points
The failure to complete the EU single market in services hinders innovation
Progress towards Capital Markets Union is slow but with some achievements
The EU Competition Directorate's crackdown on US tech monopolies could boost EU tech innovation
Laurent Clavel, head of research at AXA Investment Managers, is puzzled by a conundrum. On the one hand, a survey of the top 1% of scientific papers in the world, judged by the number of citations, puts EU institutions in first place, with the US second.
On the other hand, the US leads the world in the number of unicorns – tech companies with a market value exceeding $1bn (€900m). It has more than 100, with about 60 in China, and less than half that in the EU. Clavel's assessment: "We're managing to lead in brainpower and science but we're failing to translate that into leadership in entrepreneurship."
Experts blame this on the EU's fragmentation. In contrast to the US and China, the EU consists of 28 independent countries (set to become 27 soon). The fragments are supposed to be melded by the single market, which based economic growth by enabling talented people to move across the EU, to join innovative companies funded by capital from across the EU, to sell goods and services across the EU.
However, in practice the single market is not working fully, says Reinhilde Veugelers, professor in the department of management, strategy and innovation at the Catholic University of Leuven, and senior fellow at Bruegel, an economic think-tank. "Innovation, and adoption of the latest technology, particularly digital technologies, is really hampered by the lack of capacity to recover these investments in innovation," she says. "That comes from the lack of a strong enough single market."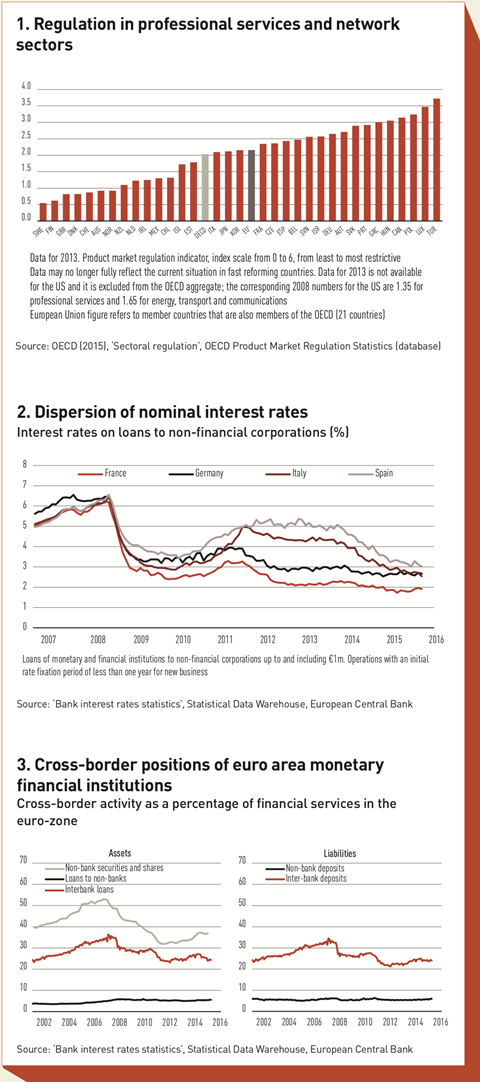 Fintech illustrates failings
Experts point to fintech to illustrate how the single market for services has not yet arrived. A fintech business may have an idea that could transform retail banking, but it still needs to go through the process of getting 27 banking licences. However, if it stays in its home country, the total returns on its innovation will be lower because its potential customer base will be reduced. By comparison, the single market in products is more developed.
Alvaro Pina, head of the EU desk in the OECD's economics department, notes that barriers to labour mobility also impinge on services, although this is not the whole story. He says that many services businesses find it difficult to operate across borders because of a lack of recognition of qualifications, and different national regulations. "This happens for a lot of professions, including accountancy, engineering and architecture, but is perhaps most evident in the legal profession," Pina says (see figure 1).
Many experts have focused on the single market in finance. One strand of the project to create a single market in financial services is the European Commission's drive for Capital Markets Union (CMU) which would remove the barriers that prevent capital moving between countries. Some people also include within CMU the concept of reducing national differences in the cost of capital.
In the ideal world, innovative companies, which accelerate countries' economic growth by boosting productivity, would have equal access to finance wherever they were in the EU27, and at similar cost. In practice, however, this is not the case (see figure 2). "Take two companies that have the same credit rating, are in the same industry, and so on, one in the north of Italy and the other in the south of Germany, so they are not very far apart," says Martin Moryson, chief European economist at DWS. "Why does the Italian company pay much more interest? Obviously there is something wrong with the Capital Markets Union, because if it was fully fledged, the difference in interest rates paid by German and Italian companies would be narrower."
EU's digital economy needs protective wall to thrive
The EU's Competition directorate-general has levied billions of euros in fines on Google since 2017 for abusing its dominant market position, as part of a general war on alleged monopolistic behaviour by US tech giants.
In response, Google is changing its ways when it comes to European users. For example, in March 2019 it decided to pre-empt further battles with the Commission by giving higher priority on its search engine to rival websites.
A question is whether the Commission's more challenging attitude to US tech giants will make it easier for EU rivals to grow and, in growing, to boost the EU economy.
Experts generally see the Commission's attitude as helpful but not transformative on its own. "This is the kind of thing that the EU has to do much more, because there are natural monopolies in the digital economy," says Moryson of DWS.
Clavel of Axa IM is sceptical of a direct impact on total factor productivity – productivity generated by innovation rather than capital or labour – in the short run, which he defines as the next year or two. On the other hand, "If you leave the US tech firms unchallenged, you have no chance to see even niche pockets of alternative innovation in Europe. We do need to build a wall for very small companies to get their ideas out."
EU member states have looked at addressing this through 'public risk-sharing', where member states support each others' sovereign debt. If spreads on Italian government bonds were similar to German Bunds, the differential in bank lending rates, which are implicitly set with reference to local sovereign debt, would be lower.
Clavel of AXA IM notes that quantitative easing (QE) was a big step forward for public risk-sharing in the euro-zone. It reduced national differentials in lending rates, although without eliminating them. However, Clavel says other forms of public risk-sharing have stalled. He blames this on Germany and its belief that risk-sharing is one-way. "If you're going to do public risk-sharing today, it's very likely that you would see a transfer towards Italy and southern Europe more generally," he says. "It's not difficult to see how that trend would reverse."
Another solution is a pan-EU insurance scheme for bank deposits. If savers were less worried about getting their money back if a bank collapsed, they would be less likely to shun banks and starve them of capital in countries, such as Italy, where they are less well-capitalised. However, Pina notes a lack of consensus among member states.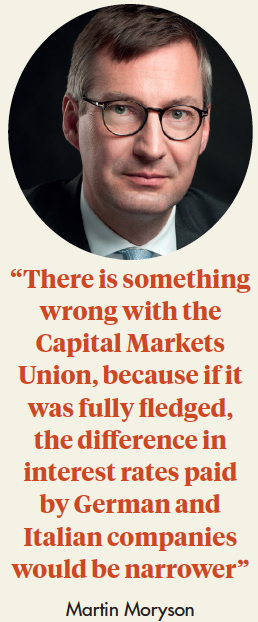 Another area of CMU is rules for insolvency proceedings and debt enforcement. The ability of creditors to recover their money varies across the EU27; it is much easier in Ireland but harder in Italy, for example.
The sheer fact that regimes are different is also "a very strong barrier", says Nicolas Nedelec, managing director at Idinvest Partners. "We will always be more reluctant to invest in a country that we know less well." He adds: "If you want to invest in another country you need to invest in resources, and good resources don't come cheap." He points to the cost of lawyers.
But despite these problems, many observers are positive about the CMU. Nedelec notes "progress" towards more creditor-friendly processes for insolvencies and restructurings. These include the emergence in France and Germany of structures similar to "schemes of arrangement" – court-approved agreements between companies and their creditors or shareholders, which make restructuring easier.
Asked if he is optimistic that there will be progress on CMU over the next two or three years, Moryson replies: "Yes, but progress in Europe is always very slow."
Europe Outlook: Behind the gloom
1

2

3

4

Currently reading

Technology: Disparities impede EU progress