The telecom pension fund has increased diversification significantly, considering alternatives and ESG
White, blue, green and yellow: the Italian pension fund Telemaco has chosen colours to name the four investment options offered to its 58,000 members, who are employees of the telecom industry.
Telemaco has total assets of €1.8bn. The most popular choice among members is the green option with €1.2bn of assets. A quarter is invested in equities, with the remainder in bonds. It is the default option for members who join the fund on a voluntary basis but do not choose an investment option.
The default choice for contributions by those who are automatically enrolled into the fund is white. This has €80m in AUM, invested almost entirely in bonds by the insurance company UnipolSai on behalf of Telemaco.
"We are currently revising the asset allocation for all the investment options, except the white one, whose design is ruled by law," says Marco Melegari, the 62-year-old the director in charge of Telemaco since March 2009.
Melegari, an economics graduate from the University of Rome, has spent his entire career in finance, first with the Italian telecom group TIM, then as chief financial officer of other companies such as Stream, now Sky. He manages Telemaco's investment department together with one co-worker, and with the help of an external adviser, Prometeia. The pension fund, which is based in Rome, was established by a legal agreement by the telecom industry trade unions and employers, whose representatives have equal weight in the 12-member board of Telemaco.
"The current asset allocation was implemented in May 2016," says Melegari. "One change we introduced two years ago was an increase in diversification in our portfolios: in the area of government bonds, besides euro bonds we allowed US Treasury bonds and bonds issued by emerging countries in dollars. We included US bonds and high-yield for corporate bonds and we added emerging markets to equities."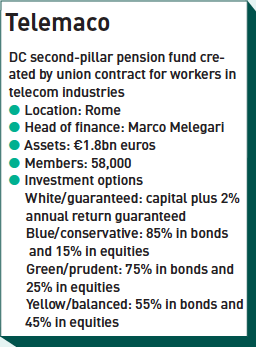 "Our approach is to use the same external managers for all the three compartments of our pension fund," he says. "Another change we decided two years ago was adding a total return a risk overlay mandate. The total return strategy is managed by Credit Suisse and has a target of 1.5 percentage points above annual return over the euro inflation rate for the blue and green options, while the target for the yellow option is 2.5 percentage points above inflation. The risk overlay mandate is a hedging strategy against extreme risks.
This is managed by Epsilon SGR for both the green and yellow compartments."
The yellow fund recorded a 6% net return in 2017, slightly outperforming its benchmark. The annual compounded return was 4.3% versus the benchmark's 4.7% from 2008 to 2017, however.
The green fund netted 3.5% in 2017, in line with its benchmark, and recorded an annual compounded return of 4.1% between 2008 and 2017, versus the benchmark's 4.4% return. The blue option had a 2.4% net return in 2017, higher than its benchmark (2.2%), and an annual compounded return of 4%, which was in line with its benchmark, from 2008 to 2017.
"Now we are discussing whether to make direct investments in alternatives such as private debt or private equity, as it's allowed by the law," says Melegari. "We are also evaluating whether to introduce ESG criteria in our portfolios and how to do it."
A more general problem is the impact that the long recession has had on the labour market and the pension fund itself. Only 40% of employees who are eligible have joined Telemaco. "In our industry a lot of young people, who for example work in call centres, earn low salaries and don't have a guaranteed long-term contract," Melegari says. "So they don't think of their retirement savings. We send our advisers to workplaces to explain why joining Telemaco is a bargain, but there is a lot of resistance."
In fact, if an employee contributes the minimum 1% of her salary to the pension fund the employer must contribute 1.2%. "It's an immediate 120% return," says Melegari.
"Unfortunately we don't have enough resources to spread more information and do more financial education, besides what we publish on our website and the meetings that we are able to organise in the workplaces," he says.
Italy's public pensions: Unfinished business?
1

2

3

4

5

6

Currently reading

Telemaco: A colourful approach