Expected dollar weakness could strengthen the case for emerging markets in the short and long term
Key points
The impact of dollar movements on emerging markets is mixed
The immediate outlook suggests a decline
The long term sees convergence between emerging and developed markets
The trade-weighted dollar fell in 2017, but it is still high by historical standards. But what impact could the dollar have on emerging market (EM) returns for investors?
Global emerging market equities have historically had a mixed relationship with the dollar, which makes the future uncertain. The Federal Reserve is hiking rates, and US tax reforms have passed, both of which are good for the dollar. Nonetheless, the currency has started to slide since late December 2017 and is likely to continue to do so. Where does this leave emerging markets and commodity exporters? In a pretty good place, argues Hartwig Kos, co-head of multi-asset at Syz Asset Management. He says the weakness in the dollar helps commodity prices, as these are dollar-denominated. It also pushes liquidity into financial markets, in particular emerging markets. Relative valuations among fixed-income markets are tilted in favour of EMs.
For bottom-up equity managers such as Eastspring, currency issues are tackled at the stock level and built into valuation targets, explains Sam Bentley, a client portfolio manager. Domestically focused companies are less exposed to the dollar than exporters. A company with high levels of dollar-denominated debt but little dollar earnings will be exposed to a strengthening dollar; conversely, it could be a beneficiary if the dollar drops as debt costs would fall.
Historically, emerging equity markets have struggled during periods of dollar strength, so investors can be wary, according to Edward Evans, portfolio manager at Ashmore. Currently, Turkey is most vulnerable to a strong dollar. Its current account deficit is 5% of GDP and financed by short-term trade flows, Evans says: "If global liquidity dries up, this would cause a big headache for Turkey. The current political environment is not helpful either." Argentina also faces a risk from global liquidity as its current-account deficit is around 4% of GDP.
Jan Dehn, the head of research at Ashmore Investment Management, argues that the path of the dollar has followed the contours of Africa's highest mountain, Kilimanjaro, with three phases.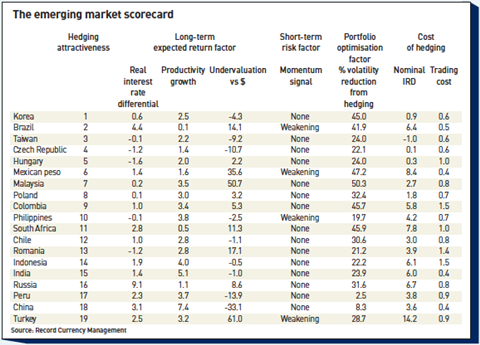 In the first from 2010 to 2015, the dollar appreciated as quantitative easing supported a bullish view of the US recovery, driving down developed market bond yields, distorting global capital markets and inducing portfolio shifts away from emerging markets.
Phase two saw a plateauing of the dollar in 2016. This was caused by a US real exchange rate overvaluation which gave benefits to EM debt investors given the higher yields available.
Phase three is a sustained period of dollar weakness: "Everyone has been buying dollars for the past seven years, so there are no buyers left," as Dehn puts it. He sees dollar weakness in most scenarios – if the US were to enter a recession, rates and growth would be lower, so dollar speculators would lose and the currency would decline. If there were strong growth and inflationary pressure, yields at the long end would have to reprice, leading to a housing market collapse. And if the Fed did not raise rates sufficiently the dollar would still fall.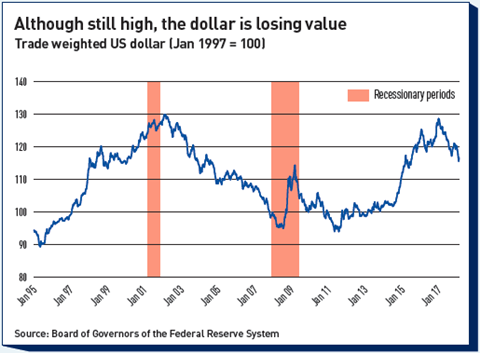 EM investors are believers in long-term convergence between the emerging and developed economies. That, argues James Wood-Collins, CEO of Record Currency Management, will generate returns for holders of emerging market currencies, either through appreciation or interest rates. Developed markets are moving at a similar pace, albeit with different economic cycles.
Emerging markets, though, are playing catch-up, which creates different long term behaviour: "In the long run, as a sterling or euro investor, you don't expect to make money by holding dollars or yen, but you do expect to get additional volatility going through currency cycles. Managing that unrewarded risk through hedging programs is a big part of what we discuss with clients," says Wood-Collins.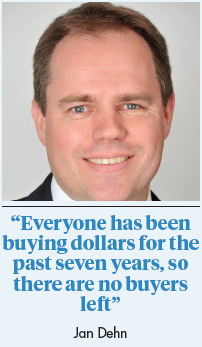 That contrasts with emerging markets, where the convergence process should allow developed market investors to earn a return through currency exposure. Emerging currency risk is rewarded risk, Wood-Collins contends, giving rise to two consequences. First, interest in hedging EM risk is more tactical than strategic, and few of Record's clients have asked to hedge EM currency risks as they expect to make money by taking this currency exposure. Second, there is a case to invest in portfolios that are long EM currencies and short developed market currencies wholly separate from other EM assets.
Record's emerging market currency fund had 12 currencies a decade ago and has gradually increased it to over 20. One of the firm's critical filters for emerging market currencies is confidence that the country is on a convergence path, which is true of most of the EM universe. A driving force is productivity measured on per-capita GDP, which should lead to price-level convergence. That can create domestic inflation, which would be detrimental without an adequate monetary policy and interest rate response. A second filter is therefore monetary discipline to avoid returns being inflated away. A third filter is capital market liquidity and tradability.
"Given the frothiness in global high yield, one could even see emerging market debt as a relative safe haven," concludes Kos. For emerging market investors, dollar weakness looks both a short-term tactical play and a long-term structural one.
Emerging Markets: Ballots ahead
1

2

3

4

5

Currently reading

The Dollar: A safe haven emerges