A progress report on EU regulatory measures
ESMA and ESA reform: supervision shake up
The European Commission presented a proposal to review the three European Supervisory Authorities (ESAs), including insurance and pensions watchdog EIOPA, in September 2017. The plan would make the Paris-based European
Securities and Markets Authority (ESMA) the direct supervisor over certain sectors of capital markets across the EU. For instance, ESMA would authorise and supervise the EU's critical benchmarks and endorse non-EU benchmarks for internal market use. These are the indices, or indicators, used to price financial instruments and financial contracts or to measure the performance of an investment fund. The Commission says this will improve the reliability and harmonisation of benchmark supervision.
In a bid to streamline procedures for companies to access the EU's capital markets and attract investment. ESMA will now be in charge of approving certain EU prospectuses and all non-EU prospectuses drawn up under EU regulations. Prospectuses are documents that contain the information an investor needs before making a decision on whether to invest.
Under the proposal, ESMA will also authorise and supervise investment funds with an EU label with the aim of creating a genuine single market for venture capital, social entrepreneurship and long-term investment funds.
In addition, ESMA will have a greater role in coordinating market abuse investigations. It will have the right to act where orders, transactions or behaviours raise suspicion and have cross-border implications for the integrity of financial markets or stability of the EU.
This year should also see a follow-up to the Commission's October 2017 request to the ESAs to report on the cost and performance of the main categories of retail investment, insurance and pension products.
Fintech: easing cross-border tech
A fintech action plan is expected this spring, with the aim to make it easier for EU companies to operate across borders. During the same period, the focus will also be on topics such as crowd funding and peer-to-peer finance; covered bonds (a proposal for an enabling framework); a legislative initiative on reducing barriers to cross-border distribution of alternative investment funds and UCITs, by legislative proposals on fiduciary matters; and a legislative initiative on reducing barriers to cross-border distribution of alternative investment funds.
Legislation passed last year includes securitisation; the reviews of the prospectus directive, the European Venture Capital Fund Regulation, and the European Social Entrepreneurship Funds Regulation.
MiFID II and MiFIR: pronounced impact
MiFID II and MiFIR became legally applicable from 3 January, having been initiated by the Commission in June 2014 when the revisions to the existing Markets in Financial Instruments Directive were published, along with a regulation (MiFIR).
The aim is to reinforce the rules on securities markets by ensuring that organised trading takes place on regulated platforms to introduce rules on algorithmic and high-frequency trading and to improve the transparency and oversight of financial markets – including derivatives markets.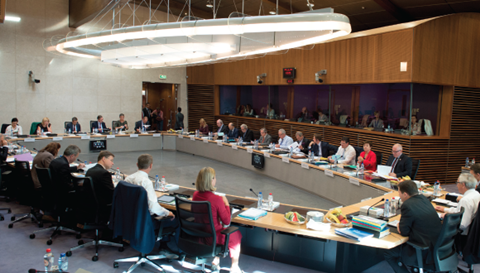 Other objectives include addressing shortcomings in commodity derivatives markets; enhancing investor protection; and improving the conduct of business rules, as well as conditions for competition, in the trading and clearing of financial instruments. MiFID II also aims to strengthen investor protection by imposing requirements on organisations and regarding the conduct of actors in these markets.
MiFIR sets out requirements on: disclosure of data on trading activity to the public; disclosure of transaction data to regulators and supervisors; mandatory trading of derivatives on organised venues; removal of barriers between trading venues and providers of clearing services to ensure more competition; and, specific supervisory actions regarding financial instruments and positions in derivatives.
Karel Lannoo, CEO of the Brussels think tank Centre for European Policy Studies, notes that across all securities markets, the impact will be most pronounced in the portfolio management business.
He points out that the requirements to unbundle payment for investment research from execution services at the firm level, and sales from investment advice at the retail level, is requiring asset managers to rethink their business models.
Multilateral Investment Court: a new system for disputes
In discussion is the development of a new court system to settle investment disputes. It would work on similar lines to an existing system set up by the World Trade Organisation. The Commission has stated that the objective is to have a system that would achieve the amicable resolution of disputes between investors and public authorities.
The Multilateral Investment Court project involves the governments of a number of countries, so the court could be years away. In the meantime, and in the wake of Brexit, various countries, including Belgium, have announced that they are considering setting up their own English language equivalents.
PEPP: default options
The EU's programme for Pan-European Personal Pensions (PEPP) is awaiting approval by the European Parliament, which is expected in June. In a recent working paper, Parliament's rapporteur, Sophia in 't Veld, noted a need for a clear definition of the PEPP to meet taxation relief measures.
In the meantime, discussions have been centring on the default investment options, which, as stated by Finance Watch – the public interest lobby group – should offer a basic option suitable for any saver.
Different views on guaranteed pension payouts and on de-risking in the years before retirement have been aired. There are also calls for providers to be subject to appropriate prudential safeguards, to ensure a level playing field and the financial security of PEPP products.
In an exchange of views in Parliament's Committee on Economic and Monetary Affairs (ECON), the Commission's opinion was that partnerships between providers could help meet the requirement to set up national compartments to facilitate cross-border portability.
Finance Watch notes that partnering to provide national compartments must be tightly regulated to ensure all compartments offer the same prudential standard the saver was sold when they initially took out a contract.
PEPP is no panacaea according to Paul Fox, research and advocacy officer at Finance Watch. While it may be suitable for some, it is not going to solve the problems of public retirement systems due to demographic shifts, marked by a smaller, rapidly ageing population, slow economic growth, and increasing inequality of income and wealth.
Parliament's ECON committee is expected to vote on its report before the summer recess with a view to brokering an agreement between the Commission, Parliament and Council by the end of the year.
Sustainable finance: the EC's high level mission
The European Commission is due to unveil its sustainable finance action plan, and has said that legislative proposals will follow. These could require action from institutional investors.
The Commission has made it clear that any measures will be based on recommendations made by the High Level Expert Group (HLEG) on sustainable finance, the advisory body it appointed in late 2016.
The Commission already started working on some of the group's recommendations before they were finalised for the HLEG's concluding report, which was published in late January.
For instance, in September the Commission presented reform proposals for the ESAs, which included the suggestion that ESG risks be incorporated into their work. In November 2017, it launched a public consultation on institutional investor and asset manager duties regarding sustainability.
The HLEG has recommended that these duties be "clarified", and that this could be done via an EU omnibus directive. These directives are single pieces of legislation that provides for changes to a variety of existing statutes.
The Commission's consultation on investor duties ended in January. Speaking earlier, Valdis Dombrovskis, commissioner for financial services, said it would propose "to integrate sustainability factors into investment mandates", which would "clarify their legal obligation to factor sustainability risks into capital allocation decisions".
Dombrovskis also said the Commission was exploring a classification system for green assets and a European standard and label for green bonds and other environmentally-friendly financial products. The HLEG has now formalised these recommendations.
The commissioner also spoke about introducing a "green supporting factor" to incentivise bank lending for green projects, but there has been opposition to this idea and the HLEG encouraged more reflection on this issue.
Any new EU legislation on sustainable finance would come on top of existing policies that include the non-financial reporting directive on company reporting of non-financial information, and the shareholder's rights directive, which sets out investor disclosure obligations in addition to some shareholder rights.
Withholding tax: code of conduct
In January, the European Commission's presented a code of conduct on withholding tax (WHT). This is aimed at saving investors an estimated €8.4bn a year. PensionsEurope urges member states to remember that if a pension fund qualifies as such according to the law of its home jurisdiction, it should automatically receive recognition as a pension fund according to statutory terms or categories in a host country.
A tax register for recognised pension institutions could be an appropriate tool to make this work in practice, according to PensionsEurope. In order for the code to be successful, all EU Member States and national tax authorities need to make a strong commitment to it. PensionsEurope aims to publish a position paper on removing WHT barriers to cross-border investment "in the upcoming months".
The EU's Capital Markets Union is taking shape – slowly
Sunny uplands ahead? Or cold showers? How is the EU's much-lauded Capital Markets Union (CMU) programme working out? Ask around Brussels and you will receive quite different opinions.
The official line from the European Commission remains positive. Its January 2018 publication, Completing Europe's Economic and Monetary Union, portrays the CMU as "essential to provide more diverse and innovative financing for the real economy", pointing to notable advances.
This positive spirit is well reflected by Pierre Moscovici, commissioner for economic and financial affairs. Addressing the recent Financial Services Conference in Brussels, he said: "Policies to diversify sources of funding, such as efforts to create a Capital Markets Union in Europe, will certainly contribute to safeguard financing of frontier technologies". He said that this is necessary to "keep [the EU's] place at the top of the global economic order".
But, when Commissioner Moscovici left, could he have been aware of what was to be said later at the same conference?
While practically all speakers supported the CMU in principle, they also reflected disappointment.

Speakers included Michel de Jonge, manager for international public affairs at PGGM, who noted "slow progress". Verena Ross, executive director at ESMA, talked of "significant hurdles". She also expressed need for "regulatory consistency across the European Union".
Lauri Rosendahl, president of Nasdaq Nordics, pointed to 15 years of work to achieve similar convergence in the Nordic and Baltic regions, saying he was "happy not to be involved" in the European challenge.
Also, in marked contrast to Moscovici, Paulina Dejmek-Hack, economic adviser to Jean-Claude Juncker, Commission president, asked, "Can it happen? Will it happen?" Arch-advocate, the French Socialist MEP Pervenche Berès, was clearly upset.
Issuer prospectus rules are a case in point. Without uniform legislation, how can investors trust what they read? The EU's prospectus regulation has been described as "a complete overhaul of securities disclosure regulation in Europe".
It came into force in July 2017. However, according to the law firm Norton Rose Fulbright, some specific provisions will not apply until 21 July this year, and the bulk will only apply after 21 July 2019. While the prospectus rules do appear to be on target, even if only one chain remains shackled, will the CMU's economic promise materialise?
Elements of Banking Union could serve as an effective 'plan B' to cover unexpected delays beyond the 2019 finish date for CMU. The Commission's report, Completing Europe's Economic and Monetary Union, gives precedence to banking over the CMU.
In his September 2017 state of the union address, Juncker said: "If we want banks to operate under the same rules and under the same supervision across our continent, then we should encourage all member states to join the Banking Union." In his speech, he also referred to bank risk reduction, which he said goes "hand in hand" with the Banking Union programme.
By risk reduction, Juncker was referring to Risk Reduction Measures (RRM), a package comprising modifications to the Basel capital adequacy rules put in place to strengthen bank capital reserves following the 2007-08 crisis.
Valdis Dombrovskis, the financial services commissioner, noted at the 2016 launch of the new risk reduction proposals the importance of a strong and diverse banking sector to finance the economy.
Legislative measures now in the pipeline comprise a set of modifications to the EU's Capital Requirements Directive (now CRD V), its associated Regulation (now CRR II), plus the Single Resolution Mechanism Regulation (SRMR). Backing for the RRM came from national governments last November.
Unsurprisingly, support for RRM comes from the head of banking supervision at the European Banking Federation, Gonzalo Gasós. Gasós, a CMU supporter, centres his case on considerably improved bank liquidity ratios over years. He says that some analysts forecast a possible increase in bank lending to corporates of up to €1trn.
Jeremy Woolfe
Regulation: Stepping outside the comfort zone
1

2

3

4

Currently reading

The EU's regulatory agenda