Quality and investment pressure on institutions are playing into the hands of Spezialfonds, according to Till Entzian
At a glance
• Spezialfonds assets are € 1.2trn, with strong inflows.
• Pension funds now account for almost a quarter of all assets.
• Non-euro bond holdings are increasing – now at € 300bn.
• Managers will soon have to contend with new reporting requirements due to Sovency II.
• Spezialfonds are intended to have their own rules under proposed tax reforms.
The success story of the Spezialfonds is continuing apace, despite regulatory hurdles. At €78bn, the net inflows of 2014 are of a similar magnitude to those reported in the previous two years. The total volume of assets increased by 15% or €153bn, to €1.167trn, with the remaining €75bn increase from positive market returns.
In addition to Spezialfonds, providers also offer the administration of assets not held within Spezialfonds, an area where the volume of assets increased from €318bn to €363bn – resulting in a growth trajectory almost on par with that seen in the Spezialfonds sector proper.
Noteworthy is the correlation between equity markets (figure 1) and net inflows. The financial crisis of 2007-08 not only saw a collapse of net inflows into Spezialfonds, but also significant outflows from mutual funds. But as markets have risen, institutions have once again begun investing significant sums through Spezialfonds, a trend that only seems to be strengthening in 2015, where the first half of the year saw inflows of €59bn – or three-quarters of the inflows seen over the entirety of 2014.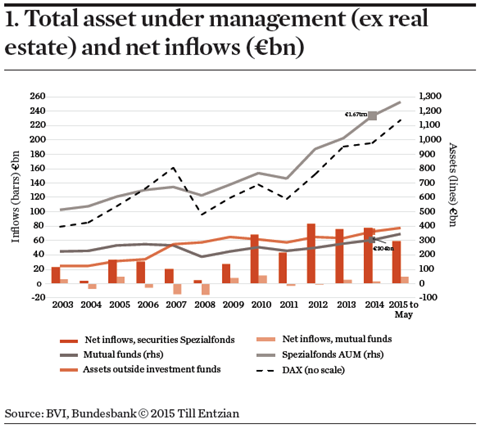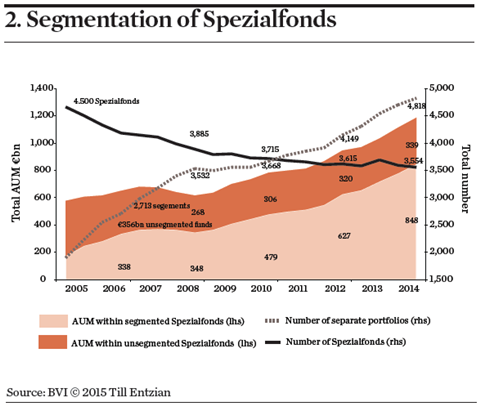 Numbers in decline
A large number of the more than 200 Spezialfonds previously launched but not used by providers have once again been wound up. The funds were set up ahead of the implementation in July 2013 of the revised investment framework (KAGB) amid fears that nonsensical transitional arrangements would mean that new fund launches would be put on hold for the near term.
The result of this fear was that the number of Spezialfonds rose for the first time since 2001 (figure 2); at the end of 2014 there were 3,554 funds, fewer than in 2012 ahead of the introduction of the KAGB. The multi-year trend of consolidation of disparate Spezialfonds managed by different KAGs into a single vehicle continues.
Individual fund sub-segments can be mandated to different asset managers; there has been strong growth of sub-segments to 4,818 and a decline in unsegmented assets to just 28% of total assets. This proves that the master-KAG concept, with advantages of unified reporting and easier replacement of asset managers is winning investors over.
The disadvantages of such arrangements are the need for responsible asset managers and the administering master-KAG to establish a dedicated fund record keeping division and the effort involved in the exchange of information, although this workload has been significantly reduced thanks to the standards agreed by the German fund and asset management association (BVI). Other solutions, such as unified reporting across several KAGs by a specialist provider, have not won out against the master-KAG concept. There is likely to be further consolidation among Spezialfonds in coming years.
Types of investor
The most significant Spezialfonds investor group is insurers, which invest largely in Spezialfonds (figure 3). Following a balance sheet analysis of primary insurers in 2014, BaFin estimated that this group held assets of €420bn. At the same time, the Bundesbank estimated that life insurers invested €114bn and other insurers €309bn – a total of €423bn. The discrepancy arises from the fact that primary insurers report assets using accounting values, whereas the Bundesbank cites market value.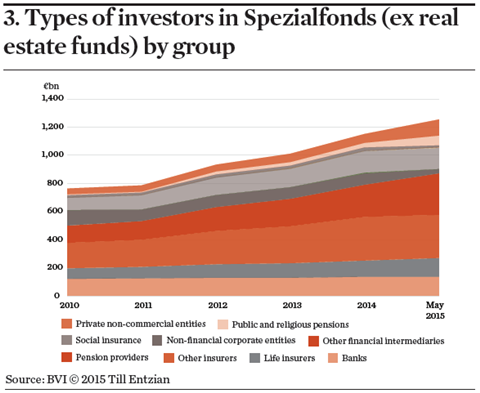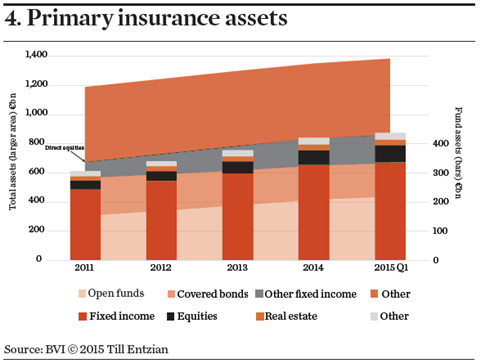 Additionally, like other investors, it is worth remembering that primary insurers do not only invest using domestic Spezialfonds, but also use other investment funds such as mutual funds, exchange-traded funds (ETFs) and Luxembourg domiciled specialist investment funds (SIVs). It is also worth noting that reinsurance assets are not captured within BaFin statistics, but are recorded by the Bundesbank.
The share of life insurance assets within Spezialfonds over the last five years has remained stable at 10%, whereas other insurance assets have fluctuated between 23.4% and 26.8% – resulting an overall share of insurance assets of 34.6% at the end of May 2015. Pension providers, including Pensionskassen, Versorgungswerke (first-pillar schemes where membership is mandatory for specified professional groups) and other institutions, have steadily increased in importance as Spezialfonds investors over the last five years. Their share of assets stood at 16.1% in 2010 but rose to 23.5% by May 2015.
At present, there are 89 Versorgungswerke. Next to the well-known ones providing benefits to doctors and lawyers, there are others for accountants, vets, psychotherapists and engineers.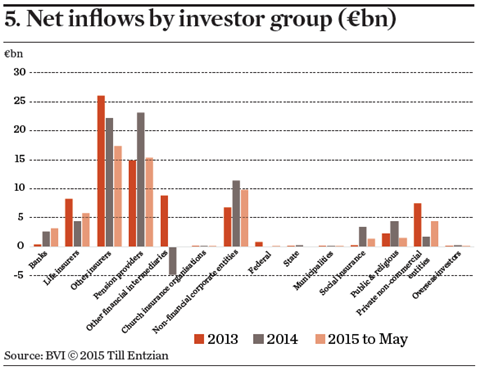 Overall, 900,000 members of these professional groups contribute towards such funds, with their contribution rate set in relation to the first-pillar contributions for those entitled to a state pension. The resulting contributions are in excess of €500m a month; total investments of Pensionskassen and Versorgungswerke into Spezialfonds totalled €23bn over the course of 2014. Whereas the comparative figure for 2013 was only €15bn, net inflows had already risen to over €15bn within the first five months of 2015.
"At €78bn, the net inflows of 2014 are of a similar magnitude to those reported in the previous two years. The total volume of assets increased by 15% or €153bn, to 1.167trn, with the remaining €75bn increase from positive market returns"
Although insurers and pension providers have up until now been subject to broadly the same sets of regulations, this will change from 2016 once the Solvency II Directive comes into effect. The transposed European law will introduce new rules for insurers, although not for Pensionskassen and certain other investors. Spezialfonds providers will have to brace themselves for change.
The asset classes outlined in the German investment ordinance (AnlV) will become obsolete when the current regulations are replaced with a system more closely aligned with banking regulation. Each asset will be risk-weighted and subject to specific capital requirements based on a solvency capital requirement (SCR) and a minimum capital requirement (MCR).
The SCR will be calculated so that there is a 99.5% likelihood that insurers can meet its obligations over the coming 24 months while the MCR requires a 85% likelihood. Like banks, insurers can either employ a pre-determined formula or use an own internal model.
This means Spezialfonds managers will soon have to contend with significant new reporting requirements and will increasingly have to put themselves in their clients' shoes in future to ensure their strategies are optimal from a regulatory perspective, while also not losing sight of asset allocation requirements.
If it were really in the interest of policyholders, the politically inspired 0% capital charge on euro-zone government bonds would have been dropped from the outset. But Solvency II will at least offer the investment industry the opportunity to adapt strategies to the needs and requirements of insurance companies, which should make Spezialfonds more attractive.
"As markets have risen, institutions have once again begun investing significant sums through Spezialfonds, a trend that only seems to be strengthening in 2015"
Other investor groups
The share of non-financial investors, which includes industry foundations, employer and industry groups, has remained broadly stable, varying between 11.9% and 13.6%, whereas the share invested by credit institutions and other financial intermediaries has noticeably declined.
Banks now account for only 10.9% of assets held within Spezialfonds, compared with 15.8% at the end of 2010. Other financial intermediaries, which includes factoring businesses, have seen an even more pronounced decline – from 14% in 2010, at the end of May 2015 they only accounted for €27bn, or 2% of assets held within Spezialfonds. The lowest share is claimed by federal, state, municipal and overseas investors. After the last non-domestic investor severed ties with its Spezialfonds in 2012, it seems last year that at least one returned – investing less than €1bn. This figure rose to €8bn or 0.6% by May 2015. Investors at the federal, state and municipal levels only account for 0.1-0.3% of assets.
ETFs and institutional investors
Nearly 95% of ETF assets are in the hands of institutional investors. This diversified instrument allows institutions to gain exposure to many markets easily, transparently and cost-effectively using an ETF in a UCITS-compliant vehicle.
But the development and variety of the ETF market is proof of the misguided politics pursued by the German federal ministry of finance (BMF). The number of German-domiciled ETFs has barely exceeded 120 compared with 4,200 globally, while assets have grown to about €50bn against worldwide assets of $2.5trn (€2.2trn); Europe alone is home to ETF assets of $500bn in 1,500 funds, according to ETFGI.
Germany can be considered provincial in terms of both AUM and asset growth; whereas German ETF assets nearly doubled between 2009 and 2014, they rose three-and-a-half-fold globally. This demonstrates the lost opportunities arising from German regulation and oversight, and the reasons for Germany falling behind other domiciles have been recorded numerous times.
Market participants
The number of registered KVGs is noticeably higher than the number of KAGs ever was. Including real estate entities, BaFin recorded 76 KAGs before the introduction of the KAGB in 2013, compared with 307 KVGs today. However, 182 of these are registered AIF-KVGs, as defined by article 44 of the KAGB, which covers those managing AIFs with a volume below a pre-determined threshold.
Nine of the providers can be classified as capitive KAGs as defined by article 20, paragraph 7 of the KAGB, which includes Investmentaktiengesellschaften and Investmentaktienkommanditgesellschaften.
KAGs established before the transition have been licenced as external KVGs, but a distinction needs to be made between KVGs as defined by article 20, paragraph 2 of the KAGB, which covers UCITS-regulated undertakings, and article 20, paragraph 3, which is for AIF-KVGs. Even if a KAG is only administering one UCITS fund, it must be approved as a UCITS KVG. BaFin, however, does not distinguish between the two types of KVGs, and lists a total of 116 managing external assets.
Figure 6 shows the providers of institutional administration and portfolio management with assets of more than €5bn. Note that it distinguishes between master-KAGs and service-KAGs purely responsible for administration; net assets under management of service providers responsible for asset management, administration and the launch of the fund; and those only responsible for managing assets outside Spezialfonds or a Spezialfonds managed by another group. The order in which they appear is based on the total AUM for the three types, while double counting of assets is excluded due to the methodology employed, according to the BVI.
The overview shows how Allianz remains the undisputed leader in the field, partially thanks to a 23% increase to €187bn of administered assets, an 11% increase to €218bn in fund assets under management and a 19% increase to €165bn of pure-play asset management mandates. Some upset has occurred among the company placed second, a spot claimed by Universal Investment in 2013, but now taken by HSBC Trinkaus & Burkhardt this time around. Where Universal was able to grow its institutional assets to €165bn, up by around €20bn, the partnership of INKA and HSBC Global Asset Management (Germany) claimed €186bn in assets.
The hotly contested midfield of the ranking has also seen further change, which saw Bayerninvest climb two spots to come eleventh. Spezialfonds assets account for €35.4bn of its business, in addition to pure administration assets of €13.9bn and pure-play asset management worth €8.3bn. For its part, MEAG climbed one place to 13, and now is responsible for €45.8bn in Spezialfonds, of which €6.7bn is in administration. While the former two rose, SGSS has fallen three places to 14. The business, entirely devoted to administration, claims €40.7bn worth of the market share.
Hansainvest climbs two spots and comes in at 19, administering €9.9bn of assets, while Frankfurt-Trust falls two places.
The newly established Flossbach von Storch, which has €4.4bn in Spezialfonds assets and a further €3.4bn in pure-play asset management mandates. To date, the Spezialfonds in question appear to be Luxembourg-domiciled SIFs.
Composition of Spezialfonds
The equity share of Spezialfonds investments rose by €20bn in 2014, reaching €124.6bn by year-end, with one-third of listed companies based within the euro-zone and the remaining two thirds outside the single currency (figure 7). Equity markets grew in 2014 but both the DAX and the MSCI Germany gained less than 3%, which is therefore only able to explain about €3bn of the €20bn asset increase.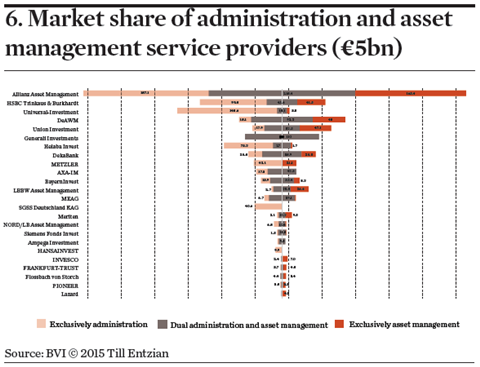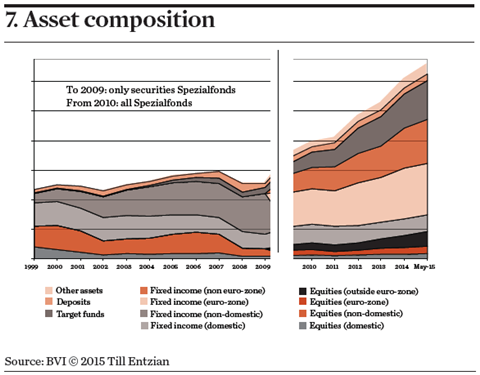 The largest volume of Spezialfonds assets – €612bn – is still invested in fixed income. The larger share of that volume, about €342bn, is in issuance from within the euro-zone, with the remaining €270bn from outside the single currency. However, the trend is shifting in favour of assets from outside the euro-zone; in 2009 non-euro assets accounted for half that of euro holdings. By the end of May 2015, non-euro holdings had risen further over 2014 figures to €300bn, meaning these were only €44bn behind holdings denominated in the single currency.
"The largest volume of Spezialfonds assets – €612bn – is still invested in fixed income. The larger share of volume, about €342bn, is in issuance from within the euro-zone and the remaining €270bn from outside the single currency. However, the trend is shifting in favour of assets from outside the euro-zone"
The high exposure to fixed income assets is explained through the high returns seen by Spezialfonds over the course of 2014. The year saw the REXP Bond index rise by 14.3% which, when applied to the entire Spezialfonds universe, leads to an increase in assets of €74bn and goes towards explaining the rise in total AUM. Further interest rate-related gains should not be expected in future, although similar views were expressed when rates still stood at 3%. Therefore, it is not completely impossible that interest rates will not rise soon, so further interest rate-related gains could continue. In such politically-driven markets nothing can be ruled out.
Investment tax reform from 2018
It would have been a sensible idea for the ministry of finance to have compared the growth of mutual funds in Germany (up by 33% over 10 years) with that of their counterparts in Luxembourg, where an increase of about 200% occurred over the same period. This would have allowed it to consider how Germany could have been made just as attractive as an investment destination as its neighbour.
Instead, the ministry preferred further investment tax reform to tackle any perception of discrimination against non-domestic investors, introducing lump-sum advance taxation at fund level. At the same time, the concept of added deemed distribution income is omitted, meaning actual and accumulated income is not taxed. In other words, taxation of actually earned and reinvested income is replaced by taxation of notional income at a flat rate.
Similar to the motorway toll proposed by the government, the effective return will be partly tax-free at the investor level, although for the sake of the reform flat rates have been agreed (ranging from 20% for equity funds to 60% for real estate funds when mostly invested in non-domestic assets).
Generally, flat rates should be seen as a good way of minimising the administrative effort involved in the investigation and control of tax assessment criteria, but they rely on the exchequer tolerating full exploitation of the allowances. The concern is the rules will be changed so that the tax advantaged investments will no longer enjoy such benefits, which would result in tax advantaged funds actually being worse off than others, making it questionable whether the popularity of domestic investment funds will actually increase.
Spezialfonds are intended to have their own rules under the proposed tax reforms. While they can, thanks to their domestic income, continue to be taxed as normal, there are ways for them to optimise their tax profile. The concept of equal income payments is to be maintained, albeit slightly amended.
To remain recognised as Spezialfonds, certain criteria outlined in the new tax law must be met. These include a, at least yearly, liquidity that in future cannot be met by mere listing on an exchange. Distinct from the current supervisory rules, the number of investors would also not be permitted to exceed 100, and none of the investors would be allowed to be naturalised persons, either directly exposed or indirectly invested. Transitional provisions in place would allow existing stakes acquired before 1 May 2015 to be maintained until the beginning of 2030.
The new rules are intended to come into effect at the beginning of 2018, which means further changes should be expected.
To maintain market confidence, it would certainly be appropriate to abolish the grandfathering of holdings acquired before the introduction of the 2009 withholding tax regime but not provided for in the current proposal. If not, the government risks doing further damage to the level of investor trust. Independently of that, KAGs and Spezialfonds providers still have two years to adapt their asset allocation to the incoming regulation.
Till Entzian's annual review of the Spezialfonds market follows the tradition started more than 30 years ago by Dr Hans Karl Kandlbinder, the originator of the Spezialfonds concept. IPE has published an English version of this report each year for many years. A German version of this article appears in the August edition of the Zeitschrift für das gesamte Kreditwesen, published by Fritz Knapp Verlag. Till Entzian is a lawyer based in Frankfurt and advises on Spezialfond
German Asset Management: In search of opportunities
1

2

3

4

5

Currently reading

The Kandlbinder Report 2015: Pensions assets continue to spur Spezialfonds expansion