How are hedge funds faring as investment partners and providers in private credit?
Key points
• Direct lending, along with distressed debt and speciality finance, make up the illiquid part of the alternative credit spectrum.
• The more liquid strategies are high yield, bank loans, structured credit and emerging market debt.
• The skills of hedge funds to execute complex deals with flexibility and at speed, has given them a reputation as partners.
• Hedge funds are finding themselves competing against long-only managers with which the trustees of institutional portfolios are often more familiar.
Negative interest rates, low yields and increasing pension liabilities are leaving institutional investors with relatively few options if they want to de-risk away from equities and still maintain attractive risk-adjusted returns.
With hedge funds as a universe hardly performing well in recent years and private equity firms sitting on cash, how can investors capture income and keep volatility in check during these times of heightened geopolitical and interest rate risk?
Earlier this year, Merseyside Pension Fund partnered with LendInvest to finance a loan secured against a site in Canary Wharf. While this direct lending deal, one of many property loans the Liverpool-based pension fund has completed over the past 18 months, is not an absolute return strategy, it is one of 33 private financing case studies included in the 2017 Financing the Economy survey.
Carried out by the Alternative Credit Council, the private credit affiliate of the Alternative Asset Management Association, the survey highlighted how many alternative asset managers are providing finance to small and medium-sized enterprises and thus supporting economic growth.
Direct lending, along with distressed debt and specialty finance, make up the illiquid part of the alternative credit spectrum, while the more liquid strategies are high yield, bank loans, structured credit and emerging markets debt.
All of these alternative credit sub-strategies have additional sources of risk premia, such as manager skill, illiquidity or thematic choices, and have traditionally been accessed through hedge funds. But in the post crisis world, more active alternative credit specialists have emerged from both the long-only and long/short world.
Just looking at the private credit sub-strategy, what was once a banking activity, stymied by post crisis financial regulation, is now on course to be a $1trn (€850bn) industry by 2020. And alternative asset managers such as Ares Management, Cheyne Capital and CQS to name are focusing their hedge fund skills and experience to be part of this private credit boom.
While credit itself is a cyclical asset class, private credit has become a structural part of financing the economy, according to the recent survey. The historical compound annual growth rate of 20% of the industry has seen the sector increase in size 14-fold since 2000, reaching more than $600bn by the end of 2016.
From an investor perspective, performance of private credit continues to show strong yield relative to many other asset classes, which is why many alternative credit managers with deep research capabilities have made this a part of their business. In addition, direct lending funds tend to be decorrelated to other assets and so good portfolio diversifiers.
"Pension funds and insurance companies need liability-matching assets, where the benchmark is the liability. For these investors, long-term loans such as 40-year infrastructure deals are ideal," says Stuart Fiertz, chairman of the Alternative Credit Council and president of Cheyne Capital.
Cheyne's move into the private credit market, specifically property loans, was part of a post-financial crisis review of where the opportunities lay. "Today, half of our assets are in real estate-backed lending, with 30% to 40% in investment-grade credit and the remainder in equity and equity-linked strategies, which was the majority of our business before the crisis," says Fiertz.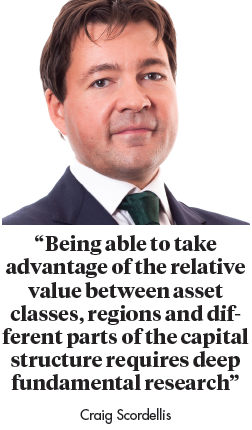 Most recently, Cheyne, founded in 2000 by Jonathan Lourie and Fiertz, hired Anthony Robertson, formerly head of leveraged finance at BlueBay Asset Management, to launch the Strategic Value Credit business to time with the late stage of the credit cycle. It will focus on the heightened illiquidity in European sub-investment-grade credit as well as selective distressed situations.
While banks were renowned for flawless execution in the private credit space, the skills of hedge funds to execute complex deals with flexibility and at speed, has given them a reputation as partners.
For example, CQS, founded by Sir Michael Hintze in 1999, provided a £22m loan to a UK telecoms provider that was planning to buy a listed IT company using bank loans. When the banks shrank their support at the last minute, CQS stepped in and became the sole provider of the loan, which allowed the acquisition to proceed.
But CQS's post-crisis transition from 'hedge fund' to an alternative global multi-strategy credit firm does not stop at loans. Today, the firm covers the spectrum of absolute return credit strategies including investment-grade and high-yield bonds, emerging market debt, senior secured loans, asset-backed securities, convertible bonds and private sub-investment-grade debt.
These come in the traditional hedge fund format, but also as long-only variants (with the relevant lower fees, terms and reporting styles) and CQS now has the ability to partner with investors to create bespoke solutions. The launch of the Multi-Asset Credit strategy, which now has some $5bn in assets, was driven primarily by institutional investors.
Buying long/short credit from hedge funds is understandable, but why are institutions buying long-only alternative credit strategies from them too?
Putri Pascualy, partner and portfolio manager at Pacific Alternative Asset Management Company, says it ultimately comes down to the kind of risk you want to take and the return you can earn for taking each additional unit of risk. "Do you want to take liquidity, credit or complexity risk?" she asks.
"Hedge funds may have a reputation for being 'expensive' but fees often cloud the discussion. The questions you have to ask are: does your manager have the right background profile, the right incentives and the right skill set to take the risks you want in order to achieve the additional level of uncorrelated return?" Pascualy says.
"One company that has been in the media recently has a complex capital structure with multiple entities and different collateral packages. To make sure you don't throw the baby out with the bathwater you need to take a look at the opportunities at each sub-entity level," she explains.
How an investor accesses this space is also important. As alternative credit is no longer just the domain of the hedge fund world, the latter are finding themselves competing against long-only managers with which the trustees of institutional portfolios are often more familiar.
Yet expertise in this relatively new territory (for institutional investors) is essential. "Being able to take advantage of the relative value between asset classes, regions and different parts of the capital structure requires deep fundamental research, something that hedge funds such as ourselves in this space have been doing for years," says Craig Scordellis, head of long-only multi-asset credit at CQS.
Palmerston Capital Management is one such specialist. Palmerston Credit fund was launched in early 2014 and focuses only on developed Europe credit markets. Palmerston's European long/short bond fund focuses on four different trading strategies: fundamental long/short credit; instrument focused credit (benefiting from document and covenant quirks); relative value in countries and sectors; as well as event-driven trading.
With current market conditions, volume is one reason to consider hedge fund credit specialists over their long-only counterparts. One of the obvious issues is that some long-only groups are investing larger sums of assets under management in strategies where volume may not be a problem. But capacity is a much more constraining factor for those wanting a true long/short credit approach to credit as Palmerston Capital Management was aware when it launched the Palmerston Credit fund.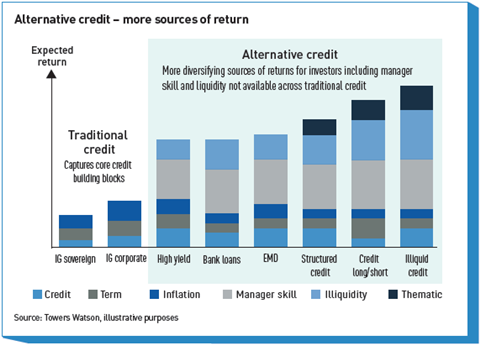 "It is the liquidity of the shorts in cash bonds, which is a main element of our portfolio construction, that ultimately constrains capacity. But it is precisely the protection potential of the shorts that differentiates us as a hedge fund versus the long-only alternative credit managers, who are all basically just long, and a reason an allocator might invest with us alongside a long-only credit strategy," says Jesse McCormick, the firm's chief operating officer.
In Perspectives: Alternative Credit – Credit for the modern investor, Towers Watson advocates the optimal way to implement alternative credit is through a collection of such specialists. And as a third-party allocator, PAAMCO's Pascualy would agree. She says that in alternative credit, customisation is the ideal solution for institutional investors with differing needs.
"When it comes to tailoring credit strategies for individual needs, some investors have learned not to be fixated on the vehicle or the wrapper, and instead look at the core skillset of the manager first and treat the question of the vehicle as a separate matter," says Pascualy.
"Given the often-unique liability needs of different institutions, there are two trends in the credit customisation space. The first is an à-la-carte carve out of a particular strategy from a multi-strategy fund. The second is the turnkey approach, where clients start from the end-return goals and put a risk-mitigation framework such as liquidity and concentration around them," adds Pascualy.
Towers Watson's paper, however, does suggest that there is a challenge with the specialist approach; it requires the investor to make active manager and strategy rotation decisions as the cycle unfolds.
The agility of portfolio management is one of the arguments for multi-asset, rather than multi-manager, credit strategies. "Often tactical asset allocation changes have a short window of opportunity and to maximise the returns requires a more dynamic approach," says CQS's Scordellis, referring to a US high-yield opportunity that presented itself between July and December of 2015.
Access to information flow is another. "At some of the larger institutions the strategies are run in silos, whereas I sit on the trading floors benefiting from the information flow from hedged and long-only strategies," adds Scordellis.
In a world where interest rate hikes and geopolitics are all threats, it looks like alternative credit is one asset class that not only offers opportunities for floating-rate income, diversity in asset classes but also still one way to minimise volatility.
Credit: The next stage of the cycle
1

2

3

4

5

6

7

Currently reading

The long and short of alternative credit

8