Several factors are driving the shift to defined contribution pensions
Key points
The shift to defined contribution plans in the Netherlands looks likely to persist
Proposals for a new pensions system are facing delays
Interest in individual DC pensions has boosted the premium pension institution (PPI)
The PPI market is dominated by just three players
As long as interest rates remain low, markets stay volatile and longevity keeps rising, the shift from defined benefit to defined contribution (DC) arrangements in the Netherlands is likely to be unstoppable. With 5.4m participants in total, defined benefit (DB) plans are still predominant but the number of pension savers in DC schemes has risen to more than 1.4m.
Initially launched as a means for companies to off-load pension liabilities from balance sheets, the number of DC participants at pension funds has risen from zero in 1990 to 380,000 by the end of 2016. In the same period, insurers saw the number of workers in their DC arrangements increase from 20,000 to 500,000, according to IPE's Dutch sister publication Pensioen Pro. In addition, premium pension institutions (PPI), the dedicated low-cost DC vehicles cover 532,000 participants and deferred members in total.
The switch from DB to DC could be further boosted with the introduction of a new pensions system to keep pensions affordable. The Social and Economic Council (SER) – the government's main advisory body of employers and workers – has indicated that it favours a new pensions contract of individual accrual combined with a collective financial buffer to safeguard the solidarity between generations of employees. Such a new contract is intended to be in addition to the current pension arrangements, which would co-exist alongside the new contract.
However, the SER has been struggling for more than a year to produce broadly supported advice. The internal dispute is between 'collectivists' and 'individualists', with the former – unions and pension funds in particular – preferring to stick to collective DC plans. The collectivists also want an increased freedom of investment and advocate smaller financial buffers relative to the strict rules of the current financial investment framework (FTK). As this will give them more leeway for indexation.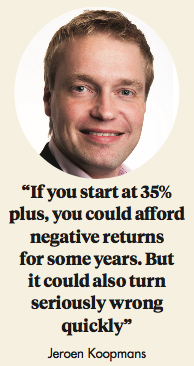 The individualists, including the insurers, advocate individual pension pots. It is unclear which new arrangements will produce the best financial returns, because of the multitude of variables, including investment policy, contributions as well as rules for financial buffers.
Proposals for a new pensions system, however, are facing further delays. Recently, the largest union, the FNV, said that it has made the second pillar negotiations in the SER subject to the government's plans to raise the retirement age for the state pension (AOW). The FNV, which received the support of two further unions, also wants provisions for self-employed workers as part of a new pensions system.
The coalition agreement of the Dutch government stipulates that a new pensions system must become operational in 2020, and Wouter Koolmees, the social affairs minister, has urged the social partners to come up with a framework early in 2018. However, the FNV and CNV unions have labelled the minister's time schedule "highly ambitious". They want to wait for new calculations on the effects of a new system centred around individual pensions accrual.
Boost from liberalisation
Defined contribution arrangements got an additional boost with the launch of the new variable pension in September 2016. The accrued capital in a DC plan no longer has to be taken in fixed annuities after retirement, but can remain invested. The reasoning is that holding risk-bearing investments during the benefits phase increases the likelihood of a better pension. Under the new legislation, pension funds with DC arrangements must offer both fixed and variable payments, with the latter combined with a complementary life cycle plan.
So far, four insurers – Aegon, Delta Lloyd, Nationale Nederlanden and Allianz – are offering drawdown pension products. However, these products vary, with the proportion of equities ranging from 10% at Allianz to 66% at Aegon.
Jeroen Koopmans, partner at Lane Clark & Peacock Netherlands, which compared the insurers' quotes for fixed and variable benefits, said that the latter could be higher in the first year. "The difference could be 20%, or even 35%."
However, the downside is that variable benefits could also decrease. Koopmans says: "If you start at 35% plus, you could afford negative returns for some years. But it could also turn seriously wrong quickly, with benefits ending up lower than fixed annuities."
Allianz says that one in five of retirees in a DC plan had opted for drawdown arrangements during 2017. It revealed that the average amount retirees spent on variable benefits was 2.5 times the amount for fixed annuities. An Allianz spokesman added that 40% of total DC benefits were made up of variable payments.
Aegon indicates that interest for this option has increased to a fifth of retirees. A spokesman for the firm says these participants represent 25% of the available capital, as the amount spent on variable pensions is higher on average. Last summer, Nationale Nederlanden said 5%-10% of participants preferred variable benefits and made clear that it expected interest for the drawdown option to pick up.
It is not clear whether Delta Lloyd will continue with its drawdown product, as it has been taken over by Nationale Nederlanden and the brand is to be phased out. A spokesman says the integration process could lead to the introduction of a new product in 2018, in which the "best of both" propositions will be combined.
Meanwhile, ABN Amro Pensioenen offering variable payments for participants in its DC plans in January. The insurers, Zwitserleven and ASR made clear they would launch products for variable annuities in July and in the second half of this year, respectively.
Corporates muted
Of the dozens of pension funds with DC arrangements, only a handful have started offering variable benefits. These include Shell's individual DC scheme (SNPS), the pension fund of telecoms firm KPN as well as the Pensioenfonds Nedlloyd, the Dutch pension fund of Maersk. Several other schemes are considering this option.
Wichert Hoekert, senior consultant for retirement solutions at Willis Towers Watson, says the introduction of variable annuities as the default option has been hampered by the legal requirement for gradual conversion to variable annuities at retirement through lifecycle investments. "This has made the implementation technically complicated, and has held pension funds back from offering variable benefits as the standard solution at the moment," he said.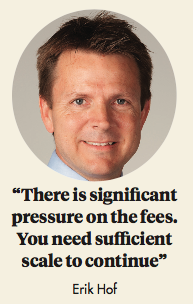 Growing interest in individual DC pensions as well as the option of drawdown benefits for DC plans also boosts the dedicated low-cost DC vehicle premium pension institution (PPI). Since their introduction in 2011, total membership of the existing nine PPIs – run by insurers, asset managers, banks as well as one consultant – has soared to 333,000 active participants and 199,000 deferred members, with assets totalling €6.2bn.
The market is dominated by two Aegon PPIs – Cappital and Be Frank, acquired when Delta Lloyd was taken over by Nationale Nederlanden last year – and NN's offering. The three DC vehicles currently serve almost three-quarters of the market, according to our sister publication Pensioen Pro.
Last year, Robeco's PPI and i-PensionSolutions completed their merger, with the latters brand to be continued. The market is expected to consolidate further. "Some players are too small to keep on going," Erik Hof, until recently director of Cappital PPI, told Pensioen Pro last year. "There is significant pressure on the fees. You need sufficient scale to continue."
Hof said he expected growth from liquidating company pension funds and expiring insured contracts to continue and that PPI's could cover 20% of the market. At the time, his optimistic view was echoed by Tjitsger Hulshoff, chief investment officer of i-PensionSolutions. "The strong growth will continue, as large companies in particular show an increasing interest in the vehicle."
Last summer, Marianne de Boer, general director of BeFrank, told Pensioen Pro that it was important that PPIs have been allowed to apply more generous fiscal rules based on low interest rates for setting contribution levels. "This will make a switch from DB to DC easier." She added that, if mandatory pensions saving were to be extended to the over 1m self-employed workers, PPIs could benefit.
PPI managers made clear that they do not consider the new general pension fund (APF) – which can also accommodate DC plans – a threat to them. "The APF merely offers limited options for DC," said Hof.
UK auto-enrolment: Good start, must do better
1

2

3

4

5

Currently reading

The Netherlands: Reformed system to boost DC