Sponsored content from BlackRock
Fixed-income markets have undergone significant structural changes since the 2008 financial crisis. These seismic shifts are forcing investors to adapt to a new market paradigm that will challenge not only how they trade fixed income, but what types of products they use to build bond portfolios and manage risk.
In this article, a shortened version of a recent BlackRock white paper1, we examine the evolution of the bond market through three interconnected lenses: market structure, the liquidity environment and product preferences.
All three are changing in the post-crisis era, with implications for the shape of the future bond market and for investors. Just as the equity markets have undergone significant structural changes in the last two decades, we believe the coming years will be marked by a major transformation in fixed income. In this new world, investors may have to think differently about how to build portfolios, how to trade and what to trade.
Changes in market Structure – the rise of a modern, networked bond market
The traditional principal-based fixed income market is transforming into a hybrid principal/agency market. Driving this change are the entrance of new market participants and the emergence of all-to-all trading technologies that offer an alternative means to trade bonds: these technologies range from bilateral and voice-driven to multi-dimensional and electronic.
The transition to a hybrid model is a challenge for investors, but it may result in a more connected, diverse and modern bond market with more trading participants.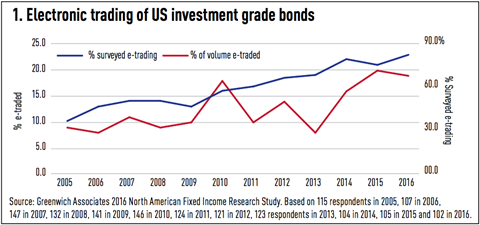 The momentum behind the electronification of bond markets should continue, with significant increases in electronic trading, all-to-all networks, alternative trading protocols, central limit order books (CLOBs), and dark pools, which should impact not only cash bonds, but standardised vehicles as well.
In figure 1 we illustrate the recent rise of electronic trading in US corporate bonds. The electronic trading of investment grade bonds in the US is now estimated to represent approximately 20% of the total investment grade trading volume, a three-fold increase from 2013. And around 70-80% of smaller-sized trades are now electronic. The proliferation of small-lot electronic trading may help explain why bid/ask spreads in US corporate bonds have actually contracted, despite a reduction in overall market turnover (measured by ratio of trading volume and notional outstanding)
Traditional banks and broker-dealers will likely remain at the centre of the fixed-income market as they continue to adapt their business models, investing in trading infrastructure and automation (including algorithmic trading and artificial intelligence), and embracing new trading practices and venues. However, while principal risktaking will remain in some form, it is unlikely to revert to pre-crisis levels of activity as the new hybrid agency/principal model becomes entrenched.
Moreover, advances in technology may allow traditional asset managers to play an increasing role as price makers with respect to trading through crossing networks, a shift requiring changes in behaviour as well as the adoption of technology.
Non-bank principal trading firms and ETF market makers will likely continue to increase their presence as liquidity providers. We believe such entities have become increasingly active in bond ETFs and the underlying cash bond markets, and will continue to branch into derivative markets as well.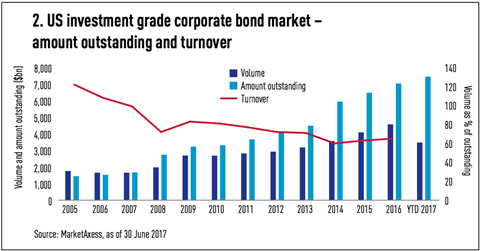 The trend towards transparency on both a pre-trade and post-trade basis and the resulting increase in data will continue due to regulation globally (Dodd Frank, Volcker rule, Basel III, MIFID II) and the momentum behind electronic trading. This proliferation of trade data will allow for greater innovation in automated market making activity and liquidity provision analytics.
Liquidity needs to be re-examined
Traditional bond dealers have been forced to fundamentally rethink their business models as a result of the challenges faced post-crisis. Broker-dealer inventories have fallen, although the magnitude of the decline may be debated. At the same time, however, the size of the investment-grade corporate bond market has tripled over the last decade to around $7.5trn (€6.4trn) in debt outstanding2.
In figure 2 we show the effect that growing issuance has had on the liquidity environment. While the amount of US investment-grade corporate bonds outstanding has increased, secondary market trading volume has not kept pace. In fact, the turnover ratio for investment-grade bonds has fallen from over 100% to about 65% per annum since 2005.
Dealer inventories have recovered somewhat recently, but relying solely on the old liquidity model will likely not suffice. Investors need to think about how best to access liquidity across products and asset classes, using a broader, more robust suite of liquidity measures and exposure vehicles. From an investor perspective, not all investors have the same liquidity needs and the degree of liquidity required in part dictates the type of instrument employed for portfolio construction.
We believe that the liquidity and regulatory environments will continue to be interconnected. Depending on the evolution of the political landscape over time, regulatory burdens may ebb and flow, but the overall trends towards product standardisation and transparency are likely to continue. In aggregate, liquidity should stabilise for individual cash bonds as the ecosystem continues to adapt and evolve.
However, rules-based instruments which reference market benchmarks (ie, derivatives and ETFs) may see the largest gains in trading volume as investors discover the liquidity and diversification benefits they can offer. Similarly, the derivatives and lending markets that reference bond ETFs themselves are likely to deepen as adoption increases, potentially offering further sources of liquidity for investors.
Most importantly, relying solely on bid/ask spreads may no longer be an adequate indicator of liquidity. Investors should consider a multi-dimensional approach that takes into account volume, immediacy, depth, resiliency, vehicle and trading venue. BlackRock has developed a stylised, conceptual framework designed to highlight these key factors.
We believe that there will be a continued drive towards data generation, aggregation, and distribution. Real-time pricing of fixed income risk is more important than ever, given the increase in transparency from electronic trading and ETF primary and secondary activity. Enhanced trade reporting should be a significant driver of this type of pricing, particularly for cash bonds, but also for bespoke, non-centrally-cleared derivatives.
Finally, scale economies will be key as data infrastructure costs will likely be prohibitive, leading to potential consolidation among data/pricing/index service providers. Data itself will become increasingly important, with data providers seeking to protect and monetise the value of that data.
Index-based products now central to portfolio construction and risk management
Today, the changing market structure means that building fixed-income portfolios solely with individual securities can be increasingly costly and less efficient than in the past, leading investors to employ a range of instruments.
Post-crisis, the demand for transparent, standardised and bundled fixed-income exposures has manifested itself in growth among index-based products like credit default index swaps (CDX), total return swaps (TRS) and bond exchange-traded funds (ETFs).
Bond ETFs, in particular, have proven to be a valuable solution in meeting these needs. In the last five years, assets have grown 25% per year (see figure 3) while trading volume has more than doubled. Bond ETFs are on pace to be a $1.5trn market by 20223.
Index/basket exposure vehicles are likely to play an increasing role in how investors construct fixed-income portfolios. The trajectory may be similar to what was observed in the past transition from individual equities to indexed equities through futures, swaps and ETFs.
In the future, the offering of these vehicles in fixed income will likely be much more refined and granular, moving from broad indices into constituent sub-indices. This will allow investors to access fixed-income exposures that are highly targeted by sector, industry, size, quality or a number of other factors or characteristics.
The creation/redemption process for bond ETFs could become much more sophisticated, robust and fluid due to enhancements in technology and widespread acceptance of the vehicle. Importantly, the creation/redemption process itself could serve as a conduit for bundling and unbundling of fixed-income risk as well as optimising liquidity across venues. This dynamic would afford investors more flexibility to navigate risk and liquidity by actively moving between individual cash bond and portfolio ETF exposures.
The growth in borrow availability and in the liquidity of derivatives referencing ETFs can further increase the role of bond ETFs in the ecosystem.
Traditional derivative markets are likely to continue to trend towards cleared, benchmark reference products. Most derivative structures, even the more bespoke ones, may ultimately be electronically traded and cleared. CDX will continue to be augmented with more bond-like derivative exposures such as index TRS, given that such products are more closely hewn to the cash bond market.
Further, we believe that the number and type of paired, complimentary derivative (such as TRS) and ETF exposures will continue to grow in order to increase fungibility between the cash and synthetic markets. Derivatives on bond indices and on bond ETFs themselves could be the dominant link between funded and unfunded exposure. Such a dynamic is already starting to occur in index TRS and credit ETF options.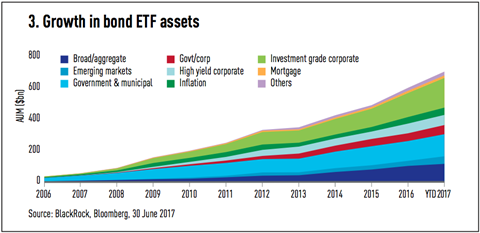 With the growth of new instruments, portfolio managers will need to be more agnostic, starting with their desired outcome before determining the optimal exposure vehicle across cash bonds, derivatives or ETFs.
Understanding how these instruments are traded and behave relative to one another will be key in implementing efficient investment strategies.
Conclusion
While fixed-income markets were already beginning to evolve prior to 2008, the fallout from the crisis has catalysed a behavioural shift in the market and has dramatically accelerated four trends already under way: increasing transparency; adoption of standardised instruments and trading; vehicles (eg, rules-based derivatives and ETFs that reference market benchmarks); modernisation of trading through clearing and electronic platforms.
In many respects, fixed-income markets are evolving along a path similar to that of the equity markets. However, the structural features of bond markets, such as heterogeneity and fragmentation, do not naturally lend themselves to a pure equity-market infrastructure. As a result, a more complex approach and more robust set of tools will be necessary to address the longstanding challenges of the bond market.
This evolution is likely to be faster and more disruptive than many market participants currently expect. We believe that those who embrace and adapt to the coming changes have the greatest potential to benefit.
Richie Prager, head of trading, liquidity and investments platform; Daniel Veiner, global head of fixed income trading; Brett Pybus, head of EMEA iShares fixed income strategy; Stephen Laipply, head of US iShares fixed income strategy; Vasiliki Pachatouridi, iShares fixed income strategist; Hui Sien Koay, iShares fixed income strategist, BlackRock
1 Visit www.iShares.com/NextGen to access the eCopy of the paper.
2 Source: Bloomberg, Barclays, as of 30 June 2017
3 Based on the global AUM of $741bn (source: Bloomberg) and a 20% compound annual growth rate, as of 31 August 2017.