What does the proliferation of sustainable benchmarks mean for passive ESG investing?
Key points
ESG indices have been growing at record pace
There is a variety of ESG criteria and methodologies
Doubts remain over passive ESG index investing
There is momentum behind ESG index methodologies
The ESG industry grows unabated as index providers launch thousands of new green indices each year. The Index Industry Association (IIA), an organisation representing index providers, recorded a 60% rise in the number of ESG indices in the year to June 2018.
To put this number into perspective, the IIA counted 3.7m indices in total at the end of the period, with ESG benchmarks representing only 1%, but the number of benchmarks had only risen by 12%.
The proliferation of ESG indices reflects the variety of investor approaches to ESG integration. Take MSCI, which has launched several index families, each containing different iterations of an index methodology. Guido Giese, executive director in MSCI's applied equity research, distinguishes between values and value components in index construction, where the former consists of exclusions of controversial sectors or stocks, and the latter with the integration of ESG ratings. These, according to Giese, are built as financial indicators, to highlight which companies are in a better position to manage ESG-related opportunities or risks.
"We offer different levels of integration of ESG ratings, from a mild approach that tilts indices towards high-rated companies to high-conviction SRI approaches that focus on the best ESG performers," says Giese.
But how does an investor choose from such a growing menu of passive or quasi-passive ESG investment strategies?
Experts identify two main questions. First, whether the strategy achieves an improvement on the underlying benchmark in terms of carbon emissions or other ESG criteria, and at what cost.
While ESG indices may achieve a clear improvement relative to underlying market capitalisation-weighted indices, many create unintended exposures, according to Oliver MacArthur, responsible for equity manager selection at Aon.
"Better ESG scores are associated typically with larger, more quality-oriented companies, and those can introduce factor bets into the index relative to the market-cap index, which clients may not be fully aware of," says MacArthur. That is why Aon's list of approved ESG index products favours indices with low deviations from the underlying benchmark's country, regional or sector exposures. Aon also favours indices with low index turnover and tight risk controls. "Some indices have strong tilts towards single stocks, and that pushes the limits of what we define as an index," he says.
Second, how objective are an index provider's ESG scoring outcomes? This is crucial question for investors, given the significant differences between ESG scores on certain companies. These are the result of disagreements over the definition of ESG between index providers.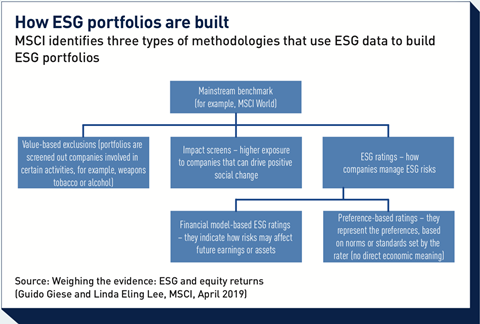 MSCI's Giese maintains that the index providers have developed a strictly rules-based approach to ESG ratings, but admits that there is some discretion involved in decisions. "The choice of indicators is really based on an analysis of how exposed a given industry is to an ESG risk from a financial point of view. It's really a financial rules-based framework," says Giese.
"That said, two different analysts might give slightly different scores, because there is some discretion in terms of how you assess the exposure of a company's revenues to an ESG risk. But we have refined our rules-based approach to an extent that we can say that it would be impossible to for two different analysts to give dramatically different scores," he says.
Middle ground
However, there is little agreement between ESG ratings providers on some key questions. Think of the example of electric car maker Tesla. Different providers classify it either as one of the best or one of the worst companies in terms of green credentials, depending on how they view its exposure to fossil fuel-related risks.
"There are so many decision points involved in creating an ESG score that it is no surprise that there is no true standardisation across the market," says David Barron, head of index equity and smart beta at Legal and General Investment Management (LGIM). "The correlation between major providers of ESG scores is remarkably low. The interesting thing is that there is general agreement on the really good and the really bad companies. But there is this middle ground where critical decisions are being made with respect to a number of ESG factors," he says.
To solve the problem, LGIM has designed a two-fold approach. It has chosen to focus on "raw metric improvements", meaning verifiable improvements in areas such as carbon emissions or board gender diversity. At the same time, LGIM's Future World index funds tie ESG scores with company engagement, giving a higher weighting to companies that have shown willingness to engage, according to Barron.
Some take the view that the current ESG indices, are an inefficient means to achieve significant sustainability objectives. Lars Qvigstad, equity portfolio manager at Storebrand, says: "While we welcome the introduction of ESG benchmarks, for us passively following an index is not the right choice at this point in time. Only an index based on market capitalisation is a truly objective representation of a market. We see other kinds of indices as strategies. There are huge disparities between ESG ratings and, as a result, ESG indices and we believe a best-in-class strategy can achieve more in terms of sustainability."
Storebrand has sought to create a 'mixed' approach, that is both passive, in the sense that it is cheap and has low tracking error, and highly active in terms of reducing carbon emissions. The carbon emission reduction element consists, in turn, in a mix of portfolio construction and active ownership. The portfolios exclude the coal and oil sectors and parts of the utility sectors. Exposure to carbon intensive companies is also limited, while exposure to companies that contribute to the low-carbon transition is enhanced.
Storebrand's funds maintain a low tracking error – about 1% relative to the MSCI World – by optimising the portfolio. For instance, tobacco stocks are replaced by similar consumer staples, achieving a similar risk exposure to the underlying benchmark. These portfolios may underperform in the event of an oil sector rally, but they can achieve a carbon emission reduction of 80%.
Questions raised
It is no surprise that while there is agreement over the benefits of benchmarks, there is still a debate as to whether ESG indices make sense. However, there is momentum behind the idea that reaching a set of standards is possible.
Regulators are taking an active role. The European Union has been pushing its sustainable finance agenda. Earlier this year, the European Parliament agreed to introduce low-carbon benchmarks, a 'taxonomy' of sustainable economic activities and higher disclosure requirements on corporate sustainability.
At the same time, competition between providers of ESG ratings is driving consolidation. In April, Moody's announced it has acquired a majority stake in Vigeo Eiris, the French ESG researchers. While investors are far from agreeing on ESG scoring standards, this deal shows how some believe there is the potential to build a consensus around one set of standards.
Changing traditional benchmarks
Nearly 170 asset owners and managers representing $9trn (€8trn) of assets have called on index providers to exclude makers of controversial weapons from mainstream benchmarks. The initiative was launched last year by Pictet and supported by Swiss Sustainable Finance (SSF). The list of signatories includes Amundi, DWS and LGIM as well as many European pension funds.
In March, SSF sent an open letter to index providers FTSE Russell, Morningstar, MSCI, S&P Dow Jones Indices and STOXX to ask for changes in eligibility rules that would exclude weapon makers.
Index providers responded pointing out that indices excluding controversial weapons are already available but showed they are open to dialogue.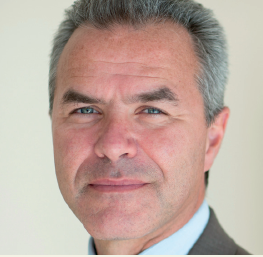 Pictet's initiative is significant because it aims to change longstanding market-cap benchmarks rather than creating new ESG-compliant ones. Eric Borremans, head of ESG at Pictet, says: "We see this initiative as being driven by common sense. The ambition is not to spill over onto other activities, such as alcohol or tobacco, because are these perfectly legal activities."
Pictet's argument is that makers of controversial weapons should not be included in mainstream indices because producing and financing such weapons is illegal according to international treaties and conventions. "We are not trying to open a Pandora's box, we have a very well-defined and pragmatic objective", says Borremans.
Index providers generally take the view that indices must represent the broadest possible set of investment opportunities. In their view, excluding controversial weapons makers, even though they represent a small percentage of traditional indices, would deviate from that goal.
"The ambition is not to spill over onto other activities, such as alcohol or tobacco, because these are perfectly legal" - Eric Borremans
Furthermore, changes to eligibility rules require market consultations. These happen regularly and have resulted in changes to global indices, such as the introduction of China A-Shares to MSCI's emerging market and global equity indices last year.
Borremans says: "Index providers take this seriously. The number of signatories and volume of assets represented is considerable. The demand has been acknowledged. However, index providers have signalled that we would need to get more support from North American and Asian investors for a market consultation to be launched."
Yet, the real driver will the dialogue between investors and index providers, according to Rick Redding, IIA's CEO. Redding argues: "It is not the index providers' job to determine what is acceptable from an ESG perspective. Their job is to be objective and capture the best representation of a market."
"There are so many decision points involved in creating an ESG score that it is no surprise that there is no true standardisation across the market" - David Barron
"The driver for the growth of the ESG industry is you will start seeing ESG versions of the main indices, which will be based on the same weightings and risks, but with an ESG commonly-defined criteria," he says.
That requires a consensus between investors of what ESG means as well as high-quality data on companies' ESG credentials. But it also requires investor flexibility. Redding says: "The indices that the providers create will only be as good as the quality of the data that is being reported by companies."
"If the EU makes the definitions too rigid, they will doom ESG to be a smaller part of the market. If too few stocks qualify, the benchmarks are not going to be diversified enough," he says.
Indices and Benchmarks: The Chinese dam breaks
1

2

3

Currently reading

The origin of ESG indices