The world continues to watch the Greek tragedy unfolding with bated breath as each week brings new twists in the confrontation between its radical left-wing government and the EU. Tensions are reaching fever pitch with economic disputes merging with rows over reparations for the World War II and overtures to Russia. At the same time, Greece is turning in on itself. Its public sector, supported by the government, clings tenaciously to benefits it can ill afford, while its private sector faces ruin. Economic data released in early 2015 suggested the country was at risk of moving back into a downturn after what had appeared to be positive signs in late 2013 and 2014 after six years of recession.
The government is trying to honour the promises it made during its election campaign, but few outside Greece believe those were ever achievable. Even within Greece, they represented a reaction to a calamitous internal scenario. An exit from the euro-zone – whether voluntary, forced or by accident – remains a real possibility.
Tony Stringer, managing director of global sovereigns and supranationals at Fitch Ratings, points out the implications of a Grexit today are far less worrying to the rest of the EU than they were three years ago.
The institutional and policy framework of the EU has changed since 2012. The declaration by Mario Draghi, the president of the European Central Bank (ECB), of outright monetary transactions to "do whatever it takes" to preserve the euro has changed the dynamics.
"In 2012, we said publicly if there was a Grexit, we would immediately place all euro-zone sovereign ratings on ratings watch negative and would have expected to downgrade a number of the vulnerable ones," says Stringer. "Now, however, we believe if there was a Grexit, the collateral damage would be manageable and we do not envisage we would be taking across the board rating actions in the immediate aftermath".
Yet despite this, it is hard to disagree with Marie-Anne Allier, head of euro fixed income at Amundi, that it is clear that a Grexit would be a lose-lose situation for both Greece and the euro-zone. "It is in the interest of everyone that Greece remains within", she says, but the question is whether a compromise will be found so all sides to be satisfied.
There does appear to be evidence that Greece is achieving a primary surplus despite its problems over effective and fair tax gathering. In other words, Greece may well be able to pay its way if it were not for the burden of debt repayments. The bail-outs by the ECB, the EU and the International Monetary Fund have mainly benefited northern European banks, and while taxpayers may now be at risk rather than the banking sector, Greece itself has seen little benefit from the transference of its credit risk from European banks to taxpayers via supranational institutions. The bail-outs of Greece were designed to ensure the European banking system did not collapse rather than provide any benefit to Greece.
"Large amounts of cash were injected into the European banking sector to create a safer environment, with banks being seen as an engine for growth within Europe," says Maria Paola Toschi, global market strategist at JP Morgan Asset Management. The effects on Greece itself, though, were calamitous, with unemployment running over 25% and more young people out of work than working. GDP is more than 26% below the pre-crisis peak. These points have been made strongly by the finance minister, Yanis Varoufakis, and many commentators have sympathy with his view that Greece itself would have been better off had it suffered a larger haircut in 2009. Toschi counters that the implications of such a move for some European banking systems would have been dramatic.
At a glance
• The tragedy of Greece's encounter with the euro-zone is still unfolding.
• The ramifications of a Greek exit from the euro-zone are becoming more containable.
• The sub-investment status of Greek debt makes it an anomaly.
• A compromise between Greece and its official creditors might be the best solution.
Greece now looks an anomaly within the EU. It may still be classed as a developed market rather than emerging, but as Toschi points out, it is at the bottom of the rankings. "It has structural problems that previous governments have never been able to solve, such as corruption and tax evasion," she says. "That makes it closer to an emerging market than a developed one."
Greek debt, with its sub-investment grade status, is the only member state ineligible for quantitative easing (QE) within the euro-zone. Toschi points out that in mid-April Greek sovereign debt was yielding 20% at a time when a quarter of euro-zone sovereign debt had negative yields.
The market movements of euro-zone government bond yields in late 2014 and 2015 clearly indicate that the markets consider Greece to be unique. Standard & Poor's Moritz Kraemar and Marko Mrsnik point out in a recent note that, whereas Greek sovereign debt yields have risen in recent months, along with uncertainty about Greece's relationship with its lenders, bond yields of other so-called "periphery" sovereigns (Italy, Ireland, Portugal and Spain) have fallen to all-time lows: "The negative correlation between Greek bond yields and those of Portugal, Ireland and Spain indicates they are moving in opposite directions. Moreover, the above-mentioned, sovereigns, which in 2012 were mired in recession are now, following the implementation of economic adjustment programmes, on a path of economic recovery, which has supported their return to sustained financing in financial markets."
S&P's view is that the announced widening of the implementation of QE has contributed to the uncoupling of Greek bond yields. Indeed, quite apart from its structural weakness and its high debt-to-GDP ratio, Fitch argues that the political environment is radically different from any other euro-zone country, with the Syriza-led government committed to challenging Greece's bailout.
Few private sector investors are willing to invest, no matter what the yield. Amundi, for example, has a large European sovereign debt portfolio largely invested in euro-zone peripheral countries but no Greek exposure.
"Even if it is a stupid result, what may drive what happens is politics and we cannot analyse that," says Allier. She adds that Greece could turn out to be the highest performing bond market in Europe in 2015 but it is not susceptible to a reasoned analysis based on economic factors. "Only Greeks and hedge funds can rationalise investing in Greek debt," she says. "We are neither." With hindsight it is clear that all sides have made mistakes which have led to the current impasse. Few would dispute the idea that Greece belongs firmly within Western Europe. Joining the EU was clearly the route that Greece had to take. But Greece's eagerness to join the euro-zone, to the extent of falsifying its economic statistics, was a calamitous mistake.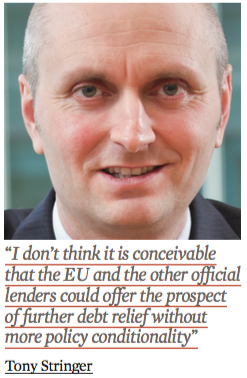 The drachma had been stable for at least two years before Greece joined the euro and inflation was in check. Membership of the euro-zone appeared to underpin the country's economic stability. It also gave the psychological assurance that Greece had moved closer to Western Europe. Its security against its potentially aggressive and unstable neighbours seemed to be enhanced.
However, Greece joining the euro gave its politicians access to cheap debt. This was used to bribe voters rather than rebuild infrastructure or invest. It was spent on a bloated public sector and an unsustainable welfare system.
The current regime is heavily dependent on public sector support and the retired to maintain power. This gives it little incentive to implement the reforms demanded by the EU. The proposed measures would cut benefits to the main pillars of the government's power base.
There is still hope for a compromise that would enable Greece to remain within the EU, although whether that should include remaining within the euro-zone is debatable: "There have been commitments made going back to 2012 that further debt relief for Greece could be considered provided that the country complied with all of the terms of the technical programme," says Stringer. "Whilst that has fallen by the wayside in the current round of negotiations, I don't think it is conceivable that the EU and the other official lenders could offer the prospect of further debt relief without more policy conditionality."
Over 80% of Greece's sovereign debt is held by official sector creditors according to Fitch1. As S&P point out, under its criteria, only a payment default or distressed debt exchange affecting commercial creditors constitutes a default. "Asking for a full debt write-off is a red line that the lenders are not willing to cross. What is more likely is to see further debt relief in terms of reduced interest rates and further maturity extensions," says Stringer. On this basis a compromise with official creditors leading to "extend and pretend" its debt obligations would not constitute a default. Moreover, it would enable all to claim victory to their electorates – that is, Germany can claim Greece is still due to pay its debt, while the new Syriza-led government can claim it has won substantial concessions.
The Greek political class has let down its population for decades by failing to develop a modern European state. If the EU allows Greece to fail now it may be deemed economically acceptable, but it could destroy the political vision that holds the EU together. The ramifications of such a breakdown may be uncontrollable.
1 6 March 2015 'Grexit Still Possible; Systematic Crisis Unlikely', Douglas Renwick & Mark Brown