---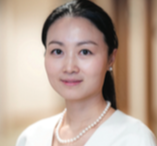 The boom in China's asset management industry should create opportunities for overseas investors, says Qin Xu
In light of China's 'new normal' period of economic rebalancing and interest rate liberalisation, asset management has become one of the most dynamic and fastest growing areas of the country's financial services industry.
Chinese retail and institutional investors will increasingly look to overseas asset allocation to drive growth in their portfolios. Some large banks expect that as much as 20-30% of their clients' portfolios will be invested in international assets in future years. That opportunity means foreign institutions should move quickly to gain an understanding of the significant differences between Chinese market structures, regulations and competitors and those in global markets.
Between 2012 and 2015, the asset management sector, which in China covers everything from managed funds to the investment products provided by commercial banks and insurance companies, grew by a compound annual growth rate (CAGR) of 51%.
Total assets under management (AUM) reached RMB93trn (€13trn) in 2015. Besides the assets managed by mutual funds, commercial banks and insurers, the total also includes assets managed by trust companies, securities firms and fund subsidiaries, which often serve
as intermediaries in helping financial institutions legalise their product structures given the fragmented nature of the country's financial licensing system.
Between now and 2020, the Boston Consulting Group expects that total AUM will grow at a CAGR of 13%, reaching RMB174trn. Over that period, intermediary businesses will see their share of the market decline from 28% in 2015 to about 14% in 2020 as a result of changes in regulation and improvements in market efficiency.
It is worth noting that unlike global markets, where account and asset-based fees generate most asset management revenues, in China revenue has been derived mainly from the spread between asset sourcing and distribution. This is especially true for investment products. Distributors must also provide implicit guarantees on invested principal to investors.
At a glance
• Asset management is one of the most rapidly growing financial services sectors.
• Several factors are behind this growth, including the investment needs of an ageing population, changing regulation and innovations introduced by fintech companies.
• The State Council has recently broadened the range of assets permitted in pension funds.
• Banks could dominate China's asset management market until 2020.
Several factors are contributing to the rapid expansion of China's asset management sector, among them the changing saving and investment needs of an ageing population, the shift in personal investment from real estate to financial assets, the changing regulatory environment, and the innovations introduced by fintech companies.
The Chinese investment environment differs from that of global markets. In China, institutional investments account for about 40% of total AUM, compared with 61% for global markets. Of that 40%, insurers and corporate investors (including not-for-profit institutions, finance companies and investment companies) contribute roughly 17% each and pension funds account for 5%.
Among retail investors, high-net-worth clients generally allocate their portfolios to private banks, private funds, mutual funds, trusts, and the asset management arms of securities brokers and fund subsidiaries. Other retail investors include middle-class individuals (those with monthly incomes between RMB8,000 and RMB23,000) and less affluent clients (those with incomes below RMB8,000 per month) who tend to concentrate their investments in banks and mutual funds.
Within the institutional market, AUM are expected to demonstrate secular growth because of three driving forces within China's pension and annuity industry: basic social pension insurance, enterprise and occupational annuities, and commercial endowments.
Social pension insurance balances will rise steadily. The accumulated balance for enterprise employees and urban and rural residents is expected to reach RMB5-6trn by 2020 (assuming an annual increase in balance of RMB200-400bn over the next five years).
In the past, pension fund investments were limited to treasury bonds and deposits with low yields. To improve investment performance, the State Council published the 'Measures for the Administration of Investment in Basic Pension Insurance Funds' in August 2015, which allows pension funds to allocate to over 20 asset classes, including stocks, stock funds, blended funds, and stock-oriented pension products. Investment in these new classes is limited to 30% of the net worth of the pension fund portfolio. By 2020, pension funds look set to bring RMB1.5-2trn into the asset management market.
In addition, enterprise and occupational annuities are expected to reach about RMB2.65trn by 2020. Commercial endowments are also likely to rapidly develop, spurred on by favourable policies such as income tax deferral.
"Asset managers in China need to diversify assets, improve product design and enhance their risk-management capa bilities. Regulatory reforms that enhance investor protec tion and education on market risk are also required"
Within the retail investment market, high-net-worth individuals will continue to dominate. In 2015, high-net-worth families in China (those with over RMB6m of investable assets) numbered 2m. That population is likely to reach 3.5m in 2020. These individuals are usually enterprise owners, professionals, actors and sports stars.
The growing availability of digital investment platforms from fintechs has opened the asset management market to middle-class and less affluent retail investors who can now access money market funds or standard investment products at low service costs.
With respect to investment products, equities are expected to be the fastest growing active asset management class, with a 2015-2020 CAGR of more than 25%. Passive products, for example exchange-traded funds, will probably grow even faster, at a CAGR of 40%. Much of this growth is coming from strength in the direct financing function of domestic capital markets, especially the stock market, an acceleration in Chinese listings, and mixed-ownership reform that will benefit tradable state-owned assets (figure 1).
More generally, since 2015 the slowdown in economic growth and rise in credit-default risk have contributed to a shortage in good-quality assets with relatively high yield and low risk across stock, bond and non-standard credit assets. For example, the expected return of real estate trust products dropped from 9.6% at the beginning of 2015 to 8.3% by the end of the year, and quarterly inflows delivered negative year-on-year growth for three quarters in a row. Asset shortage is an economic construct, of course, and reflects the fact that investors do not want to take all the investment risk up front. This creates challenges for asset managers in view of the implicit guarantees they are required to make on invested principal.
To respond to this, asset managers in China need to diversify assets, improve product design and enhance their risk-management capabilities. Regulatory reforms that enhance investor protection and education on market risk are also required.
Banks are likely to continue dominating China's asset management market until 2020, and will account for 27% of the total AUM and grow at a CAGR of 15%. Mutual funds and private funds will comprise about 15% and 9% of the market respectively by 2020 and grow at a CAGR of 16% and 25%.
Institutions that rely on intermediary businesses, for example trusts, fund subsidiaries and asset management of securities brokers, will feel some transformation headwinds. Their CAGR will probably slow to 8-10% between 2015 and 2020. That said, trusts are likely to remain the fourth largest asset management class in 2020 (accounting for 14% of AUM) owing to their long history, large volume and early transformation (figure 2.)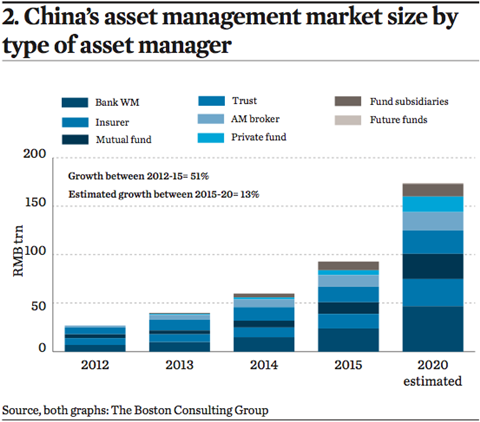 In the Chinese asset management market a winner-takes-all phenomenon has occurred, with the top 10 asset managers having 32% of total AUM and the top 20 44%.
China's fast-growing asset management market creates significant opportunities for foreign institutions. To take advantage of these, global firms should take action in three areas: they should provide investment solutions to help Chinese investors diversify asset allocations; partner with local financial institutions or fintech firms and, finally, showcase their capabilities in risk management, IT and operational solutions and infrastructure.
Qin Xu is a managing director in the Hong Kong office of the Boston Consulting Group