The institutionalisation of European asset management and changing investor fundamentals could limit the future profitability of the asset management industry, says Alastair Sewell
The European asset management industry has grown enormously since the financial crisis. Total assets under management have reached €18trn at the end of 2014, according to Fitch Ratings. That equates to a constant annual growth rate of almost 9% over the last five years, representing a new high. The growth is roughly two-thirds market effect and a third net new money.
Record growth has translated into strong profitability. Our European asset manager data suggests that operating profitability broadly – but by no means universally – increased between 2013 and 2014. Whether those profits exceeded the 2007 pre-crisis peak remains a matter of debate. Where there were dips, they were mainly the result of outflows from specific fund sectors – US-dollar high yield, local-currency emerging market bond and Chinese equity funds suffered material outflows in 2014, according to Lipper data.
So where has the growth come from? Part of the answer lies in the underlying fundamentals of the industry. Today, European asset managers sink or swim as much by global trends as they do by local ones. But changing fundamentals in the euro-zone have supported them – specifically, household wealth has grown since the financial crisis. Euro-zone households had net financial assets of about €14.3trn at the end of 2014 according to Eurostat, roughly a 4% annual growth rate since 2008.
The fact that household wealth has been growing suggests that households have more money to save or invest, which is indeed the case. At the end of 2013, households invested €1.5trn in mutual fund shares, according to Eurostat, up from €1.3trn in 2008 – a 3% constant annual growth rate (see figure).
The absolute picture here is good. Hundreds of billions of euros from households have poured into mutual funds and hence into the asset management industry. And all else being equal, that is extremely supportive since the fee margin on direct retail funds is at least double that of institutional mandates across Fitch's sample of rated asset managers.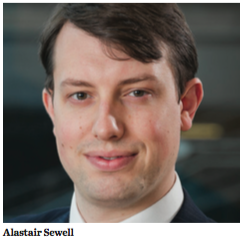 However, the relative picture is not as compelling. Household wealth has been increasing at about 4% a year, yet household investment in mutual funds has been increasing by only 3% approximately a year. In relative terms households have been allocating less to mutual funds compared with other options. Bank deposits were broadly stable as a proportion of household wealth (representing about a third of total household financial assets). But these data only tell the story to the end of 2013.
The feedback we get from rated banks is that households moved money out of deposits and into competitor products such as mutual funds in 2014, responding to the ultra-low interest-rate environment. Nonetheless, over a longer period of time, households have favoured investment in other sectors.
In fact, growth has been concentrated on the insurance technical reserves category, which includes the investment portfolios of both insurers and pension funds in the Eurostat hierarchy. These investment portfolios have experienced the greatest relative (and absolute) growth in household wealth, growing by about €1.5trn between 2008 and 2013 (5-6% per year on average).
This tells us that euro-zone investors have been allocating more of their (growing) net household wealth to long-term savings.
On the one hand this is no bad thing. It means that demand for asset management is increasing, through either the retail or the institutional channels. In fact, insurers and pension funds are the two largest investors in the European asset management industry, according to the European Fund and Asset Management Association, jointly representing about 55% of total assets.
We estimate that European pension fund assets have been growing at around 8% a year, and insurance assets have been growing at around 5% per year, with assets under management of around €15trn-16trn. It is worth pointing out, however, that large institutional investors will typically outsource some of their asset management. We estimate that about two thirds of that total is outsourced, the rest managed in-house.
On the other hand, this changing investment pattern means that while the total flows into the industry are growing, they will come with lower institutional fee margins attached.
Pressure on fund fees may ultimately affect profitability, although this is not yet noticeable. But this will change and the institutionalisation of the asset management industry will have a material long-term effect on the industry's profitability. So far, this is hard to see given the support that investors and the markets have provided to the industry. Lipper estimates that European (domiciled) funds were beneficiaries of €370bn in net new money during 2014.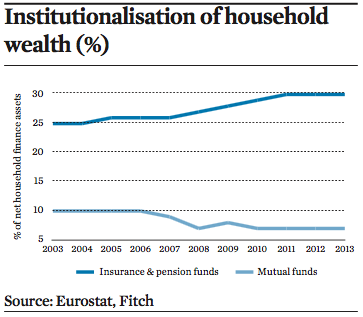 International trends have also supported European asset management growth, pushing the pending profitability pressure further into the future. Offshore investors account for about a quarter of total mutual fund assets, excluding money-market funds, according to ECB data as of June 2014 – a growing trend. Indeed, according to Lipper, international funds – offshore funds open to investors from multiple jurisdictions, which might include euro-zone and non-euro-zone residents – outsold their nearest competitor almost five-fold in 2014.
But the international trend goes both ways: euro-zone-based investors may allocate to offshore funds provided by international asset managers, just as international investors may allocate to offshore funds managed by European asset managers. BlackRock is not only the largest global asset manager, it is also the European market leader.
So what does all this mean for the industry? Reduced fee income, either through lower fees on funds or fewer assets under management – or a combination of both – may mean that asset managers cut costs to support profitability. Although asset management is scalable, costs do not necessarily adapt in line with an increase in assets under management. If costs are to be cut there is a balance to be struck. Institutional investors are usually large and sticky – they allocate large amounts of money to a given asset manager and stick with them for a long time. On the other hand, they are demanding, and fees on institutional mandates tend to be low.
Asset managers typically compete for these investors on the quality of their 'solutions' businesses, which can entail significant cost. Cutting costs out of the institutional side of the business could materially dent an asset manager's future prospects in an ever more institutional world. However, managers that have a well-diversified investor base and product range will fare better than those that do not.
The asset management industry could be further upset if there is a market event or if fees come under more pressure, particularly the retail sector. Interestingly, some active asset managers have been able to maintain fee levels, despite the rising popularity of low-fee passive products. However, in light of international regulatory efforts to improve fee transparency, active asset managers' high retail fees may be challenged. But until then the music is still playing for the asset management industry.
Alastair Sewell, CFA, is senior director at Fitch Ratings
Top 400 Asset Managers 2015: Global assets top €50trn
1

2

3

4

5

6

7

8

9

Currently reading

Top 400: The fee music's still playing – for now

10