Assessing the future shape of the investment industry
KEY POINTS
70% of CFA members think geopolitical uncertainties will affect returns over 3-5 years.
Incumbent investment firms have been slow to embrace technology.
The investment industry has become divorced from its wider purpose and must work to build trust and value.
After the fall of the Berlin Wall in 1989, geopolitical risk progressively vanished from the radar of investment professionals. But this relative calm was an historical anomaly. A present day, broad sweep of the globe would suggest that geopolitics is back with a vengeance. In Europe, the French Presidential election saw political outsiders qualifying for the second round of voting, perpetuating the violent dislocation seen in traditional political landscapes, following the UK's vote to leave the European Union and the election of Donald Trump and his American brand of anti-establishment politics.
Seemingly sudden, these forces come at a time when the investment industry is already ripe for disruption. Faltering trust, negative perceptions, a lack of engagement by long-term investors and an apathetic millennial generation all mean that talk of wholesale agitation is not an exaggeration. Especially in the current environment with low inclusion, low savings rates and low returns. Asset managers are truly at an inflection point as they face these geopolitical headwinds. A recent CFA Institute member survey – The Impact of Political Uncertainty on the Asset Management Industry – shows that investment professionals are exercised about the potential impact of these uncertainties, with 70% of respondents suggesting that returns over the next three to five years would be impaired.
All of this comes before the question of technology, which many investment firms have been slow to grasp. Technology enabled decision making has already become second nature to millennials. The reality here is that incumbents in the industry are struggling to keep up with the tech challengers they face, and the compression of margins that they produce.
In the next eight years, advances in artificial intelligence will claim 90,000 asset management jobs, according to a report from consultancy firm Opimas. This is more than any other subset of capital markets.
Change is a given; it would be impossible to have spent time in the financial industry and conclude anything else. From the 'Big Bang' – the 1986 deregulation of the UK financial markets, and perhaps the original regulatory-led, margin compression story – onwards, the following 30 years have witnessed seismic changes in the investment industry.
As Epictetus, a quiet genius amongst the Greek philosophers said: "We cannot control events, we can only control our reaction to events."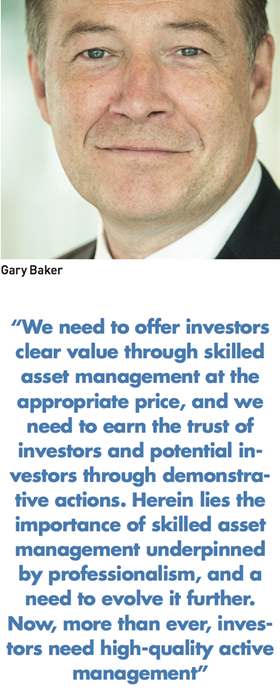 There is a constant amid the continuous flux of megatrends and other systemic changes – technological advances, macroeconomic and geopolitical conditions, demographic shifts, and the management of constrained natural resources. In its simplest form, finance is a means to an end. Lenders of capital provide monies to those who need it with the ultimate aim of contributing to the healthy functioning of society through wealth creation. However, the problem with the investment management industry is that it has become disconnected from its wider social purpose, which means our profession must radically rethink its value proposition.
We need to offer investors clear value through skilled asset management at the appropriate price, and we need to earn the trust of investors and potential investors through demonstrative actions. Herein lies the importance of skilled asset management underpinned by professionalism, and a need to evolve it further. Now, more than ever, investors need high-quality active management to create, enhance and protect their wealth.
The confluence of these mega-trends and their likely impact upon the industry is captured in a recent study, in which we identify many of the key shifts that will likely result in notable change for the industry including an increase in consolidation; a greater shift of capital from active to passive management; the potential for significant fee compression and downward pressure on profit margins; and a trend for institutional asset owners to insource greater amounts of investment decision-making.
Within this context, however, there are opportunities for the investment management to prosper in future scenarios. More than 1,100 investment leaders around the world were surveyed for our study and the majority (55%) see opportunities for investment professionals stemming from globalisation. Fewer than 20% see either of these trends as threats, implying a readiness to adapt. Leaders need a better way to think through the implications of these trends – for their clients, the health of the industry overall, and the ongoing sustainability of their own firms.
The Future State of the Investment Profession suggests four possible responses to the forces likely to affect investment organisations. These are not forecasts but instead offer possibilities of the future that leaders can use to create strategic plans that can succeed under a variety of potential future states. We focus on the next 5-10 years in particular. The four scenarios are:
• The influences of new technological advances affecting the industry;
• Changes in demographics and how people of different regions, ages and social groups engage with financial services will affect capital markets participation and product preferences;
• The effects of low interest rates and global growth over an extended time period;
• The evolution of capitalism and the industry's greater focus on ethics, professionalism, and serving the interests of clients.
It is this last scenario, a more purposeful capitalism, which I would like to focus on, because it requires the adaptation of the model of capitalism itself and a much more profound shift in mindset than the other scenarios. In this vision of the future, investment organisations have the choice to seek alignment with the complex, interconnected world rather than operate against it.
Making a contribution to societal wealth and wellbeing is not only a well-meaning goal for the industry, it is a matter of existential importance.
At present, 59% of respondents in Europe believe that the sale of inappropriate products to clients is commonplace, and 50% of respondents questioned the value delivered in return for asset management fees. The good news is that investment professionals aspire to a more positive social contribution. While only 11% say the industry currently has a very positive impact on society, 51% say its influence could be much more affirmative, contingent on stronger principles.
This vision depends on governments and firms working together to create more positive outcomes for a wider group of stakeholders. Firms will need to integrate their wider purpose alongside their profit motivations. Markets for publicly listed equity and private equity will become fairer, more efficient, and deeper over time.
Finally, the Achilles heel of the investment industry – interests will be better aligned with clients and there is an increased attention to fiduciary responsibility.
The implications for investment organisations include asset owners working together for greater influence, longer-term value creation and greater attention to sustainability. Through tools like integrated reporting, greater transparency will also improve value and trust in the investment ecosystem. Culture will become a differentiator as diversity is recognised as a key ingredient for surviving and thriving. Finally, ESG and stewardship become completely mainstream as a component of risk management, as firms focus on stakeholders more broadly.
To conclude, regardless of the various visions of the future, the industry has an important challenge ahead: building trust and value. Both are developed by individuals and organisations building credibility and demonstrating professionalism. The most futuristic aspect of this is that despite the remorseless pace of change we are seeing in the industry, and with the advent of technology automating a degree of the technical work that needs to be done, the need for strong soft skills grows ever-stronger.
Future leaders will need to sharpen their relationship building, creative intelligence, and influencing skills to complement their technical expertise as they progress their careers into positions of greater seniority. Adaptiveness to change is therefore needed in increasingly disrupted situations, but this skill is in short supply and is an important component of professionalism.
Our actions and those of other like-minded organisations in encouraging diversity, education, transparency, standards and ethics will take time to bear fruit. Ultimately, however, moving from an 'industry' towards a 'profession' will help rekindle investor confidence.
Gary Baker, CFA, is Managing Director of CFA Institute in Europe, the Middle East and Africa
Top 400 Asset Managers 2017: A new, improved business?
1

2

3

4

5

6

7

8

9

Currently reading

Top 400: Towards a new vision