Greater liquidity and capital constraints have forced many banks to scale back or close down their trade finance operations, creating opportunities for non-bank lenders, says Luigi La Ferla
Trade finance, one of the world's oldest and largest financial activities, today helps to support and facilitate an estimated $18trn (€16trn) of global merchandise exports annually.
And with bank trade finance providers undergoing significant change as a result of new regulation, opportunities for investment are emerging. Currently only a few investment managers have the ability to harness these opportunities while understanding the risks involved to provide institutional investors with desirable returns.
Trade finance is the financing of any cross-border exchange of goods or services – that is, importing and exporting. Traditionally, both importers and exporters rely on available financing to sustain their operations. The World Trade Organization (WTO) estimates that 80% of global trade is either financed or risk insured.
Large global banks with balance sheet capacity are the main suppliers of trade fiance, as they have the necessary multi-regional presence and operational infrastructure to provide financing and risk coverage efficiently to their clients. Letters of credit, guarantees, short-term loans, bills of exchange and other instruments are used by banks to support about $7trn of cross-border trade per year. Most bank-intermediated trade finance is provided via short-term instruments with maturities of less than a year.
Academic sources, as well as the WTO, provide evidence for the key role played by trade finance in international trade and global economic growth, suggesting that the reduced availability of bank trade finance in 2009 was a main cause of the decrease in global exports (see figure).
Since 2008, regulators have subjected banks to increased liquidity and capital constraints. The change in regulatory framework means they require banks to hold substantially higher resources, which reduces the volume of capital the banks can deploy to support their trade finance operations.
This discrepancy in capital requirement has eroded the profitability of bank trade finance operations, causing some banks to reduce the scope of their operations or even withdraw from the sector completely.
The 2007-09 financial crises and their aftermath precipitated further deleveraging of bank-intermediated trade finance and incipient Basel III regulatory capital regulations are continuing this trend.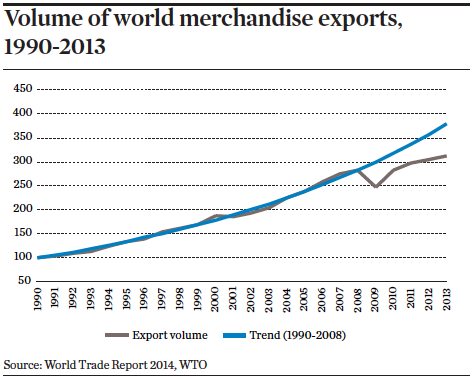 Deleveraging of bank-intermediated trade finance has led to a slowdown in the rate of growth of global trade and has provided private markets with opportunities to play a greater role in the provision of trade finance.
As a result of the reduction in bank-intermediated trade finance, direct – that is, not intermediated by a bank – provision of trade finance to corporates has increased and is mainly supplied via dedicated investment vehicles or, more recently, via peer-to-peer platforms.
Trade finance providers have historically experienced fewer defaults than expected. Furthermore, the loss-given-default of trade finance has been, on average, lower than that of corporate lending.
"The change in regulatory framework means that regulators require banks to hold substantially higher resources, which reduces the volume of capital the banks can deploy to support their trade finance operations"
Low default and loss rates in trade finance can be attributed to several reasons:
• Bank-intermediated trade finance has a high degree of micro-management compared with other forms of financing;
• Trade finance transactions must have an identifiable source of repayment;
• Often there are multiple sources of repayment, which serves to diversify the risk of non-repayment;
• Trade finance transactions are typically short-term, leading to more accurate financial forecasting when evaluating their performance.
Trade finance transactions have a benefit of priority, as without trade financing a company will not be able to operate.
Due to the absence of a harmonised definition of trade finance, a standardised settlement system or market guidelines, it is not advisable for institutional investors to gain exposure to the asset class via direct lending.
However, more commonly, this type of exposure can be accessed by:
• Investment vehicles and funds that seek to replace the banks as trade finance providers. Although these strategies tend to offer attractive liquidity to investors their main challenge is dealing with concentration, scalability and operational risk. Due to limited capacity for leverage, many such trade investment strategies only offer single-digit returns;
• The provision of credit risk capital to support banks' trade finance operating platforms. This is a good way of gaining exposure to trade finance, as it eliminates the problems of concentration, scalability and operational risk already mentioned, but it comes with high barriers to entry: investments are difficult and lengthy to implement, involving several different departments in a bank and requiring bank regulator approval before being completed. Investors pursuing this strategy need to be able to deploy a substantial amount of capital per investment that is locked-in for the term of the investment. Given the equity nature of the investment, returns are in the low double-digits.
There is therefore an opportunity for an independent investment manager with expertise in trade finance to raise private capital specifically to provide bank-intermediated trade finance. Such a manager would need to be able to reconcile any asymmetry of information between capital providers and bank trade finance providers, and eliminate concerns or costs arising due to the complexity of risk transfer of bank-intermediated trade finance.
Global banks' international trade finance business is now going through a period of substantial reorganisation with some players exiting the market and others expanding. With increased regulatory capital requirements across all businesses, larger banks now allocate dedicated teams to portfolio capital management and risk-weighted asset optimisation. Regulatory capital requirements for typical bank trade finance operations are much higher under the current Basel II regulations than they were previously, and will increase yet further as Basel III regulation is phased in over the coming years until full implementation in 2019.
This changing regulatory landscape makes the provision of trade finance more difficult than ever before for banks, creating opportunities for non-bank investors. Therefore, trade finance is now more accessible than ever for institutional investors. Providing the risks of the asset class are correctly identified and managed, attractive returns can be achieved.
Luigi La Ferla is senior portfolio manager at Markham Rae