Cash equivalent pension transfers offer members flexibility and lower the funding burden for employers. What's not to like?
Key points
• Cash equivalent transfer values are at high levels.
• Schemes are now more comfortable offering transfer values.
• Many schemes now provide paid-for advice to members approaching retirement.
• The FCA is currently consulting on pension transfer advice.
Cash equivalent transfer values (CETVs) are at high levels in the UK defined benefit (DB) pensions sector. This has been caused by the abolition of compulsory annuitisation, the low interest-rate environment (which is resulting in high transfer values) and employers appreciating the derisking advantages of divesting themselves of pension liabilities.
Schemes that have changed their at-retirement process to offer everyone a CETV rather than a pension income have seen 40% transfer out. Of course, this is being driven by high transfer values, but freedom of choice has awoken members to inheritance tax planning.
Ben Roe, head of the liability management team at Aon Hewitt, has seen a six-fold increase in transfers since the end of compulsory annuitisation in 2015, particularly among larger funds. They are also beneficial for those with a short life expectancy.
Inheritance tax planning is also a factor as it allows savers to shelter in a DC fund to provide for beneficiaries. Roe adds: "This is a major consideration for some and may be an efficient way of tax planning for a significant minority."
All this has increased the focus on the at-retirement process and has resulted in many funds automatically offering transfer values and in some cases, access to financial advice.
"We've seen more interest generally from both companies and trustees as to what information they should be providing their members and how they should redesign the at-retirement process," says Roe. Simply offering the standard pre-retirement 'wake-up' pack plus a transfer value is not enough, he adds: "We're quite often seeing advice being paid for entirely, or partly, by the company."
Advice provision has generated a new piece of jargon – the retirement transfer option (RTO). This is essentially an at-retirement process that is broader than other options.
For whose benefit?
The benefits of CETVs are clear, says Eleanor Daplyn, a partner at Sackers: "Offering flexibility to the member should they want it while reducing the liability of the scheme, generating a funding profit for the exercise and an administrative saving from having a smaller membership."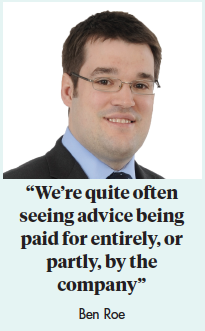 Many trustees are now actively informing members of CETVs either at retirement or with their annual statements.
This approach has developed from integrated risk management, largely as a result of the freedom and choice rules that ended compulsory annuitisation. This also makes it easy for trustees to engage with, says David Brooks, pensions technical director at the pensions and benefits consultancy Broadstone. "People are more comfortable with transfer values and they are not as contentious as they were. We seem to be getting away from this DB good/DC bad mentality."
The assumptions for calculating a CETV will be highly scheme-specific and based on the investment strategy of the scheme, meaning it is impossible to apply a generic calculation. One rule of thumb for is to multiply the annual retirement income at the age the pension starts by 20, however, although this is before calculations for longevity, spouse pensions, or benefits accrued under the guaranteed minimum pension (GMP) for those contracted out of the former State Earnings Related Pension Scheme.
The practice of providing a cash enhancement through enhanced transfer values (ETV) has become largely redundant. Indeed, the Financial Conduct Authority's 2014 thematic review on ETVs found some poor practices in the transfer value analysis process, including a failure to reflect all scheme benefits and a lack of tailoring to individuals' circumstances.
"The idea of providing a separate cash incentive has also been quite unacceptable for some years," says Daplyn. "And there has been a degree of squeamishness on the part of trustees about enhancing transfer values. Employers looking at transfer values don't need to bother about the 'e' part and instead of paying out more are adding ancillary benefits such as paid-for financial advice."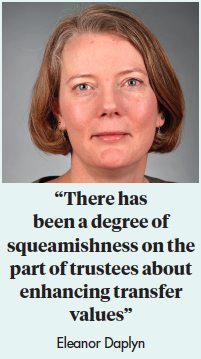 However, Brooks says ETVs, pension increase exercises and flexible retirement options all remain part of integrated risk management, although there is no longer value in offering ETVs unless the scheme is underfunded. Brooks believes ETVs work better as exercises to harmonise benefits or to "tidy up" before a buyout.
Aon Hewitt's Roe has seen a small increase in ETV work, but agrees that it is around specific derisking projects. This has included the ETV exercise for deferred members of the company's own Aon Minet Pension Scheme earlier in 2017. Members were offered an ETV along with financial advice for a limited time period. This saw a 33% take-up, which improved the scheme's funding by £60m (€66m).
Where are they going?
The FCA is currently consulting on pension transfer advice and there have been calls to facilitate partial transfers to allow members to withdraw cash while securing a minimum benefit. This is a "neat idea", according to Sankar Mahalingham, head of DB growth at Xafinity. A number of employers have discussed these possibilities, but there are some still issues to address, he says, such as removing any GMP element.
Where advice is paid for by the employer, members do not have to use their right since April 2017 to use their pension assets to pay for advice up to three times in their lifetime, to the value of £500 on each occasion. However, some schemes are waiting for the system to bed as there are currently no recording requirements in the regulations.
A survey of 200 of Aon's clients in September 2016 showed that 10% of schemes had put RTOs in place, and the majority of that 10% was making full free advice available. The advice is not holistic – it is focused on the benefits – and in most cases there were no additional fees.
Daplyn has reservations about anything short of full, personal advice at retirement, because members forget they will then be fully responsible for their future. "They forget they must manage that money – unless they're going to spend it all – or pay for somebody to manage it for them."
UK pensions: Running the rule on costs
1

2

3

4

5

6

7

8

Currently reading

Transfer values: Advice, please